Blog
At the Forefront of the 5G Evolution: Samsung vRAN
Mobile operators are making great strides in delivering 5G services to attract more users and offer new business models.
Principle Engineer of Advanced R&D,
Networks Business at Samsung Electronics

Principle Engineer of vRAN System Design,
Networks Business at Samsung Electronics
---
Mobile operators are making great strides in delivering 5G services to attract more users and offer new business models. In the operators' journey, virtualized networks have emerged as a key technology that improves efficiency and flexibility of 5G networks with simplified management. As a leader in network virtualization technology, Samsung successfully revealed its fully virtualized 5G RAN last year and in the same year, provided its 5G vRAN to a top tier U.S. operator for wide-scale 5G commercialization to serve millions of mobile users.
In this blog, we sat down with DoHyun Park and YoonJeong Ha, two experts who played a critical role in developing Samsung's innovative vRAN solutions, to hear more about Samsung's vRAN - the benefits of introducing the solution into commercial networks and how it differs from other solutions.
Q1. What is a fully virtualized RAN and why is it so important?
The fully virtualized RAN replaces vendor-specific hardware with software elements that can be operated on any commercial off-the-shelf (COTS) server. With its cloud-native and container-based architecture, vRAN brings more flexibility and efficiency to the operators by liberating them from static and hardware-bound network operations.

Below are some of the major benefits vRAN offers:
1) Enabling Flexible Resource Allocation and Agile Service Deployment
vRAN brings IT technology advantages into the realm of wireless telecommunication infrastructure. Based on its cloud-native, container-based architecture, the solution enables dynamic and flexible resource allocation and scaling for each function, and more importantly, these functions remain independent from each other. With on-demand scaling, workload can be moved flexibly depending on traffic conditions. For instance, when more traffic is observed from cell sites or the number of UEs increases, operators can dynamically boost cell capacities for these cell sites and vice versa. In addition, by using a cloud-native architecture, the solution offers cost efficiency benefits through the adoption of automated operation, which in turn makes the entire network life cycle management much easier from creation, operation, monitoring, to optimization. Furthermore, continuous integration and continuous deployment (CI/CD) enables remote, near zero-time upgrades, leaving network operation uninterrupted. This simplified operation and maintenance improves operational efficiency and drives down cost.

2) Allowing Optimal Deployment
vRAN splits the baseband functions and places corresponding software functions into new components known as the virtualized centralized unit (vCU) and the virtualized distributed unit (vDU). The vCU operates non-real time processing functions from a centralized location. While the vDU hosts real time processing functions, and can also reside with the vCU at the center or be placed directly on-site with the radio. By placing the vCU and vDU in different locations, vRAN offers cost-effective deployment and operation to meet various speed, latency, throughput and quality requirements. This also means that a single vCU accommodates multiple vDUs, greatly reducing the number of anchor point handovers, improving quality and enhancing reliability of the network. Additionally, operators can place vDU at optimal locations depending on the various use cases. For example, vDU can be placed closer to the end-users for services that require low latency, such as connected vehicle and autonomous driving. vCU and vDU can also be placed together in a single server infrastructure for private networks, in order to achieve cost-efficiency.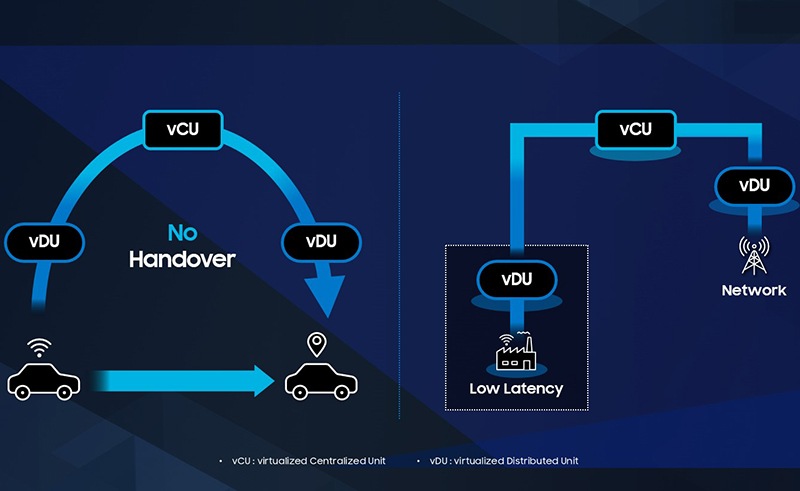 3) Managing Vendor Lock-In Risks
By using vRAN, operators can avoid vendor lock-in by running its software-based baseband functions on a COTS server. In legacy RAN deployments, operators were often bound to vendor-specific hardware, which created dependency on a single vendor. Operating on a COTS server, vRAN eliminates the need for costly replacements and offers easier upgrades with software implementations.

Q2. What are the competitive advantages of Samsung's vRAN?
High-Performance Backed by Years of Research and Experience: Samsung's research and development efforts to drive vRAN innovation, along with its global experience in delivering 5G solutions, has led to the successful commercialization of its vRAN solutions for a top tier U.S. operator. This is the first fully virtualized commercial 5G RAN delivered end-to-end from a single vendor. Samsung's vRAN is currently powering the operator's 5G network that is serving millions of users across the U.S., demonstrating its outstanding performance and reliability. Samsung continues to expand its vRAN capabilities, leading the development and commercialization of virtualized networks.
Offering a Smooth Migration to 5G: Another strength of Samsung's vRAN solution is that it supports both 4G and 5G, enabling easy and smooth 5G migration for operators. The solution also supports Dynamic Spectrum Sharing (DSS) technology, which enables 4G and 5G services to work simultaneously in the same spectrum band. Through these capabilities, vRAN can offer greater spectrum efficiencies and a smooth customer migration to 5G.

Q3. What's the future of vRAN as 5G networks continue to rollout?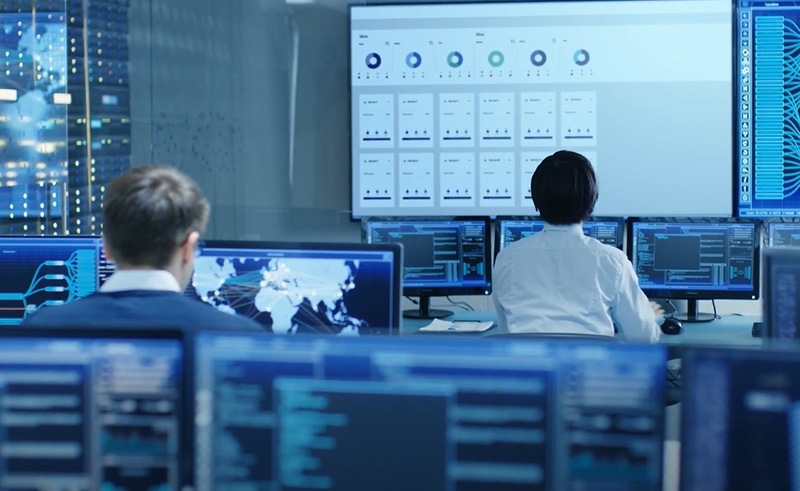 Samsung believes that vRAN will continue to be developed to improve network-wide efficiency in terms of flexibility and automation through softwarization and virtualization, allowing operators to have full confidence in replacing legacy network equipment to obtain greater benefits. Soon, operators will be able to manage and automate their nationwide networks in a simple and unified way.
We believe that the implementation of network intelligence is next on the horizon for virtualization. Artificial Intelligence (AI) and Machine Learning (ML) technologies will play an essential role in the network. AI/ML on top of vRAN technology will drive the evolution of network architecture by bringing in optimal resource orchestration, network prediction, energy saving and much more.
Samsung has set the path for the future of network technology with its successful wide-scale deployment of vRAN. Based on our commercial experience, we will continue to advance our virtualized solutions for operators to offer maximum flexibility in network operations, and offer users access to high-quality, desirable services at any given time.

Related Insights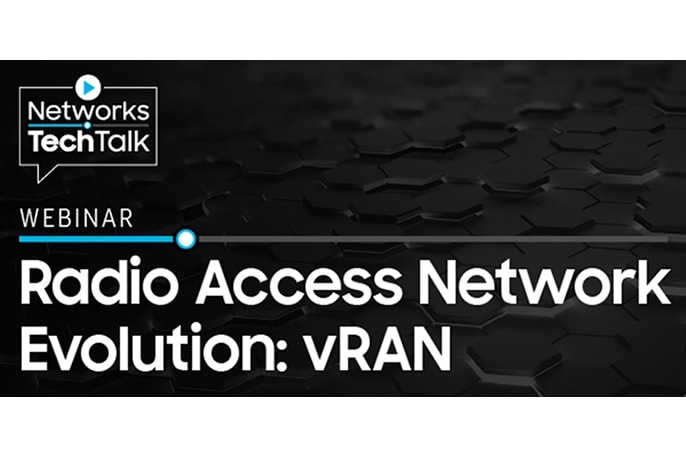 Radio Access Network Evolution : vRAN Webinar with Shamik Shah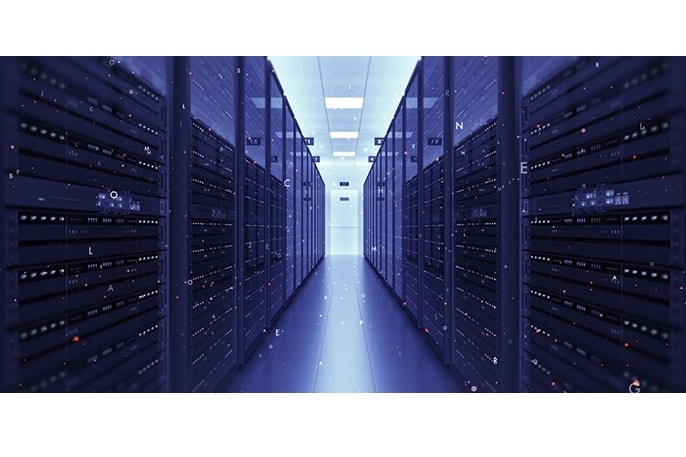 Transition to Virtualized RAN