Smart Factory
The Backbone of
the Smart Factory
The Network Behind Industry 4.0
Product manufacturing cycles are tightening and manufacturers are required to produce high quality products, more quickly and at lower price points. Industry 4.0 promises to streamline the manufacturing process by implementing modern information and communication technologies. 5G, with its high speed and high device density capabilities, will be key to this revolution in the production industry and will enable faster processing on the production line to delivers higher quality yields. Furthermore, with a 5G-enabled smart factory, real-time communication among millions of sensors, devices, and systems will be possible to improve environmental safety as well as quality control.
Innovating Manufacturing with 5G
In the US and Korea, Samsung has already delivered a full end-to-end 5G network to two of its own factories. Only the most advanced technologies have been implemented to daily operations, ranging from storage to manufacturing, transport, packaging, and shipment. By leveraging both a powerful 5G network and the most up-to-date solutions such as artificial intelligence, robotics, massive IoT, and mixed reality, Samsung is driving new innovations to industrial 5G solutions.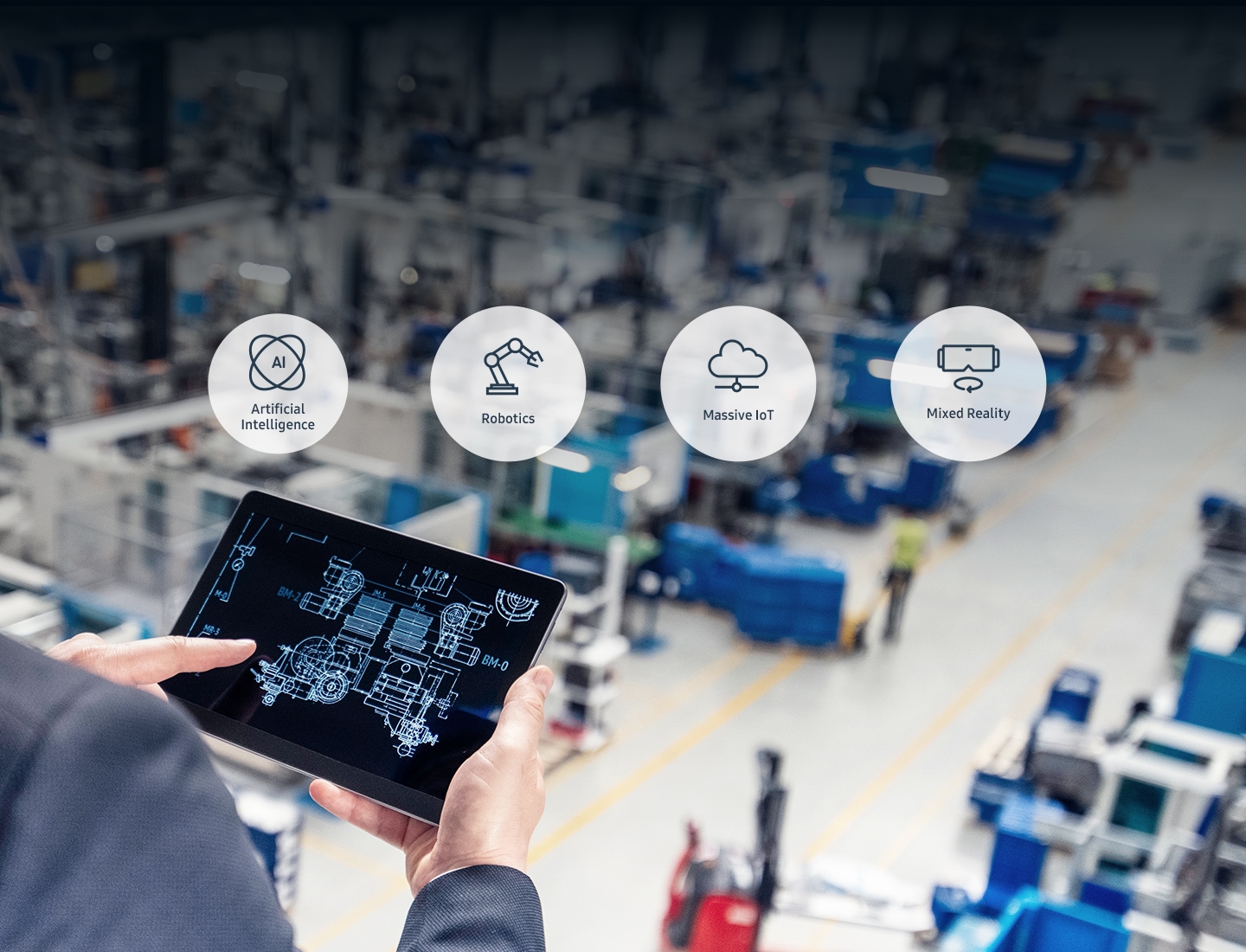 Samsung
and KT
for Networks Manufacturing
Located at the heart of Samsung Electronics headquarters in Korea, the Samsung Networks Smart Factory is a birthplace of innovations where cutting edge telecommunications equipment are produced for global operators. Befitting its title, the factory is now being equipped with a commercial 5G network that is enabling breakthroughs in manufacturing flexibility and productivity.
Working with Korea Telecom (KT), Samsung deployed an end-to-end 5G solution using the massive MIMO unit, digital unit, virtualized central unit, and virtualized core. KT has created a private network especially for the Samsung factory with the user plane function (UPF) of the virtualized core located within the factory. This ensures ultra-low latency communication as data does not need to travel to the data center as well as data security to keep all of the traffic within the factory.
Automation
and
AI-based Quality
Assurance
Over 70% of the manufacturing process is automated in the factory, with machines such as robot arms in charge of assembling the network equipment produced in the factory. While efficiency is greatly enhanced with automation, this also indicates that each process must be monitored thoroughly. Therefore, the inspection process in the factory is also completely automated with deep learning and AI technologies accurately detecting any defects in a product. The traceability system tracks each and every component of the manufacturing equipment as well as the condition of the product it was manufactured under. All of this data is sent in real-time through a 5G network and can be either monitored live or kept for further analysis.
Massive IoT
for
Production Lines
The 'Predict Eye' system in the factory constantly collects and monitors environmental indicators in order to stop equipment failure. IoT sensors that are deployed throughout the factory look at temperature, humidity and dust levels to ensure that factory conditions are ideal for production line equipment. There are also CCTVs and thermal imaging cameras installed throughout the factory that send live video to the control center. The massive amount of data generated from such sensors can be sent to the control center with the 5G network. Monitoring and analyzing such data constantly will enable preventive measures to be taken before equipment failure occurs, which, in turn, decreases down-time while increasing productivity.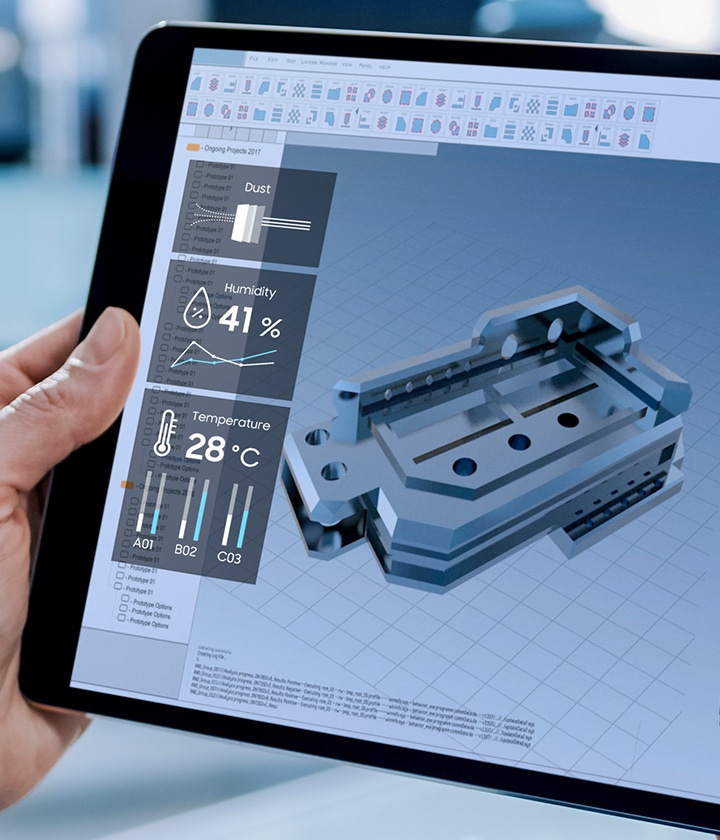 Automatic Guided
Vehicle Control
Inside the factory, instead of manually moving products, Automatic Guided Vehicles (AGVs) deliver whatever is needed to the appropriate places. The AGVs are utilized in all stages of the manufacturing process whether bringing materials to certain work stations or transporting completed products to storage. Connecting and controlling the vehicles through 5G ensures the stability of the vehicle while it is running and increases the speed of operation to increase productivity.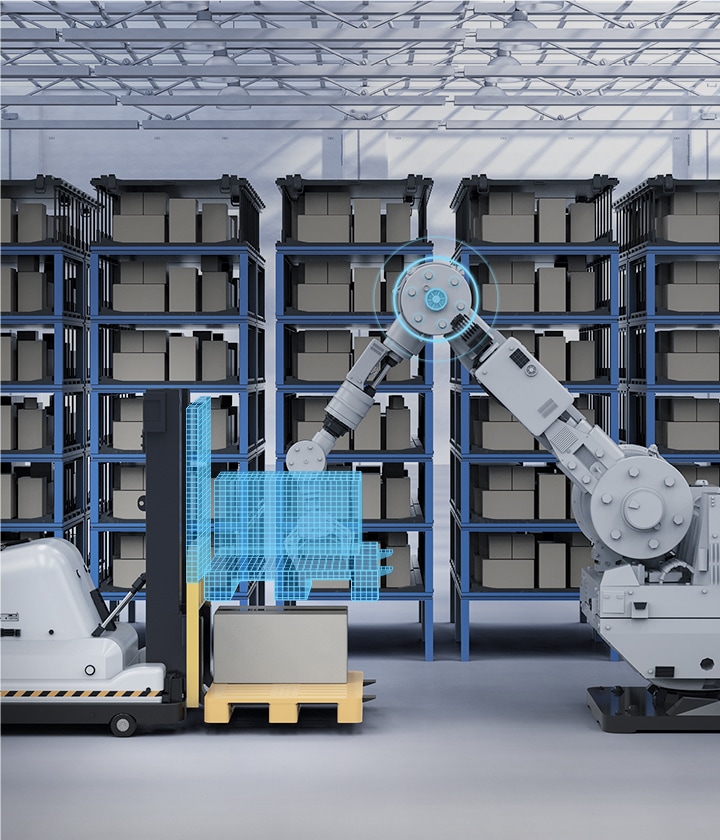 Samsung and AT&T
for Semiconductor Manufacturing
In their state-of-the-art chip manufacturing facility in Austin, Texas, Samsung Austin Semiconductor (SAS) is putting Samsung 5G to work. As one of the most advanced semiconductor manufacturing facilities in the world, the facility provides creative solutions for the innovation needs of its customers. Samsung is partnering with AT&T to test and evaluate Samsung's 5G network powering various next-generation industrial use cases. Below are just a few examples of how 5G could benefit the SAS factory.
Watch Video
Industrial IoT for
Automated Material
Handling System
Autonomous delivery systems in the factory need precise control over delivery conditions and a comprehensive understanding of the factory environment. Therefore, product carriers transported with these robotic vehicles are prepared with a full suite of equipment that collect video, 3-axes acceleration/position, temperature, humidity, and gas flow rate. If a 5G network was implemented across the factory, the information would be transmitted wirelessly over 5G to servers to be viewed in real time or gathered to be analyzed further.
Robot
Equipment
Monitoring and
Maintenance
In the fab (fabrication) environment, thousands of robot arms and other tools are put to work. By attaching sensors directly to these machines, environmental and manufacturing process information such as vibration, humidity and acceleration data can be easily transferred via 5G. Monitoring and analyzing the data can provide valuable preventative maintenance opportunities to reduce machine downtime and prevent breakdown.
Worker Safety
and Training
Assurance
5G can also guarantee a safe and secure work environment for all employees. When entering the factory, employees and visitors could be wearing health and environmental health sensors. The health sensors would monitor basic health indicators like pulse, blood pressure, and respirations. The environmental sensors would monitor the atmosphere and detects any anomalies in gas levels like low oxygen. With mixed reality training, workers who are new to the factory could interactively learn how procedures in the factory are to be performed before actually being stationed at the field.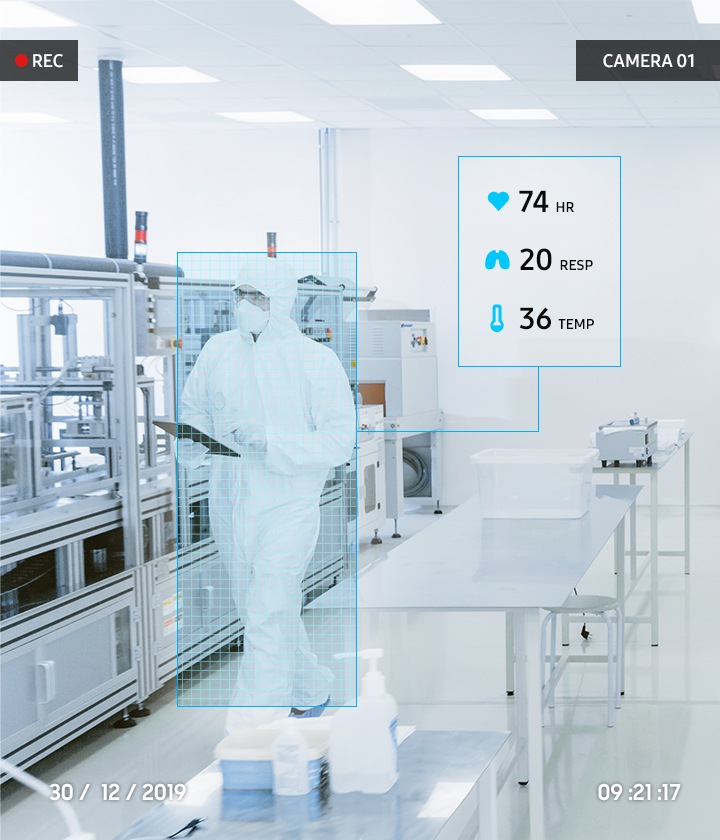 Related Insights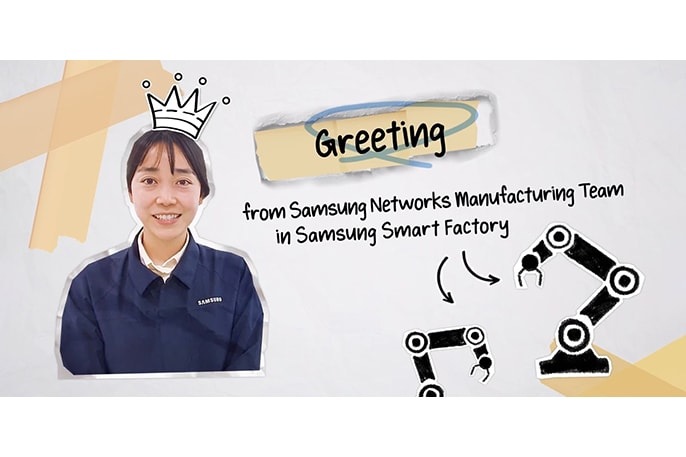 How Samsung Networks provides the best quality 5G networks