Environmentally conscious Worksites
Environmentally conscious Worksites
Our environmentally
conscious worksites
coexist with nature
Our Environmentally Conscious worksites coexist with nature

All of Samsung Electronics' worksites have obtained environmental management system certification and, as such, practice eco-management. But our endeavors for the environment do not stop at the boundaries of the worksite. Within all of our worksites, we identify environmental problems and come up with solutions. By pinpointing the root of the problem and taking preventative action throughout the entire worksite system, we ensure that these solutions are not merely temporary or "too little, too late". Outside of the worksites, meanwhile, we are enthusiastically engaged in biodiversity conservation work with local communities to preserve the ecosystem.
We practice sustainable environmental management
In order to practice eco-management, Samsung Electronics has managed worksites based on international environment management standards.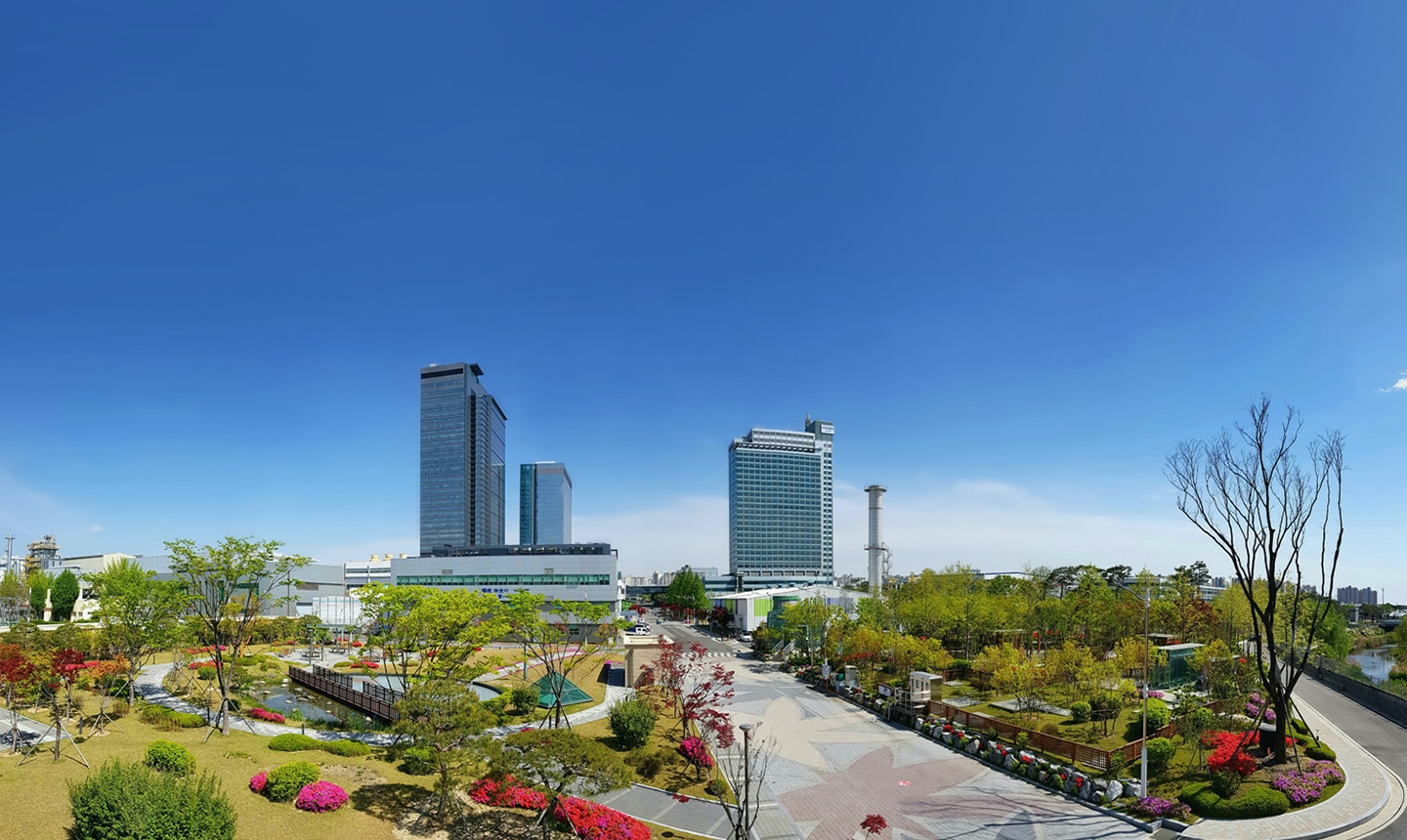 popup close
We practice sustainable environmental management
In order to practice eco-management, Samsung Electronics has managed worksites based on international Environment management standards. All of our worksites around the world hold the International Organization for Standardization's environmental management certification, ISO 14001, and its energy management system certification, ISO 50001. Companies that hope to obtain these certifications must have environmentally conscious business management principles not to mention concrete environmental targets and action plans.

Companies must pass meticulous evaluation on various execution capabilities such as the capability to allocate resources for implementing detailed action plan and the capability to efficiently perform relevant tasks. Moreover, in order to maintain the certifications, companies must receive surveillance audit every year and recertification audit every 3 years. All manufacturing sites of Samsung Electronics successfully passed all these stringent certification processes, but instead of settling for the status quo, we have established standards that are even stricter than these international certification requirements and manage our worksites accordingly. In addition, we have the Global EHS (Environment, Health & Safety) Center and the Global CS (Customer Satisfaction) Center under the direct leadership of the CEO to enable the organization to work systematically and organically.
Environmentally conscious worksites KPI
Environmental management system certification rate

Achieved
* 36 global manufacturing sites with ISO 14001 and OHSAS 18001
certifications
We are constantly striving to reduce greenhouse gas emissions
There are actions that can be taken at the company level to cope with climate change. One such measure is to objectively and transparently gauge current performance and identify potential internal improvements. To this end, Samsung Electronics has been verifying its actual greenhouse gas emissions annually through a third party. In addition, based on the diagnoses of in-house examiners, we have sought ways to reduce our emissions and have continuously taken steps to improve. One of our primary focus areas to reduce greenhouse gas has been to constantly strive to lower fluorinated gase emissions, which has large impact on global warming. This has led to significant progress, particularly in our semiconductor manufacturing operations.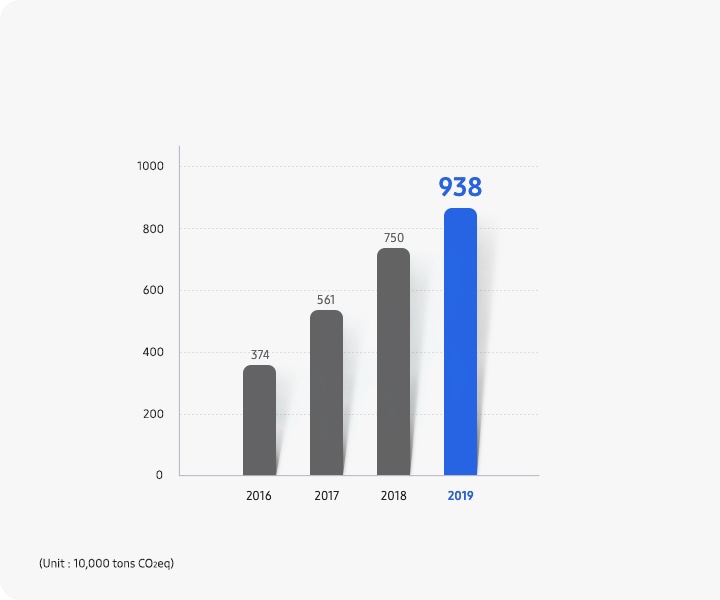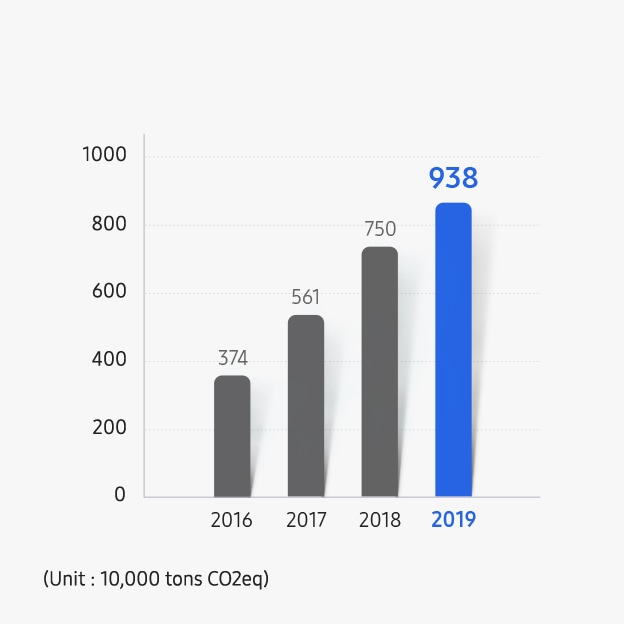 Accumulated fluorinated gases reduction
 status of Samsung locations in Korea
(Unit : 10,000 tons C02eq)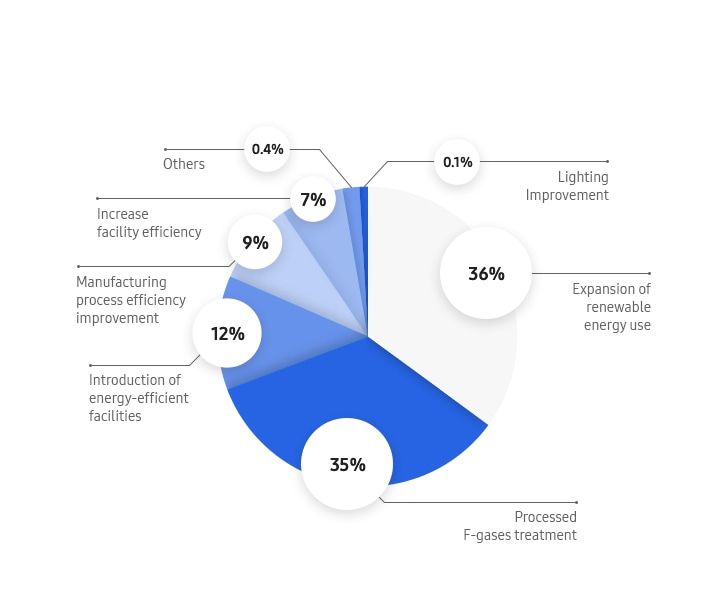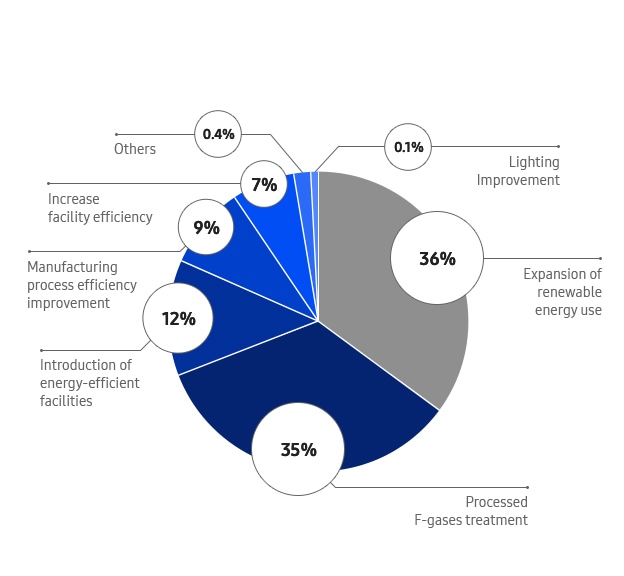 2019 reduction of GHG emissions
36% Expansion of renewable energy use
35% Processed F-gases treatment
12% Introduction of energy-efficient facilities
9% Manufacturing process efficiency improvement
7% Increase facility efficiency
0.4% Other
0.1% Lighting Improvement
Strict management of chemical substances according to local laws and internal regulations
In order to prevent potential accidents that may arise from chemical management, we systematically manage every stage from purchase to disposal. Our employees who deal with chemicals at each of our worksites are required to perform a preliminary evaluation of the chemical prior to purchase. We register and use chemicals after they have been assessed as adequate for use. After use, chemical
waste are disposed safely through separate chemical waste treatment procedures.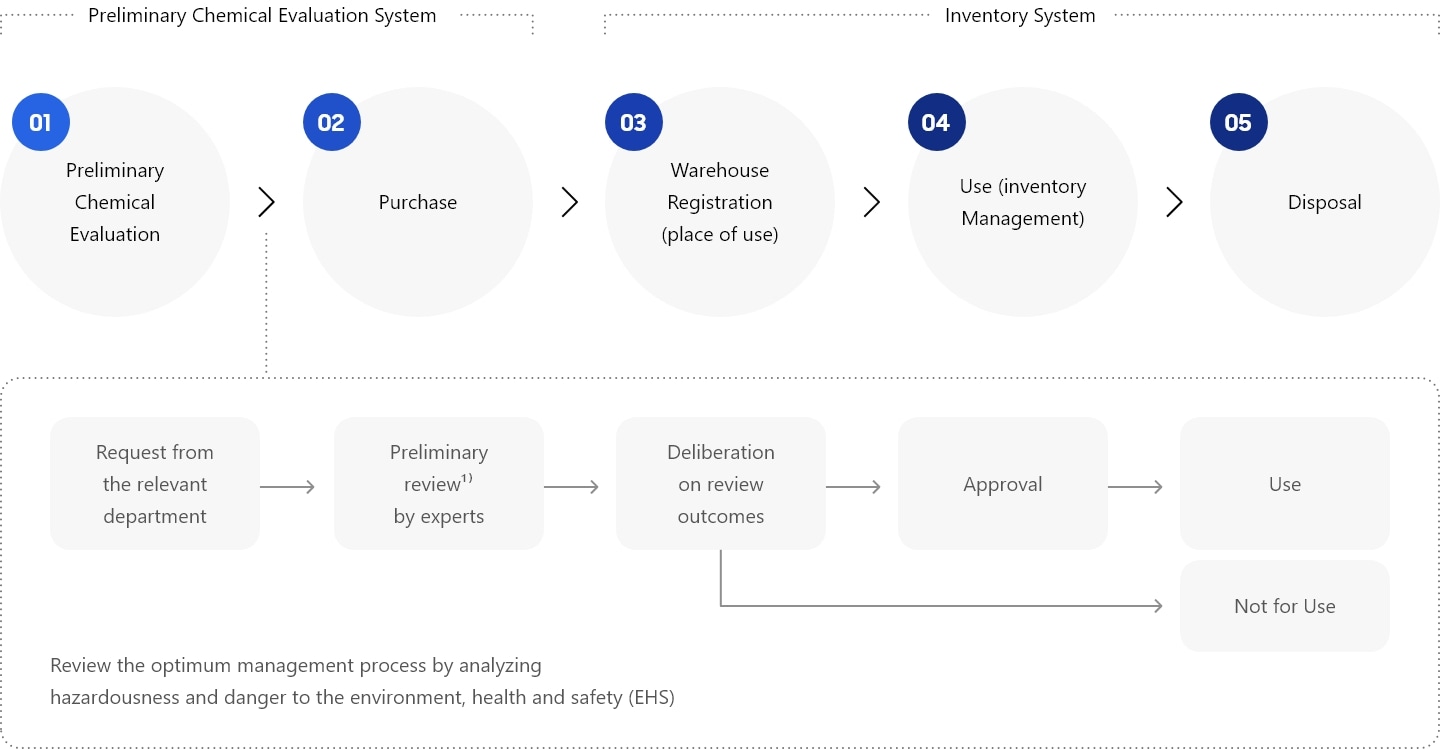 Preliminary chemical evaluation system
01 Preliminary chemical evaluation

Request from the relevant department
Preliminary review¹⁾ by experts
Deliberation on review outcomes
Approval
Use

02 Purchase
Inventory system
03 Warehouse registration (place of use)
04 Use (inventory management)
05 Disposal
Review the optimum management process by analyzing hazardousness and danger to the environment, health and safety (EHS)
Footnote: 
1) Preliminary review: Based on Material Safety Data Sheet
 (MSDS), chemical warranty letters, and letters of
 confirmation (LOC)
To keep the Earth healthy, we support biodiversity preservation initiatives
Samsung Electronics leadership and employees are taking part in activities to make a healthy ecosystem. Samsung Electronics shares the basic philosophy behind activities to conserve biodiversity, operates campaigns to promote awareness on its importance, and encourages active participation of our leadership and employees.
Samsung Electronics' biodiversity conservation policies
Philosophy
Samsung Electronics recognizes the benefits and the importance of the ecosystem and of biodiversity.
To minimize effects detrimental to biodiversity, we actively engage in ecosystem preservation initiatives.
Action plans
All employees recognize the
Preservation of bidiversity
as
one of eco-
management's key
values.

Assess and analyze a
product's
impact on the
ecosystem and
biodiversity
throughout its life
cycle and
strive to minimize
any
negative effects.

Prioritize regions with high
biodiversity value across all
worksites in Korea and abroad,
and undertake biodiversity
conservation activities that
cater to local needs.

Continuously communicate
with employees, local
communities, NGOs, and other
stakeholders and contribute to
enhancing the biodiversity
conservation efforts of local
communities.
Protecting the habitats of endangered species
We have identified endangered species and their habitats in regions where our manufacturing worksites are located, and we are carrying out biodiversity conservation campaigns with relevant organizations including local communities, public institutions, and academia.
Endangered species near worksites in Korea
Suwon City

Amphibians

1

Yongin City

Amphibians

2

Insects

1

Hwaseong City

Birds

12

Amphibians

2

Insects

1

Plants

2

Asan City

Birds

5

Amphibians

2

other

1

Gwangju City

Mammals

2

Birds

1

Fish

1

Insects

1

Plants

2

Gumi City

Mammals

1

Birds

1

Fish

1

Insects

1

Plants

2

Other

1
White-naped crane conservation – The restoration of Jaepyeong
(Jaedurumi + Haepyeong Wetlands)
In 2013, Samsung Electronics' worksite in Gumi, Gyeongsangbuk-do Province became the first in Korea to sign a biodiversity preservation partnership with the central and local governments and universities. Since then, we have supported the artificial insemination of two pairs of endangered white-naped cranes (Korean Natural Monument No. 203) that were brought in from the Netherlands. In April 2016, the Bird Ecological Environment Research Institute was able to successfully breed the birds. This will help to restore the ecosystem of the Haepyeong Wetlands, a habitat for migratory birds, and is a significant contribution to conserving biodiversity.
Preservation of coastal sand dunes
At our Onyang worksite in Chungcheongnam-do Province, we have been cooperating with the Geum River Basin Environmental Office since 2008 to preserve the coastal sand dunes, which are home to two endangered species, the Chinese Egret and the Mongolian Racerunner. Currently, in Boyreong City, we are supporting activities such as ocean cleaning, removing invasive alien plants and protecting the Sohwang sand dune, while in Asan we are supporting the creation of silvergrass habitats.
Eradication of foreign fish species/plants
Our Giheung and Hwaseong worksites in Gyeonggi-do Province carry out ecosystem preservation activities every year at the Osan and Woncheonri Streams, eradicating foreign species, feeding the wild animals and launching campaigns to protect the environment.