System Air Conditioner Solutions
Welcoming Atmosphere for Hotels
In the hotel industry there is one thing that counts above anything else - the comfort of customers.

The perfect control and performance
Most hotels have a wide range of rooms and facilities with diverse uses and air conditioning needs. Samsung's air conditioning solutions offer an extensive choice of indoor and outdoor units and controllers to suit different spaces and needs. Whether it's for guest rooms that demand stylish and individual 24 hour control, large amenity areas like restaurants or back offices that need to be kept economically comfortable, Samsung's air conditioning has the solution.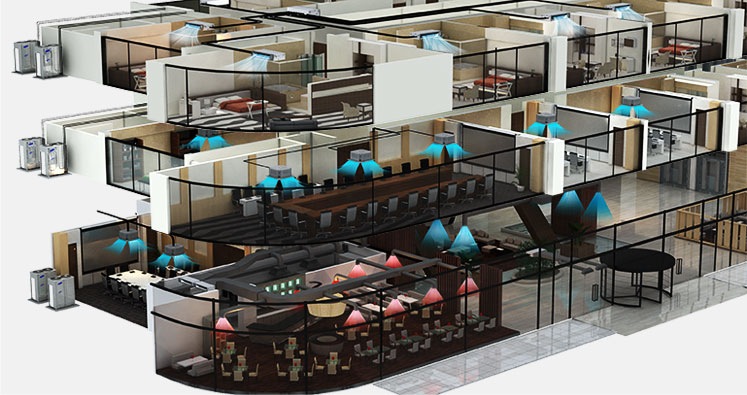 Independent control of individual zones
Hotels can waste a lot of energy and money if they can't adjust their air conditioning to suit each of their operational areas. Samsung air conditioning solutions lets you control the temperature and airflow in multiple spaces – individually and independently. This is especially good for hotel buildings with offices, meeting rooms, lobbies and amenity areas or where the hours of use vary.
Easy to tailor and manage
It is really important to save energy and costs by having the ability to adjust air flow in the hotel. Central Controller can control each air conditioner in an empty room even if there is not a keycard in the cardholder. The Management System also can be used to monitor and tailor the conditions in a wide variety of key areas around the hotel such as the lobby. In addition, individual controllers enable highly personalised control of specific areas such as guest rooms with various air conditioners.
Creating a warm welcome
One of the first impressions that people get of a hotel or leisure resort is when they walk into the lobby, so it's important that it is welcoming. Samsung's air conditioning solutions cool or heat the area with total control, so that guests always feel perfectly comfortable. Samsung's technology is able to minimise air leakage, even if many of people are coming in and out, keeping the temperature stable.
Individual room control for guests
A hotel's bedroom is where most people really want to feel relaxed and comfortable. Samsung air conditioning solutions can be individually controlled by each guest to suit their own particular preferences. As well as pre-conditioning the humidity and temperature of incoming air, hot water is also supplied without the need for a separate heater and the Virus Doctor system eliminates potentially harmful viruses.*
*Tested in Kitasato Environmental Science Centre (Japan) & Yonsei Univ.(Korea) / Korea test lab(FITI/KEMTI) and Japan test lab(ITEA)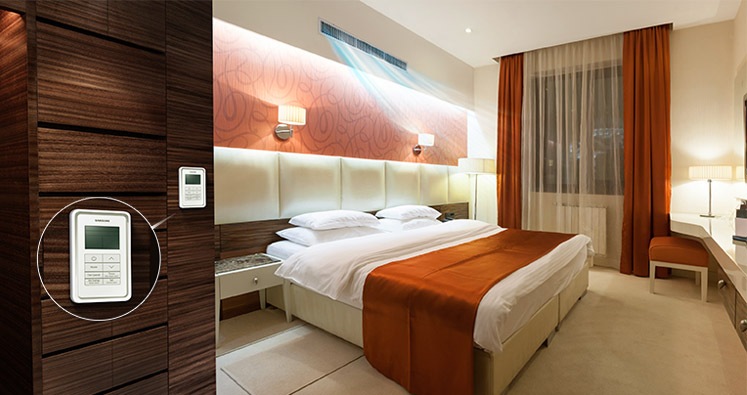 *Tested in Kitasato Environmental Science Centre (Japan) & Yonsei Univ.(Korea) / Korea test lab(FITI/KEMTI) and Japan test lab(ITEA)
Fresher smelling hotel restaurants
The last thing you want when you're eating in a restaurant is to have lingering food odours. As well as creating a fresh and pleasant atmosphere for diners with a draught-free air distribution, Samsung air conditioning solutions also prevents odours from spreading out. And by combining fresh air intake and air conditioning in a single system, they are perfect for use in the restaurant's kitchen.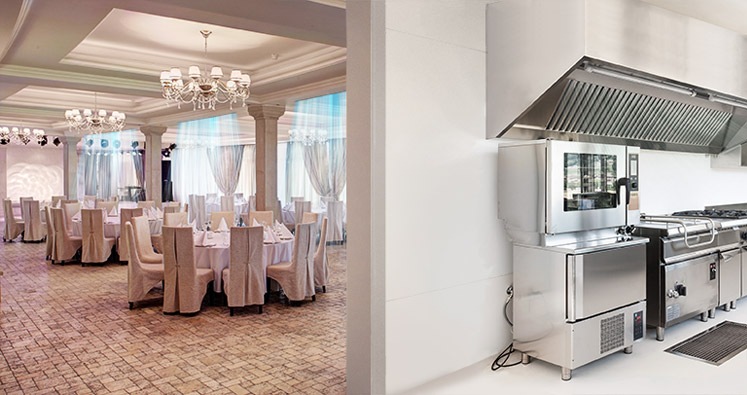 Quietly enhancing hotel office productivity
A noisy air conditioning system can be a real distraction when you are trying to concentrate. Samsung's air conditioning works silently away in the background to create a much more comfortable and productive office environment for hotel staff. Stylish wall mounted units also save money using energy recovery ventilation and you can enjoy free cooling when it's colder outside than inside.
Quietly efficient for effective meetings
When people are making presentations in a meeting it's essential that there are no noises to distract the audience. Samsung's air conditioning operates silently to make and keep the hotel conference rooms comfortable and therefore help enable effective and efficient communication. They also provide 360 degree quick cooling and heating and can be individually controlled with a simple remote control.