Galaxy Gear S- How to charge the battery?
Last Update date :
Sep 16. 2020
Use the charger to charge the battery before using it for the first time.
A computer can be also used to charge the Gear by connecting them
via the USB cable.
Use only Samsung-approved chargers, batteries, and cables.
Unapproved chargers or cables can cause the battery to explode or
damage the Gear S.
NOTE:
- If the battery is completely discharged, the Gear cannot be turned on
immediately when the charger is connected. Allow a depleted battery to
charge for a few minutes before turning on the Gear.
-The charging dock provided with the Gear is used for charging the
Gear's battery. Take care not to lose the dock.
-Before charging the battery ensure that the charging terminals of the
Gear and the charging dock are free of foreign material, such as sweat,
liquid, or dust. Clean the charging terminals with a soft dry cloth.
1. Confirm the location of the charging terminals on the Gear and the charging dock.
2. Connect the Gear to the charging dock with the charging terminals facing each other.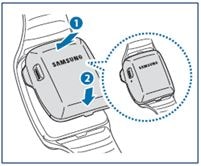 3. Plug the USB cable into the multipurpose jack of the charging dock.
4. Connect the USB cable to the USB power adaptor and plug it into an electric socket.
Connecting the charger improperly may cause serious damage to the Gear. Any
damage caused by misuse is not covered by the warranty.
• While charging, some features are not available.
• If the Gear receives an unstable power supply while charging, the touch screen may
not function. If this happens, unplug the charger from the Gear.
• While charging, the Gear may heat up. This is normal and should not affect the
Gear's lifespan or performance. If the battery gets hotter than usual, the charger
may stop charging.
• If the Gear is not charging properly, contact to a Samsung Service Centre.
After fully charging, disconnect the Gear from the charging dock. Then, disconnect
the charging dock from the USB cable and unplug the USB power adapter from the
electric socket.
Please answer all questions.