Feel good with Samsung Health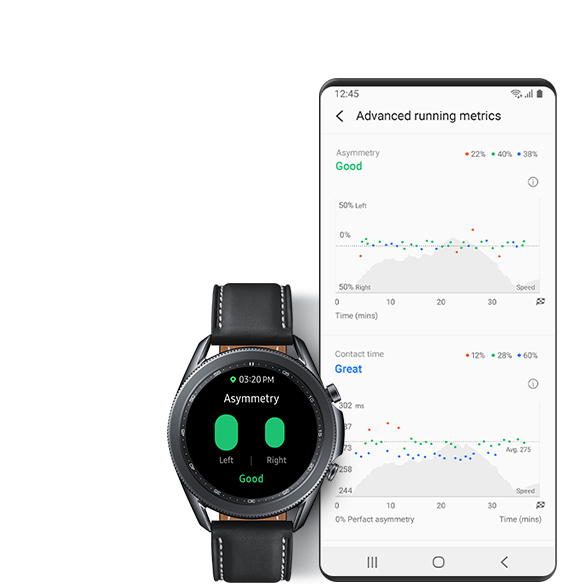 Whether you're running*, cycling, or swimming, Samsung Health helps you stay on top of your fitness game.
And now you can seamlessly connect your Galaxy Watch to Life Fitness, Technogym and Corehealth equipment to track your workouts**.
* Advanced running metrics is only available on Galaxy Watch3.
** Compatibility may vary by Gym equipment/model and Galaxy Watch model.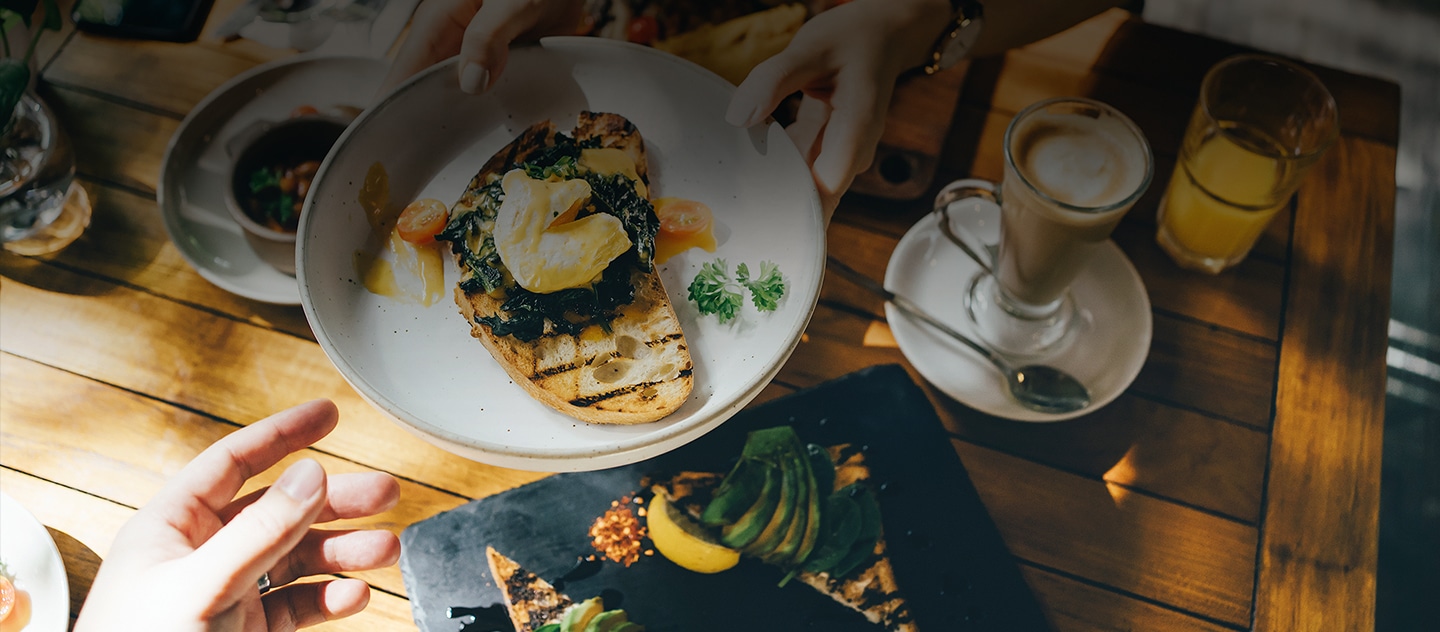 Create healthy eating habits by recording your daily meals and snacks with Samsung Health. Check out your Nutrient Balance evaluation, based on your vitamin and nutrient intake for the day, and take steps towards a more well-balanced diet.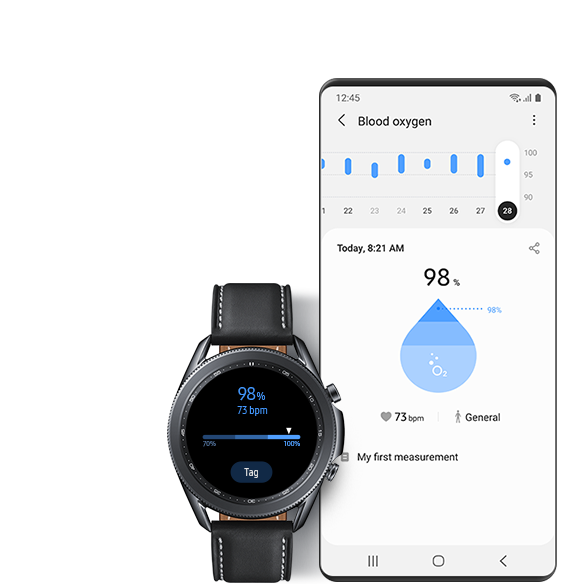 Always maintain peak condition with Samsung Health. Set goals and track your daily progress on your physical activity, workout intensity, sleep quality, heart rate, stress and blood oxygen levels*.
* Availability of features such as Stress and Blood oxygen level may vary by country and device. Intended for fitness and wellness purpose only.
This device and related software are not intended for use in the diagnosis of disease or other conditions, or in the cure, mitigation, treatment or prevention of disease.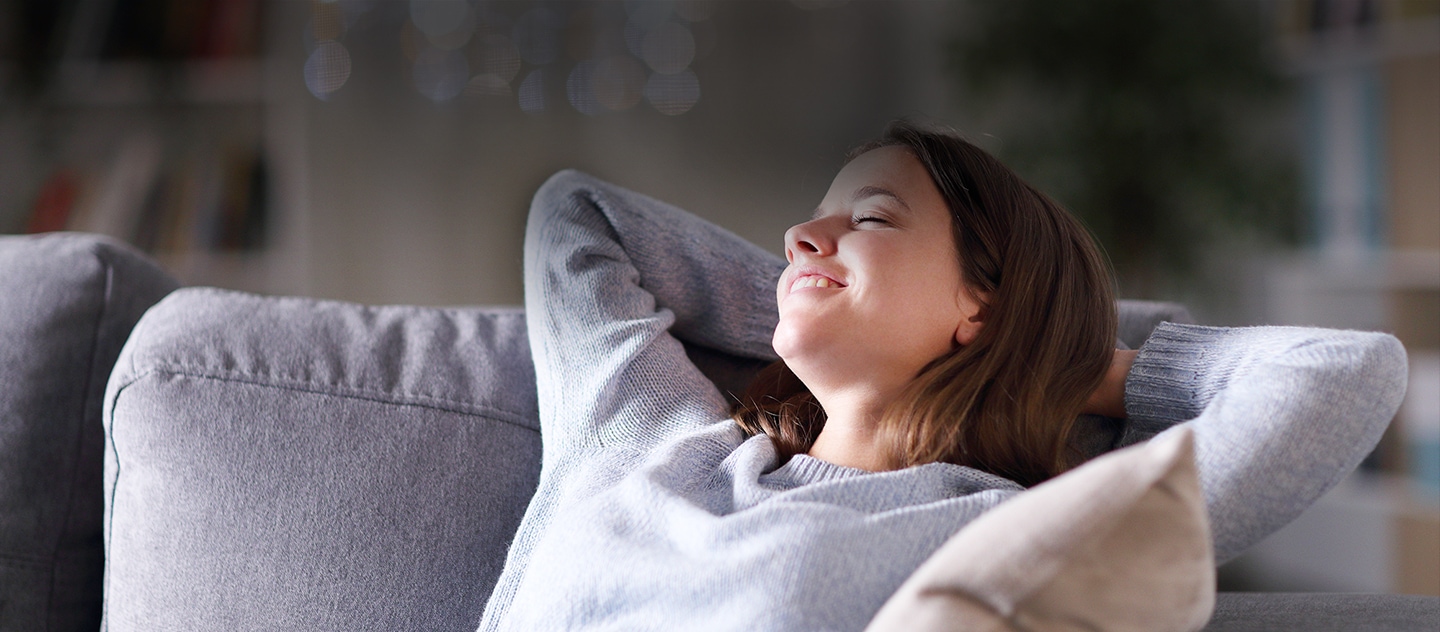 Relax your body, mind and soul. Discover powerful meditation tools on the Calm app that will help you relieve stress throughout your day. End your day with quiet reflection and rest your mind with soothing music and story contents that will help you drift off to sleep*.
* Some content may incur additional charges.
* Samsung account log-in, Calm account log-in required.
* Android OS 6.0 or above required.
* Content is supported by English, German, Spanish, French, Portuguese, and Korean.
Working out with
everyday Items at home
Learn from the experts

Tired of the same routine? Samsung Health has prepared videos of expert coaches who will teach you new fitness programmes including stretching, weight loss, endurance training, and more. It's just what you need to pick up your pace again.
Core crunches

Core exercises are a vital part of any workout—no equipment required. Simply lie on your back with your knees bent, feet on the floor and hands behind your ears. Breathe in, engage your core muscles, and raise your head and shoulders as you exhale.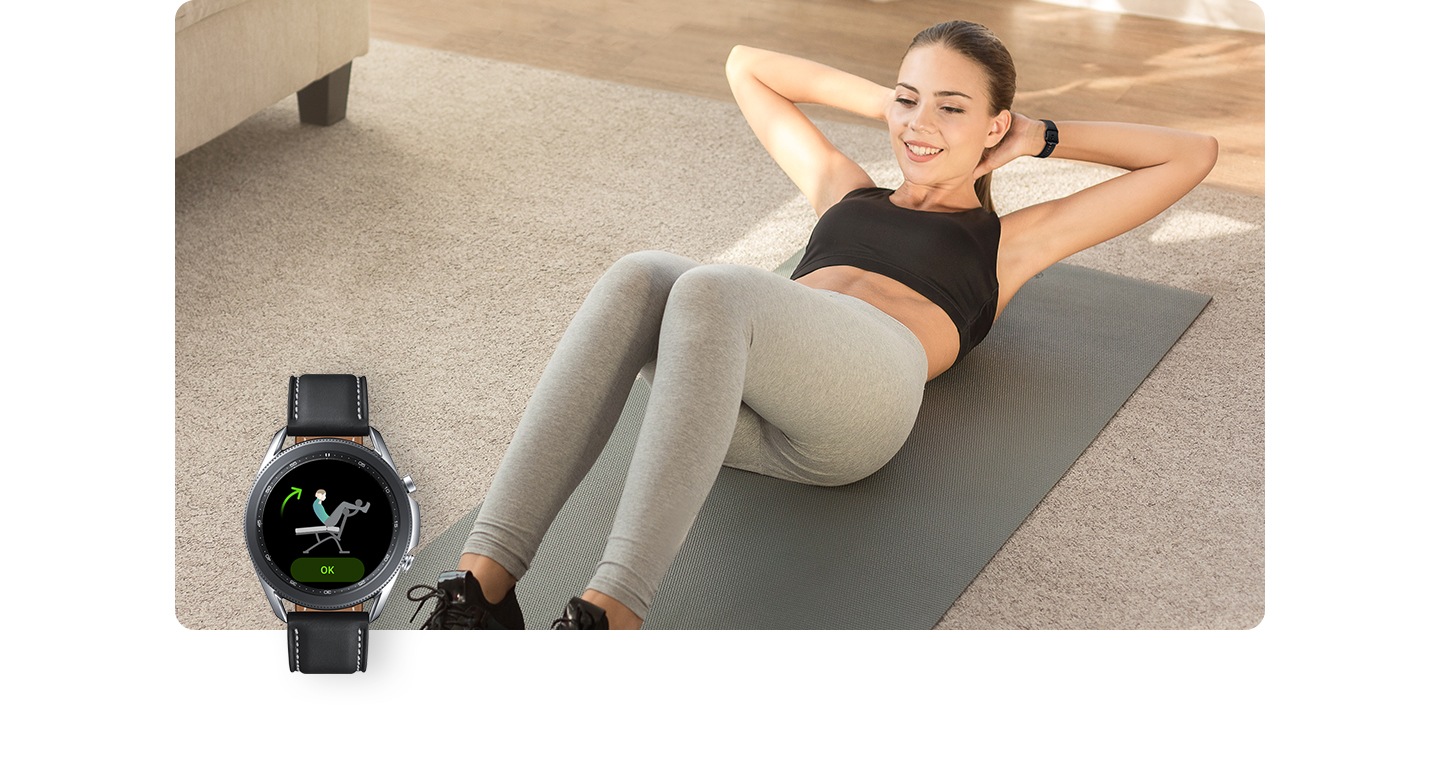 Better sleep starts here

Everyone can benefit from better sleep. Use your Galaxy Watch to monitor your sleep patterns, based on the different stages of sleep. Get valuable insights and a sleep score*, so you can optimize your sleep schedule and wake up feeling more rested each day.
* Sleep score is only available on Galaxy Watch3.
Get better together

The key to fitness is in motivation. Challenge yourself against your friends and family to become healthier
in a more fun and interactive way with Samsung Health Together. This way, it's a win for everybody.
The support you want

Women's health offers helpful support in menstrual cycle tracking, related symptom management and personalized insights and contents through your partner, Glow. The Galaxy and other wearables are now ready to support the women we love every step of their way.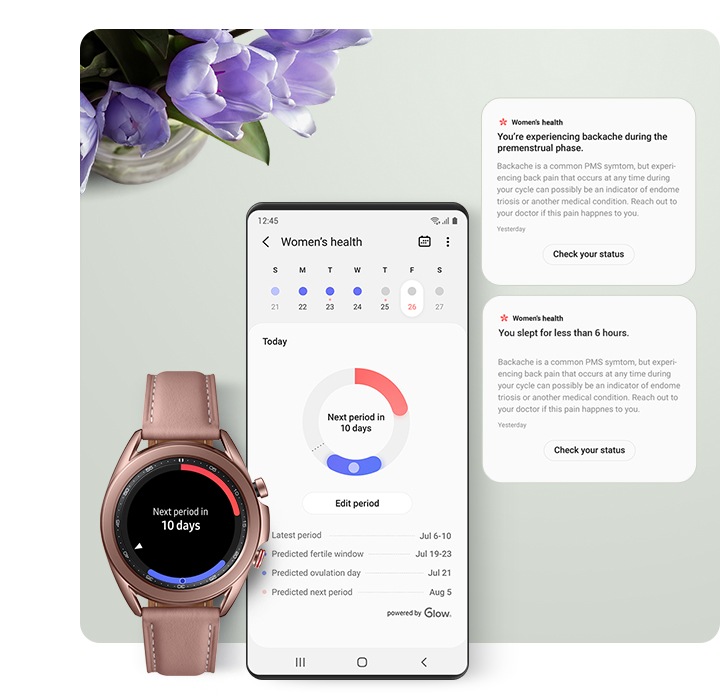 Partner apps & accessories

Besides all the tools you need to monitor a healthy lifestyle, there are numerous third-party apps prepared to offer additional resources including diet trackers and fitness guides.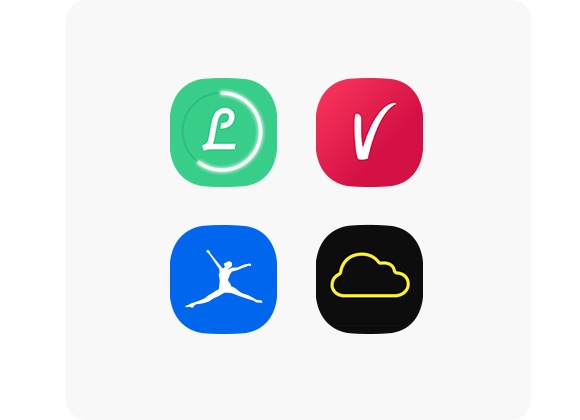 Apps with Samsung Health
Get the help you need through numerous third-party apps that can offer you the guidance and daily monitoring for a healthier lifestyle. Available for download on the App Store.
Devices with Samsung Health
Keep your health in check seamlessly by syncing your devices with important tools, such as glucose monitors and scales, and go about your day prepared.
Data safety with Samsung Knox

Your health data is stored safely with Samsung Knox.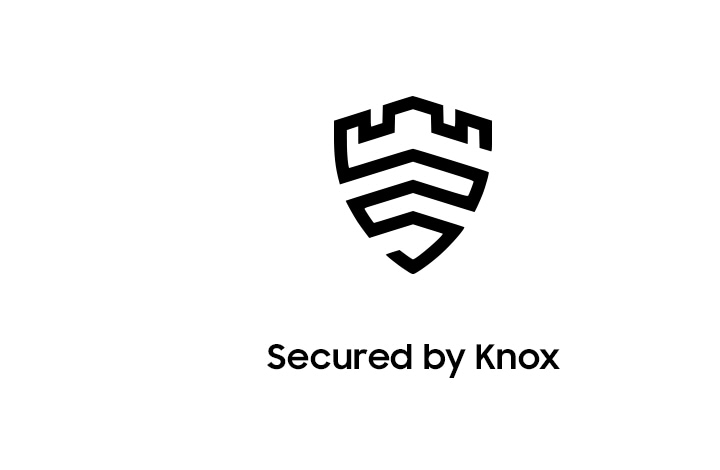 * All services, features, functionalities, contents, user interfaces and benefits described herein may change without notice,
and their availability may vary by country/region, device model and OS version. Paid services are available after purchase.
* Device and screen images simulated for illustrative purposes.