How to enable the Wi-Fi calling function on a Galaxy phone
Last Update date :
Feb 22. 2023
The Wi-Fi Calling feature allows you to make or receive a phone call if you have a Wi-Fi connection in an area with little or no cellular coverage. You are covered with a voice call using Wi-Fi Calling from participating carriers. Check out the guide below about Wi-Fi Calling.
Before you try out the recommendations below, be sure to check if your device's software and related apps are updated to the latest version. To update your mobile device's software, follow these steps: 
Step 1. Go to Settings > Software update.
Step 2. Tap on Download and install.
Step 3. Follow the on-screen instructions.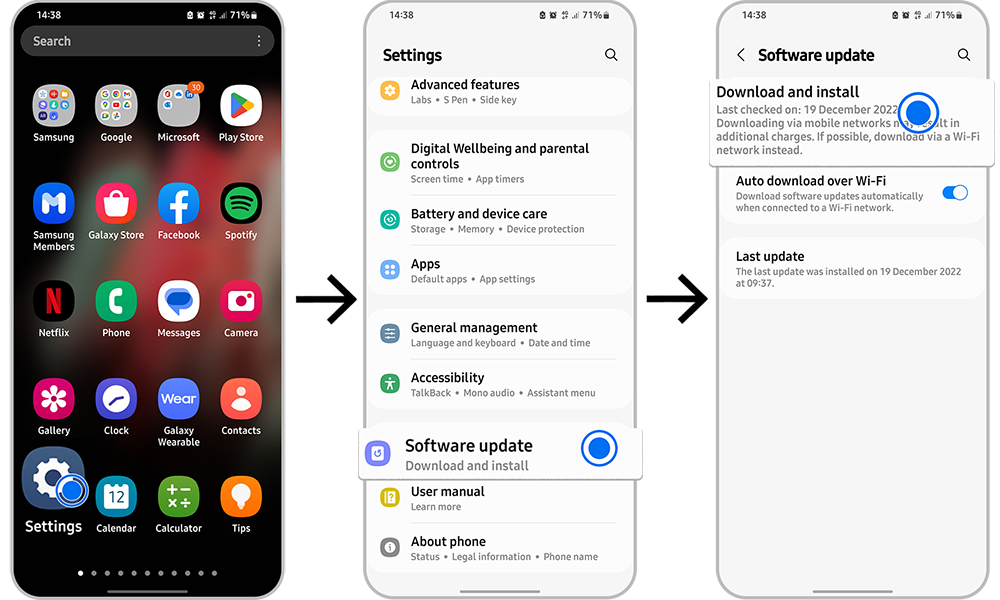 How to activate the Wi-Fi Calling feature
When you turn on Wi-Fi Calling, you can make calls over your phone's Wi-Fi network connection. For this feature to work, your phone must be connected to a Wi-Fi network and have an active SIM card inserted.
Note:
This feature may not be available depending on the country and carrier.

Device screenshots and menus may vary depending on the device model and software version.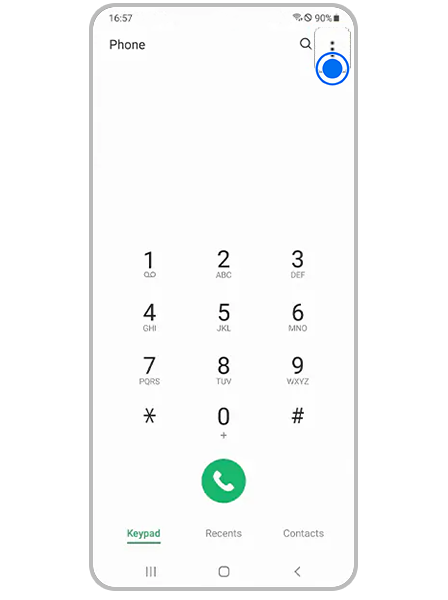 Step 1. Open the Phone app, and then tap on the More options (the three vertical dots) icon.
Step 2. Select the Settings menu.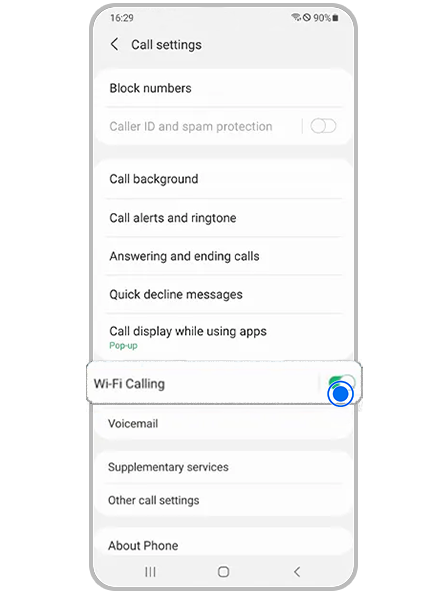 Step 3. Find and tap the switch to turn the Wi-Fi Calling feature on.
Alternately, you can also enable Wi-Fi Calling from the Quick settings panel. Swipe down from the top of the screen, and then tap the Wi-Fi Calling icon to turn it on.

Check on your phone if you're unable to use the Wi-Fi Calling
There are few things that you can check on your phone if the Wi-Fi Calling feature isn't available.
First, make sure you are connected to a Wi-Fi network. If the network signal is weak or unstable, the Wi-Fi Calling feature may not work. Open the Quick Panel and check the Wi-Fi icon to make sure you are connected to a Wi-Fi network.
In addition, to use Wi-Fi Calling, you need to insert an active SIM card from a carrier that supports this feature. Check with your carrier if your SIM card is supported. If that doesn't resolve the issue or if access to the feature isn't allowed, please contact your carrier for further assistance.
If you are experiencing difficulties with your Samsung mobiles, tablets, or wearables, you can send us a question in the Samsung Members app.
This allows us to take a closer look at what is happening. The data is anonymized and only held for the duration of the investigation. Find out more about sending an error report through the 'How to use the Samsung Members app'.
Please answer all questions.