Key changes with Android version 9.0
Last Update date :
Sep 16. 2020
The Android version 9.0 operating system has been updated with an intuitive and accessible design, making it easier to do everything with one hand.
Find out more about some of the main changes below.
Please note: Android version 9.0 is only available to download on certain models, and this may differ based on region. This software comes as default on the S10's.
Updated design
You will notice that the Home screen, phone app, calendar, messages, email, notification panel and more have all been redesigned for a better user experience. There's a more user-friendly and simplified design for many of the icons and menus.
The default clock on the Always on Display (AOD) is now positioned horizontally and features coloured icons. It shows remaining battery time, time remaining until fully charged, and also battery information for any other connected devices like wearables. It can also be fully customised by using different layouts or by uploading images or GIFs.
The control buttons on the video player have moved. They are now at the bottom of the screen, making them easier to interact with.
Changed settings and features
The previous "Device maintenance" area within "Settings" has been replaced with "Device care".
Tap "Battery" to find new "Power mode" options available to optimise battery power saving.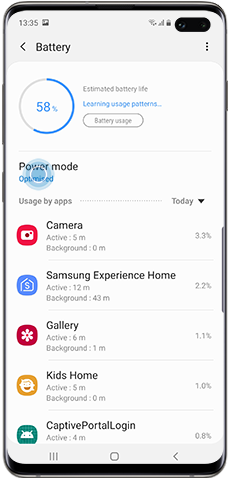 You can also free up storage space by using the new "Storage" area where you can analyse your usage and remove duplicate or redundant files.
Location settings
Location settings are no longer within "Connections" but can now be found under "Biometrics and security".
Do not disturb
Finally, the "Do not disturb" setting has been moved from the "Sounds and Vibration" menu to "Notifications".
New features
Night mode
Discover the "Night mode", which changes the display to dark colours at night to reduce eye fatigue. It works at sunrise/sunset or in certain conditions. It only works on Samsung apps, and can be set up by tapping on "Settings" then the "Display" submenu.
Lock the Home screen
You can now limit the movement, deletion and creation of new icons on the home screen. Tap "Settings", "Display" then "Home screen" and swipe the switch to enable "Lock Home screen layout".
Gallery albums
You will find new "Albums" in the Gallery, split into four folders for videos, favourites, locations and suggestions. The "Suggested" album recommends content creation or deletion based on what is stored on your device.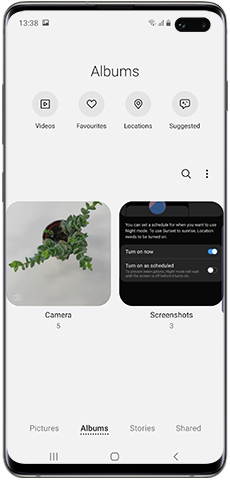 New contacts
If you have an unsaved number in your messages, you can now quickly and conveniently "Add to Contacts" or "Block number" from the messaging screen.
Please answer all questions.