320W 2.1Ch Soundbar HW-H550
HW-H550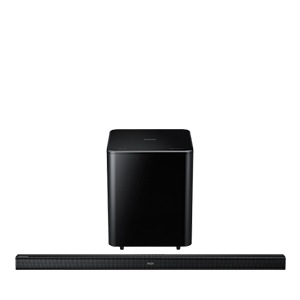 320W 2.1 ch Soundbar
Surround Sound Expansion
Easy to Connect wirelessly with TV SoundConnect
Recycling Batteries Responsibly
The European Directive on Batteries and Accumulators aims to minimise the impact of batteries on the environment and encourage the recovery of the materials they contain. In the UK, regulations on the recycling of batteries and accumulators (rechargeable batteries) were Introduced in 2009. The Waste Batteries Regulations aim to significantly increase UK collection and recycling of used portable batteries from 3% in 2007 to 25% by 2012, rising to at least 45% in 2016.

The battery symbol on a product or on its packaging indicates that the product must not be disposed of with general household waste. Instead, it is the consumer's responsibility to dispose of their waste batteries at a designated collection point so that they can be recycled. The separate collection and recycling of batteries at the time of disposal will help to conserve natural resources and ensure that they are recycled in a manner that protects human health and the environment. A comprehensive list of battery recycling centers can be obtained from: www.recycle-more.co.uk

All Samsung products that are subject to the Batteries Directive are compliant with the UK battery and accumulator Requirements. In accordance with national law, SAMSUNG Electronics (UK) Ltd is a member of an approved batteries producer compliance scheme. This scheme collects, treats and disposes of batteries on Samsung's behalf.
320W 2.1Ch Soundbar HW-H550
Features
- 320W 2.1 ch Soundbar
- Surround Sound Expansion
- Easy to Connect wirelessly with TV SoundConnect
Activate the speakers using your smartphone
Thanks to Bluetooth compatibility, you can use your smartphone to turn your speakers on remotely. Pair the speakers and your smartphone once, and you can quickly and easily power on your speakers by selecting them on your smartphone. It's that simple. As long as the speakers are plugged into a power source, you can wake it up with just one touch and enjoy high quality audio.
Experience the richness of bass sounds
Combine the simplicity of the Soundbar with the thunderous bass sound quality to give you a truly enriching sound environment. The supersonic sub-woofer that accompanies Samsung's Soundbar adds dynamic and rich bass levels to your listening experience. Its wire-free design makes it easy to set up and to adjust around the room to give you the best bass effect. Increase the potential of your sound experience with the wireless Soundbar.
Enhanced surround sound from a wider range of listening positions
With Surround Sound Expansion, your Samsung audio expands the optimal listening area and elevates the height of the sound to the level of the TV screen, so there is no disconnect like with conventional speakers, just richer surround sound that seems like its coming straight out of your TV. Now you can enjoy a realistic, lifelike sound experience with truly immersive surround effects.
Connect and share wirelessly for double the fun
Connect your TV and Soundbar easily through Bluetooth to gain better sound with TV Sound Connect. The absence of trailing wires between the Soundbar and TV allows you to showcase the slim and sleek design of both systems, while maintaining a clean look in your living environment. Easily control the Soundbar and TV from a single TV remote. You can simultaneously turn on and manage the volume of your TV and Soundbar with Bluetooth or HDMI connectivity. ※ TV Sound Connect is all available from 2013 Samsung 3D TVs except LED F6100.
tech specs
Speaker
Subwoofer Type ( Active / Passive / Wireless / Bulit-in )
Audio Feature
Number of Sound Modes (DSP)
Connectivity
ARC (Audio Return Channel)

Number of HDMI Input/Output
Dimension
Net Dimension (Main Speaker) (WxHxD) (mm)

Net Dimension (Sub Woofer) (WxHxD) (mm)

Gross Dimension (WxHxD): One Packing (mm)
Weight
Net Weight (Main Speaker)

Gross Weight (One Packing)
Power
Stand-by Power Consumption (Main)

Stand-by Power Consumption (Subwoofer)

Operating Power Consumption (Main)

Operating Power Consumption (Subwoofer)
NEWEST
MOST HELPFUL
HIGHEST RATING
LOWEST RATING