Product Details
Description
The easy way to turn your home into a smart home.
Product Features
Connect wirelessly with a wide range of smart devices.


Automate your lights and control your home's temperature.


Teach your home a few new tricks and make life a little bit easier.


Monitor, control, and help secure your home from anywhere.


Works with the Google Assistant and Amazon Alexa.


Run your home from your phone
With the free SmartThings app, you can receive important notifications about what's happening at home, control your smart devices with a simple tap, and automate your home to react to your unique lifestyle.
A door that can light
your way.
"I put a SmartThings Multipurpose Sensor on my door that turns on the lights when I arrive home in the evening."
—Øyvind N, Nottingham
SmartThings Motion Sensor
+
A bedroom that can make
the morning easy
"I made a Good Morning Routine in my SmartThings app that gently turns on the lights and starts the radio at the same time each morning."
—Fred W, York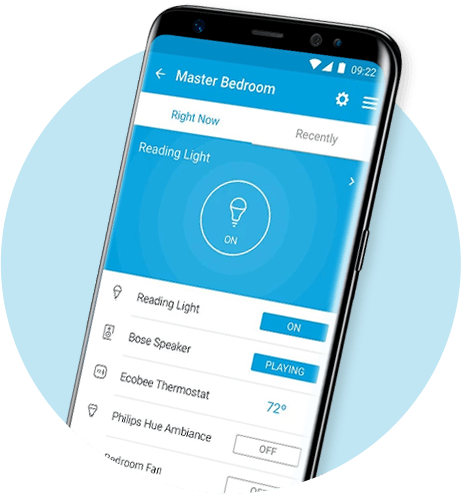 Run your home from your phone
Monitor, control, and automate your SmartThings home. Manage connected devices in your home with SmartThings Routines for Good Morning, Goodbye, Good Night, and more.
Rated

5

out of

5
by
Sweetsmile
from
My Samsung galaxy tablet A 32gbites and Samsung galaxy J3
This tablet is amazing you can do your school work and play games. What I really I enjoy about this tablet 1. It come with on smart manager it help keep system running smoothly .2 is the capability of the micro SD card slot amazing samsung is the only company that has the Hight SD card abatible of the for their tablet and phones. 3. Last one is the security icon samsung Knox is out of this world it make so easy to have and use of keeping your personal information locked and safe and back up for others people getting into them. I do have to samsung galaxy products have gotten better over the year keep up the amazing work. One more thing please fix the sidesync app is very handy to have when we all have a busy lives.
Date published: 2016-08-19
Rated

1

out of

5
by
Helicopter
from
Never have I been so disappointed with a piece of technical kit
Of the Smart thing starter kit the only thing that works correctly is the automatic plug socket. The motion sensor goes off when it feels like it, even though it is facing the wall. It cannot be disarmed when we are in the house although my smart phone has an icon to do so, therefore there is no point in setting it up to detect motion as if we are in the house it is constantly going off. The Key fob sends me a message to inform me it has left the house even though it is sitting next to me on the table. The Door/Window sensor cannot be fitted to the back door because the door frame has a 45 degree angle which prevents the two sensors meeting and they have to be as close as possible in order to work. I bought this in November as we were away for three weeks over Christmas. I had no confidence that the items were going to inform us if we had intruders.
Date published: 2016-02-28
Rated

5

out of

5
by
paradoxewan
from
Amazing first steps towards the fully connected home.
Brilliant system, but with the occasional bug. You really need to decide what you want it to do, or live with it installed for a while and tweet it as you go. Would like to see more development go into the software side of things, developer.smartthings is great, although you do need to sort out the sign in system samsung!.
Date published: 2016-02-24
Rated

5

out of

5
by
Lunardust
from
Fantastic range of features to suit any home
This product has changed my life, not being dramatic, but being disabled this has helped me no end. Being able to switch things on and off via the app has been a lifesaver. The added security to my home is a welcome bonus. I would definitely recommend this, especially compared to the price of other named ranges.
Date published: 2015-12-13
Rated

4

out of

5
by
Duke Griff
from
Diverse
There is, in reality, a lot you can do with SmartThings. The app is fully featured and you can arrange some neat stuff to be automated around your home. But do your research before purchasing the started kit - because there isn't much you can do with it unless you have some other compatible products/want to compliment the kit.
Date published: 2015-12-12
Rated

5

out of

5
by
lux69
from
Great Prouct
This a very good product with great security features ,keeps you informed whats going on on your smart phone .Gives you the ability tun lights on and off from anywhere in world etc,
Date published: 2015-12-10
Rated

3

out of

5
by
hb445
from
Everything works fine, but what use is it?
I found the kit to be very easy to set up and use, and everything works perfectly so I've never had any issues. Unfortunately, however, I've found that the kit isn't very useful, and I haven't used it nearly as much as I thought I would. For the high price, I was expecting more to be honest. The problem is that there just isn't much I can do with the kit without having lots of connected devices like smart lights and locks, or buying lots of extra smart plugs. The kit should have included at least 2 plugs to enable me to create "chain reactions". This would have made the kit much more useful.
Date published: 2015-12-10
Rated

4

out of

5
by
Phatinum
from
Amazing devices & features for a great price!
I'm seriously impressed with the Samsung Starter Kit. It provides you with easy to install hardware, easy to use software, giving you a smarter and more secure home! I've been testing this package for a while now, and it's amazing how all of these devices work together seamlessly, with little effort required by the user to set-up. Once you have installed the hardware and gone through the software set-up process, you can just sit back and let it do its magic! If you are out and about, or even in another country, you can rest assured that Samsung SmartThings is looking after your home, and you can access and control everything from your smartphone. I highly recommend Samsung SmartThings. It offers a great selection of devices and also works with a host of third party devices too, expanding its capabilities beyond what Samsung offers alone. Whether it be the little things like automatically turning the lights on when you get home from work or wake in the morning, then triggering your coffee machine so you have a fresh cuppa by the time you get out of the shower, to the security of knowing who leaves and enters the house at any time, and if your locks and windows are secure - Samsung offers a range of great products at great prices! Thumbs up from me!
Date published: 2015-12-09