Blog
Samsung vCore is at the "Core" of 5G Evolution
Interview with : Jongpil Ho, Practice Leader of Core Solutions, Product Strategy at Samsung Networks
5G is creating a ripple effect of innovations and developments that enrich our daily lives. Last year, 5G commercial services have begun and operators have been continuing to enhance their services with the latest network technologies, including 5G Standalone (SA).
Samsung's virtualized mobile core solutions have been at the forefront of this evolution, offering innovative network services to users. As we enter into the next phase of the 5G era after commercial deployments around the globe, we had an opportunity to hear from Jongpil Ho, Practice Leader of Core Solutions, Product Strategy at Samsung Networks. He discussed the importance of core in operators' 5G networks and took a deeper dive into Samsung's core solutions.

Q1: What are the key differentiators for Samsung's virtualized core (vCore)? What commercial experiences make Samsung stand out in the industry?
The history of Samsung's core solution development spans over three decades. And the year 2015 marked a significant milestone for Samsung when it successfully completed the development of vCore that led to its commercialization. Samsung has been leading innovations with its virtualized core solutions that include EPC, 4G/5G common packet core, IP Multimedia Subsystem (IMS), Mission Critical Push to Talk (MCPTX) and Cloud Management Systems.
In April of 2019, Samsung 5G Non-Standalone vCore (NSA vCore) commercially launched for the first time in the world. Currently, all three operators in Korea use Samsung vCore solution to provide 5G commercial services. The number of 5G users who own a 5G-enabled mobile device has reached nearly 15% of total mobile users as of now. Since 5G launch, Samsung vCore solution reliability and quality have been proven with no service outage.

Samsung has also collaborated as a sole 4G LTE partner to a leading operator in India to establish and commercialize one of the largest LTE networks, including core networks, in the world in 2016. This network serves nearly 400 million subscribers, where the average data consumption per user is over 11 gigabytes per month with Samsung's core – both virtualized and physical together. Samsung introduced CUPS (Control and User Plane Separation) architecture to its commercial vCore, which provides a foundation for easy, software-upgrade migration to 5G along with the company's Cloud Management System.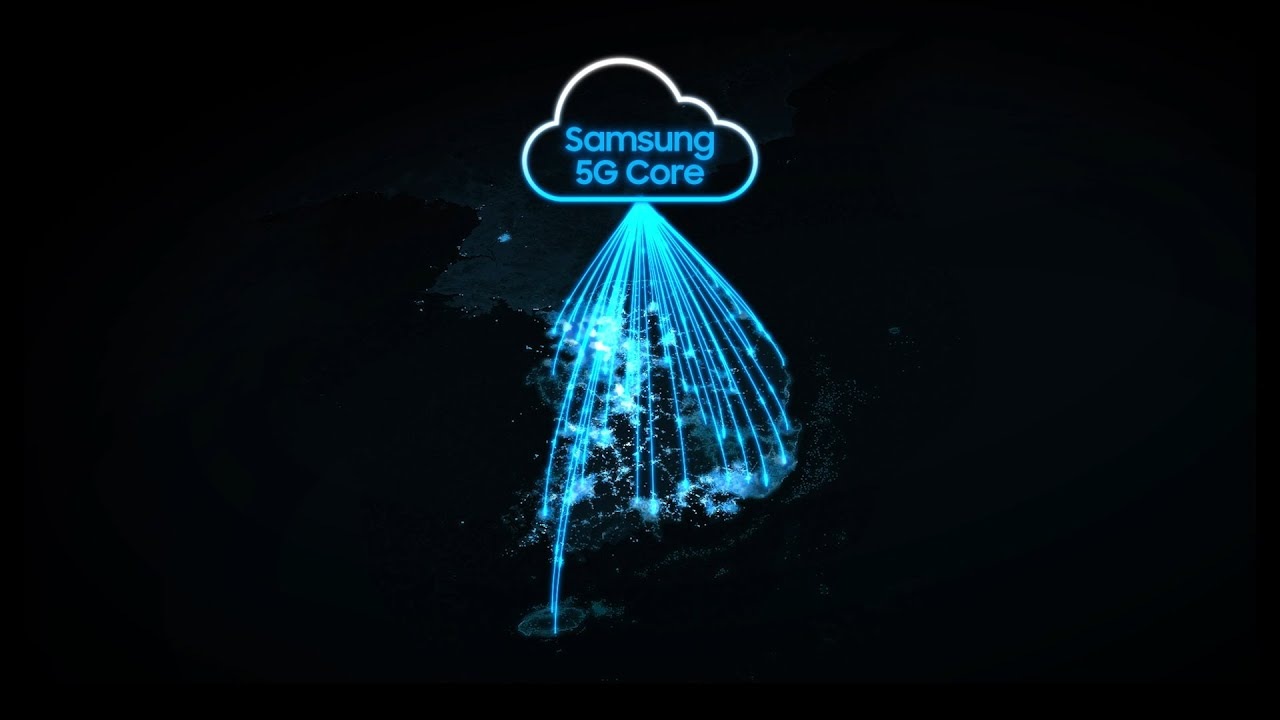 Among other achievements, Samsung vCore MCPTX (Mission Critical Push to Talk) solution is commercially deployed in various Public Safety networks, which requires one of the highest levels of security and reliability. Samsung NFV-based MCPTX and Cloud Management System have been deployed to nationwide PS-LTE and LTE-R (Railway) networks in Korea and also to a nationwide PS-LTE network in North America, which are now in stable operation. Samsung MCPTX solution is fully virtualized and can run on any commercial NFV platform.
Samsung continues to expand its vCore deployment in collaboration with its global partners. The company has proven its success in commercializing advanced network solutions, specifically its virtualized mobile core, by deploying its solutions in Korea, a country that pioneers digital innovation; in India, a country that consumes one of the largest LTE mobile data; and in PS-LTE network, a network that requires the highest level of security and reliability.
Q2: What approach does Samsung take in order to ensure the reliability of its vCore solutions?
Samsung vCore is designed to ensure high reliability and tested to work on various Commercial Off-the-Shelf servers (COTS servers) while ensuring optimized performance. The vCore solution has flexible scalability, supporting reliability on x86-based hardware. Additionally, with the support of Samsung Cloud Management System, its vCore offers fast problem detection and troubleshooting capabilities. Samsung also applied specific Packet Processing technology to enable agile capacity expansion without additional hardware.
"Samsung vCore provides an overload control function to counteract traffic spikes to ensure stability and reliability of the networks."
One of the key areas of reliability is providing continuous service during large network outages that can cause network overload conditions due to large bursts of traffic. Its field-proven vCore solution has implemented various overload control features. Samsung not only offers overload control functions defined by the 3GPP standards such as AMF / MME Load Re-Balancing, but also offers its own unique overload control features to prevent NF (Network Function) overloads. When traffic storms occur which may be caused by factors such as natural disasters, accidents or human errors, the event throttling feature responds by limiting the traffic threshold condition that is defined and configured by the operator to minimize the impacts on the network. Additionally, Samsung vCore solution that supports stateless architecture includes a NF context database, which stores and synchronizes NF context data for system redundancy and geographical redundancy, enhancing the reliability of its core.
Q3: What types of vCore solutions does Samsung provide to the operators? And how do you meet varying needs of the operators?

Depending on the needs of the operators, Samsung has the capability to provide a wide range of end-to-end solutions, including Network Functions (NFs) such as AMF, SMF, UPF, NRF and NSSF.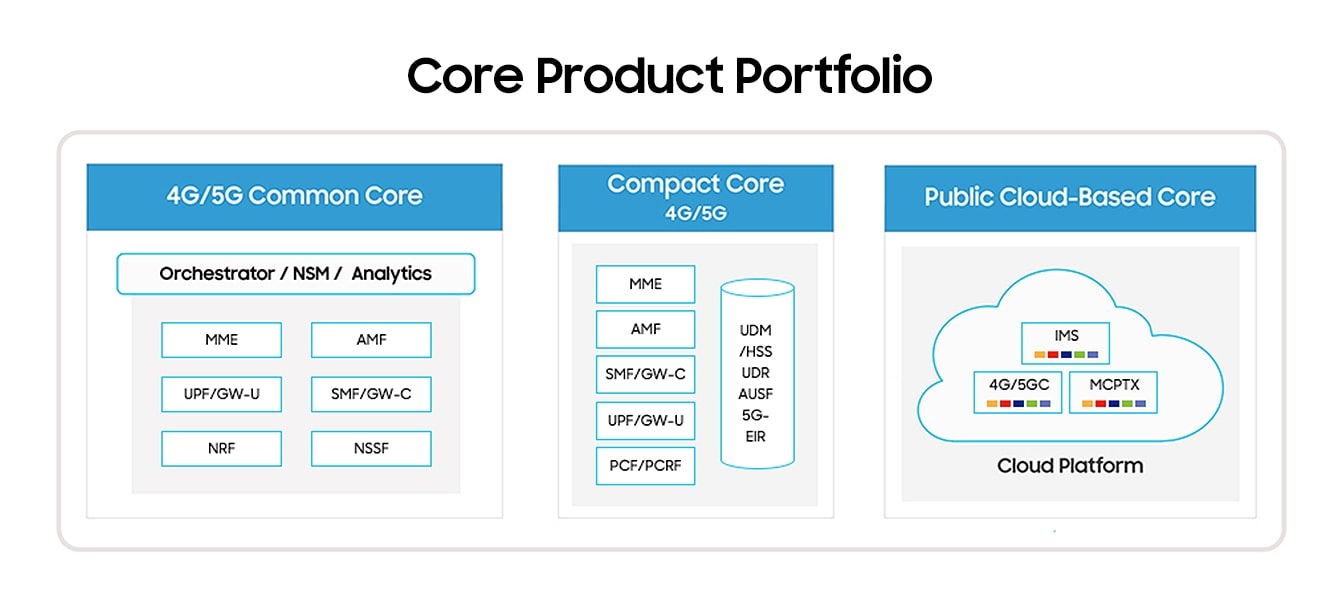 Samsung provides 4G/5G common core, which means that 4G network elements (MME, GW-C/U) are combined with 5G core network functions. The benefit is that one core can support both 4G and 5G mobile devices seamlessly.
Samsung's core NFs can be provided either as VNFs (Virtualized Network Functions) or CNFs (Containerized Network Functions), where CNF is a more recent software-based NF designed using micro-services architecture that provides increased flexibility in maintenance and scaling. VNFs can migrate to container-based CNFs as needed.
In order to help the operators efficiently manage and operate these NFs, Samsung offers orchestration, automation and analytics solutions. The Samsung solution includes Cloud Management Solutions supporting MANO (Management and Orchestration), CaaS/PaaS and orchestration solutions—GSO (Global Service Orchestration), DSO (Domain Service Orchestration) and Network Slicing Manager—which oversee the NFs from deployment to scaling. Furthermore, its network automation tools that are integrated with the orchestration solutions offer automated network management (such as installation, upgrades, verification, monitoring and scaling), which boosts operational efficiency. Lastly, AI-based analytics solution are available to provide E2E proactive monitoring as well as data collection and analysis. The analytics solution prevents service quality degradation and offers Root Cause Analysis.
Samsung has not only focused on developing its in-house solutions but has also taken on a multi-vendor partnership approach to deliver a best-of-breed 5G core end-to-end solution. Samsung has been working with multiple vendors on functions such as subscriber database and Policy & Charging functions.
Samsung core products, including cloud-native 4G/5G common core, compact core and public cloud-based core, can be deployed in various configurations and platforms. A "Compact Core" helps the operators build private networks, enterprise networks and Mobile Edge Computing (MEC).
Q4: How is Samsung leading multi-vendor integration in its vCore?

Embracing open standards and multi-vendor collaboration not only opens up various options for the operators but also helps them break out of vendor lock-in. With the goal of strengthening its vCore solutions, Samsung has created 5G Open Labs in Samsung's R&D Campus in Korea and the US to actively lead collaborative development efforts with top-tier companies and run multi-vendor interoperability tests.

Samsung is leading multi-vendor integration with open architecture in many fronts. For instance, the company integrated its NFs with partner NFs based on 3GPP standards-compliant architecture, enabled NFs to operate on commercial cloud platforms, integrated its orchestration and automation tools to work on commercial cloud platforms and also ensured stable operation of its vCore on various hardware.
Samsung is also an active participant in the NVIOT (Network Vendor Interoperability Testing) Industry forum. Numerus top-tier vendors and operators are members of this forum where various interoperability use cases and test plan/test cases are being defined.

Samsung cloud-native 5G SA core allows network operators to quickly launch new services and conduct upgrades according to their business needs while reducing OPEX by providing higher operational efficiency. With the adoption of cloud native architecture, Samsung's core transforms into a service platform that can scale easily from small to large capacity. With proven success in commercializing virtualized mobile core solutions, Samsung will continue to support global operators in bringing advanced 5G services to life.