Decrease Clutter with Space-efficient Cloud Displays
The all-in-one form factor promotes a clean working environment and easier deployment, with fewer cables and simplified assembly. Cloud displays have multiple ports to connect directly to most peripherals.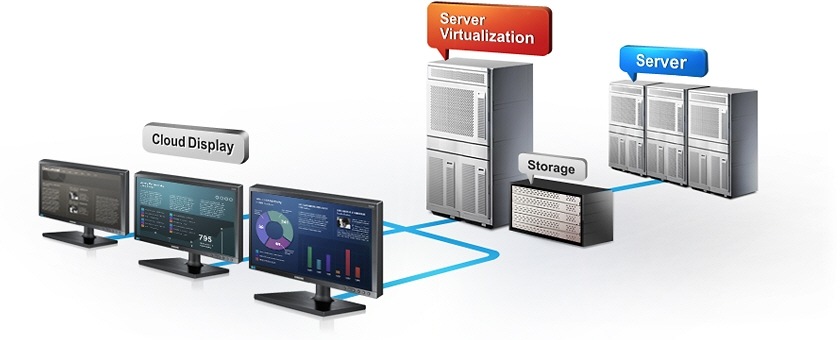 Upgrade to More Convenient, Cost-effective Network Computing
In the current business climate, companies that want to upgrade their computing resources face rising costs. Yet new regulations and threats make it necessary to increase security. Companies also need to provide a comfortable work environment to attract the best employees. Companies can address these computing challenges with Samsung TC241W Cloud Displays. These cloud displays typically cost less to purchase, support and power than conventional PCs and they support VDI platforms. VDI solutions, which deploy software on a server rather than at individual workstations, can be easier and more cost-effective to manage. With data stored remotely, critical company information remains more secure, providing compliance with many data protection regulations. Design efficiencies contribute to tidier, more comfortable workstations. TC241W Cloud Displays are all-in-one thin client displays that enable users to access data from a networked server. These optimized devices include an embedded Advanced Micro Devices, Inc. (AMD) chipset, solid state drive (SSD) and RAM for full PC-like functionality.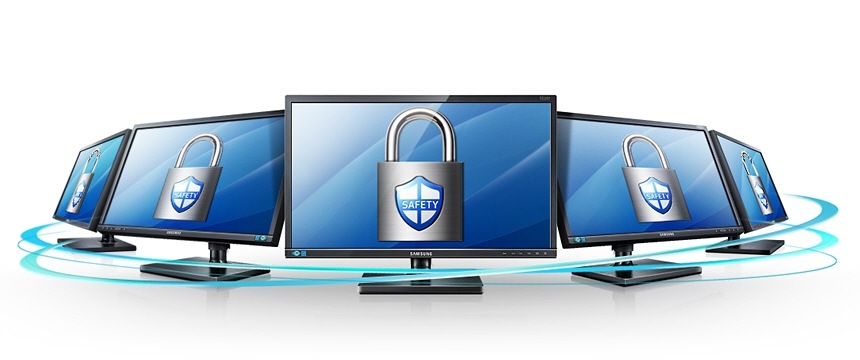 Decrease Threats with More Secure Data Storage and Scheduled Backups
Moving sensitive data from individual PCs to centralized servers reduces opportunities for unauthorized access. It also narrows the chances of viruses and malware spreading from one user to others. Using VDI technology, IT personnel can more easily follow standard best practices and meet regulatory requirements for data storage. VDI solutions also make it easier to perform regular backups, install security patches, detect potential problems and speed disaster recovery from one central location.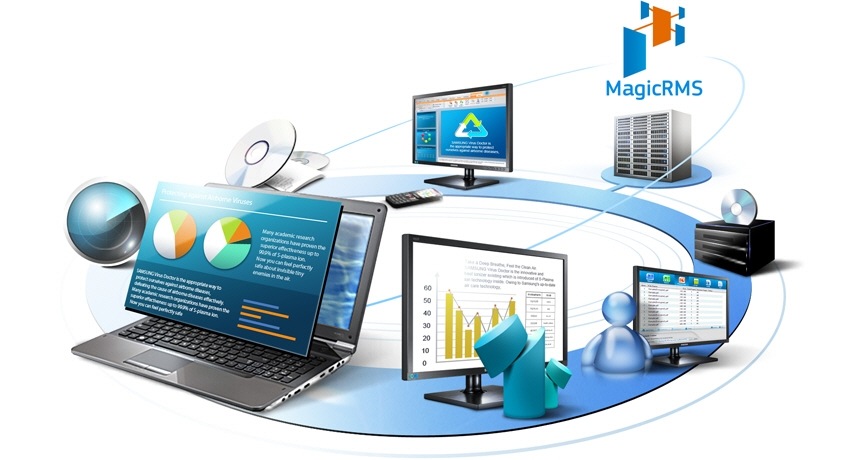 MagicRMS 2.0
A growing number of companies and schools are adopting a virtual desktop infrastructure (VDI) as a way to reduce management and support costs. VDI solutions aid in lowering expenses by using SAMSUNG thin client in the place of PCs. They also offer the ability to streamline IT operations. Samsung MagicRMS 2.0 remote management software solution assists IT professionals with the maintenance, monitoring and overall management of SAMSUNG thin client. The solution is built into the Samsung Cloud TX, TB, TS and TC Series devices. With MagicRMS 2.0, IT personnel can manage more than 1,000 Samsung Cloud TX, TB and TC Series displays from one remote location.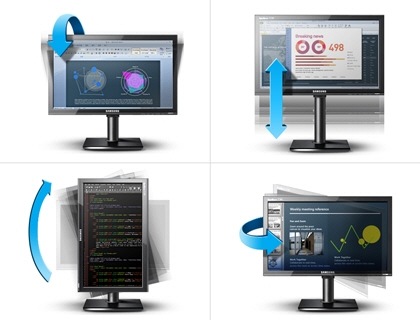 Ergonomic Design
The TC Series Cloud Display integrates a variety of ergonomic features to enhance working conditions and ensure comfortable use over long periods. Its Height Adjustable Stand (HAS) increases the monitor's height range by up to 130mm, and its tilt-and-swivel settings can be adapted to suit every user's needs.
What is VDI
Virtual Desktop Infrastructure (VDI) allows you to gain access to secure desktop environments via a centrally managed data centre. Employees benefit from an excellent virtual desktop experience that can be remotely accessed from a broad range of authorised devices. VDI lowers costs, increases data security and control, and provides excellent support to a mobile workforce. It is ideal for both zero client and thin client configurations.
Specification
Network

Prosesor

AMD Ontario 1.0 GHz Dual

Sistem Operasi

WES7

GPU

AMD Radeon HD6290

Penyimpanan

SSD 16 GB

Memory

DDR3 2 GB

USB

2.0 x 4 ea

Ethernet

Gigabit Ethernet

Display

Ukuran Layar

23.6" (16:9)

Type

LED

Kecerahan

300 cd/㎡

Rasio Kontras

1000:1

Resolution

1,920 x 1,080

Waktu Respons

5 ms

Sudut Tampilan (Horisontal/Vertikal)

170 / 160 deg (CR≥10) 178 / 170 deg (CR≥5)

Dukungan Warna

16.7 M

Antarmuka

D-Sub

1 ea

DVI

1 ea

USB

4 ea

Audio In/Out

3 ea

General Feature

Tanda Energi/Lingkungan

TCO 05, Energy Star 5.0

Design

Color

Black

Stand Type

Yes

Fungsi Dudukan

N/A

Dudukan Dinding

100 x 100

Power

Power Supply

100 - 240 V (50 / 60 Hz)

Konsumsi daya

Max 46 W, Typical 31W

Power Consumption (Max)

S3/S5 Less than 1.8W / Mechnical Switch off 0W

Type

Internal Adaptor

Dimension

Dimensi Set dengan Dudukan (PxLxT)

Min : 554.6 x 380.3 x 224.0mm Max : 554.6 x 510.3 x 224.0 mm

Dimensi Set tanpa Dudukan (PxLxT)

554.6 x 330.5 x 61.2mm

Dimensi Paket (PxLxT)

626.0 x 400.0 x 195.0mm

Weight

Set weight with stand

6.1 kg

Berat Paket

7.6 kg

Accessory

Kabel

Power Cord

Lain-lain

User Manual, Warranty Card, Quick Setup Guide
Fitur dan spesifikasi dapat berubah tanpa pemberitahuan terlebih dahulu. Gambar yang digunakan hanya untuk tujuan ilustrasi
Manual Download
Thin Client Display TC-W Series 24" (LF24TOWHBFM/XY)
Manuals

2014.11.28

Quick Guide versi 1.0

(KOREAN, ENGLISH, ARABIC, CHINESE, CHINESE, FRENCH, GERMAN, HUNGARIAN, INDONESIAN, ITALIAN, JAPANESE, KAZAKH, POLISH, PORTUGUESE, RUSSIAN, SPANISH, SWEDISH, TURKISH, UKRAINIAN)

2014.11.28

CE DoC versi 1.0

(ENGLISH)

2014.11.28

CE DoC versi 1.0

(ENGLISH)

2012.12.05

User Manual versi 1.0

(INDONESIAN)

2012.12.05

User Manual versi 1.0

(ENGLISH)

2012.12.04

Device(Install) versi 1.0

(MULTI LANGUAGE)