WEA302i
11n Access Point WEA302i
The Samsung WEA302 is a two spatial streams 802.11 b/g/n wireless access point that delivers data rates of 300 Mbps and ensures ultimate coverage, easy management and secure wireless network.
Compact Circular Design
The diameter of the WEA300 Series is just 174mm, with a total volume of 0.67L. This product can be installed easily and conveniently as this is small and light. Also, its compact circular design is suitable for the building exterior and interior design.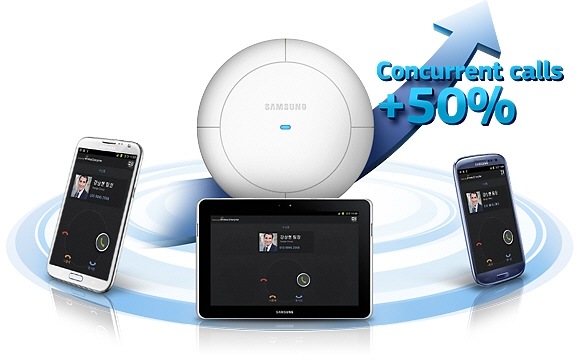 Voice- Aware Traffic Scheduling
Voice-aware Traffic Scheduling (VaTS) technology has been applied to increase each AP's capability of dealing with concurrent calls per AP to accommodate the rapidly growing number of mobile devices requiring wireless access. VaTS is a patented Samsung network technology which has been specifically designed to increase simultaneous call capacity by more than 50%. Its enhanced throughput is achieved by using innovative traffic scheduling features, and by transmitting Voice Frame to numerous stations more efficiently.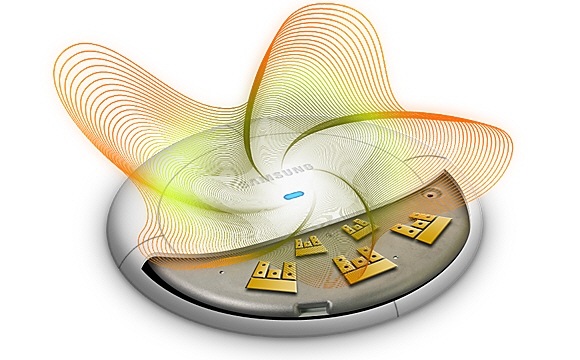 Intelligent Beam Selectable Antenna
The AP uses Intelligent Beam Selectable Antenna (IBSA) technology to further facilitate networks where multiple devices are requiring concurrent access. The feature is able to minimize the coverage holes by optimizing its radio frequency (RF) pattern with a number of physical antennas. This serves to extend the coverage, improve receive sensitivity and maintain speed and reliability.
Dedicated Security Monitoring Module
Via its dedicated monotoring module and antennas, this AP ensures a secure wireless service across its network. It is built in to the Samsung AP , making it ideally suited to use in business environments where potentially confidential data needs to be handled and to avoide. Accordingly, the Samsung AP maximizes sensing efficiency as it is possible to monitor real-time RF at the same time as reducing capital expenditure by eliminating the requirement for separate sensor APs that ensures WLAN security.
AirEqualizer
The Samsung AP, with its integrated AirEqualizer traffic scheduling technology, provides the best services by allocating equal airtime to a large number of mobile devices being used simultaneously. When numerous terminals concurrently aim to get network access from the same AP, the Samsung AP guarantees not only throughput fairness, but also ultimate performance that adapts to the characteristics of the Wi-Fi connection type or signal strength.
Specification
Hardware Feature

Network Interface

1 GE(RJ45), 1 Console(RJ45)

Power-Over-Ethernet

802.3af