Fridge Freezer Buying Guide
Side-by-Side (SBS) or French style? Smart or classic? There are endless options available – and a few things you'll need to consider – when buying a fridge.
You should think about the space that's available; you'll also need to come up with a budget, and factor in running costs. And when it comes to fridge capacity, you should be realistic; think seriously about how much food your fridge should hold if it's to properly service the whole household.
Sounds complicated, right? Luckily, we've put together a comprehensive refrigerator guide to help you choose a fridge that's perfect for you and your family.
Integrated or Freestanding Refrigerator?
Whilst shopping around for a new fridge, you'll come across the terms 'integrated' and 'freestanding.' Integrated (or built-in) fridge freezers are hidden away behind a kitchen cabinet door; freestanding fridges are separate, stand-alone appliances that aren't fitted into your kitchen units.
When choosing a freestanding fridge freezer, it's important to think about the look of the model, since it's going to be a focal point in your kitchen. Freestanding units can be installed pretty much anywhere in a room, as long as they're close to a plug socket. What's more, they're easy to move if needed; you can take them with you if you relocate, so freestanding fridges are a sound investment.
Because they're hidden from view by cupboard doors, integrated fridge freezers offer a streamlined finish, which is probably why they're becoming an increasingly popular option for family homes.
However, they can be more expensive, so you'll need to think about your budget before buying one. And because they're difficult to fit into a new space, integrated appliances are usually left behind during house moves, so you should only consider buying a built-in fridge if you're unlikely to relocate.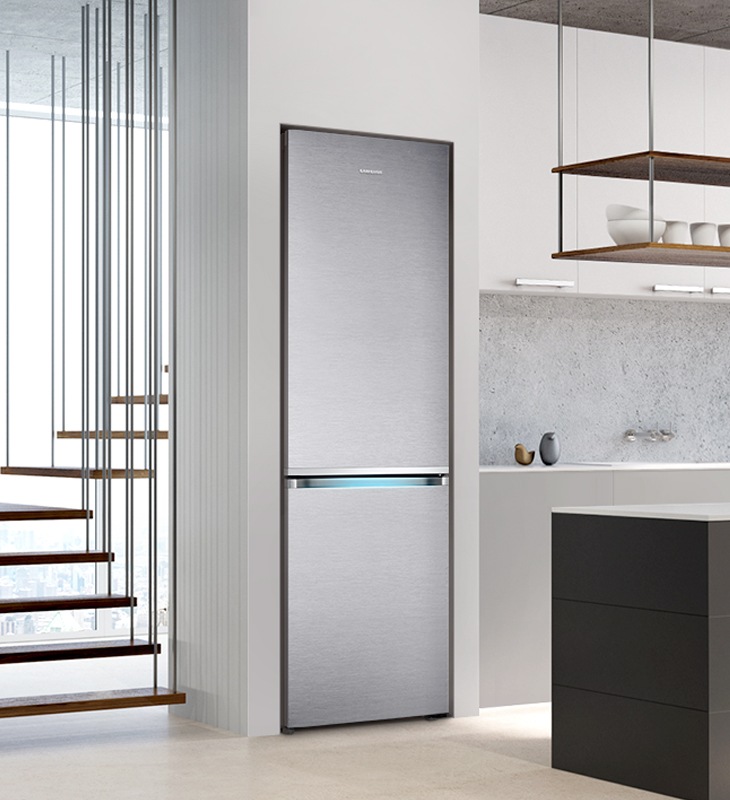 Refrigerator Types
It's important that you understand the different features of each type of refrigerator, so you can make an informed decision when buying yours.
Features to Look Out For
When buying a new refrigerator, it's important to think about whether you'll benefit from any additional features. Here are some of the most common extras you're likely to find.
Frost-Free
Make manual defrosting a thing of the past with a frost-free fridge. All Samsung refrigerators come with frost-free technology (or Total No Frost), maintaining an even temperature to prevent frost build-up. Frozen food is better preserved, because ice crystals – which can affect the overall taste and texture of food – don't form on food packaging or in freezer drawers.
Flexible Storage Systems
Modern fridge freezers come with flexible storage systems, allowing you to personalise the internal layout of your fridge with ease.
Transparent freezer and salad drawers make it easy to see and access food; glass shelving prevents liquids – like sauces, oils or meat juices – from leaking onto produce below. These types of shelves are easier to clean too, and have largely replaced traditional wire shelving.
Samsung's Adjustable Door Bins enable you to alter the position of your fridge door bins, so that they can hold cans, cartons and bottles properly.
Water and ice dispensers
For cold water and ice on tap, choose a refrigerator with a water and ice dispenser. If you want unlimited cold water and ice, your fridge needs to be plumbed in; if your appliance isn't close to a water supply, you'll need to buy a non-plumbed fridge freezer. Samsung offer both plumbed and non-plumbed fridges with water and ice dispensers in them.
Holiday Mode
Putting your refrigerator into holiday mode whilst you're away will reduce energy consumption. This feature shuts off the fridge function for the duration of your trip, whilst allowing the freezer unit to remain active.
Child Locks
Child locks prevent little ones from pressing buttons and changing your fridge settings.
Door Alarms
These sound if your fridge door is left open for too long, so food stays fresh and energy isn't wasted.
Twin Cooling Systems
Samsung's Twin Cooling Plus™ system was first introduced in 1995. Twin Cooling fridges contain two evaporators that manage the fridge and freezer space separately, which minimises temperature fluctuations and prevents odours from spreading between the units. Twin Cooling Plus™ systems also help to keep food fresher for longer.
Reversible Doors
Some models come with reversible doors, meaning you can choose which side you open your fridge from. This is especially useful if you're replacing a fridge, but not having your kitchen re-fitted, because you won't need to worry about the fridge door swinging into your existing cupboards or appliances.
Rapid Cool/Rapid Freeze
Rapid cool or freeze functions – called Power Cool and Power Freeze on Samsung models – allow you to quickly lower the temperature of your fridge or freezer. This is useful when stocking your refrigerator; fridges can lose cool air when being restocked, whilst frozen foods can start to defrost on the way back from the shops. Rapid cool and freeze settings restore cool temperatures, so you can enjoy your favourite foods straight away.
LED Lighting
LED lighting is more durable and energy-efficient than traditional fridge lights. They evenly illuminate the inside of your fridge, making it easy to spot any foods that are stowed away at the back!
Understanding Fridge Capacity
Fridge capacity is given in litres, and it's used to describe how much produce a fridge can hold; the larger the capacity, the more storage space you'll have. When shopping around for a new fridge, you'll come across two terms: gross and net capacity. Gross capacity refers to the total volume inside the fridge; net capacity is the usable storage space that's left once its components – like shelving – have been factored in. Some Samsung models come with SpaceMax™ technology, whereby the fridge walls are thinner. This increases the fridge's internal capacity, without affecting its external dimensions or compromising on performance. To ensure that your new fridge is going to meet your needs, think about how much fresh and frozen food (and drink) you'll want to store at any one time.
Fridge Dimensions & Measuring Advice
Fridge freezer sizes vary by model. To make sure your appliance is going to fit in your home, check the measurements of the fridge you're looking at against the space that's available.

- Measure the width and depth of the area where you're planning to put the fridge. If you want to fit it beneath a counter, or if your ceiling is low, you should measure the height too.

- Remember to factor in ventilation space to make sure your fridge doesn't overheat once installed.
Energy Efficiency
Refrigerators, like other white goods, are rated according to their energy efficiency. The EU energy label grades products from A to G, but the best rating for fridge freezers is A+++.
With improved insulation and temperature control, modern fridges tend to be more energy efficient.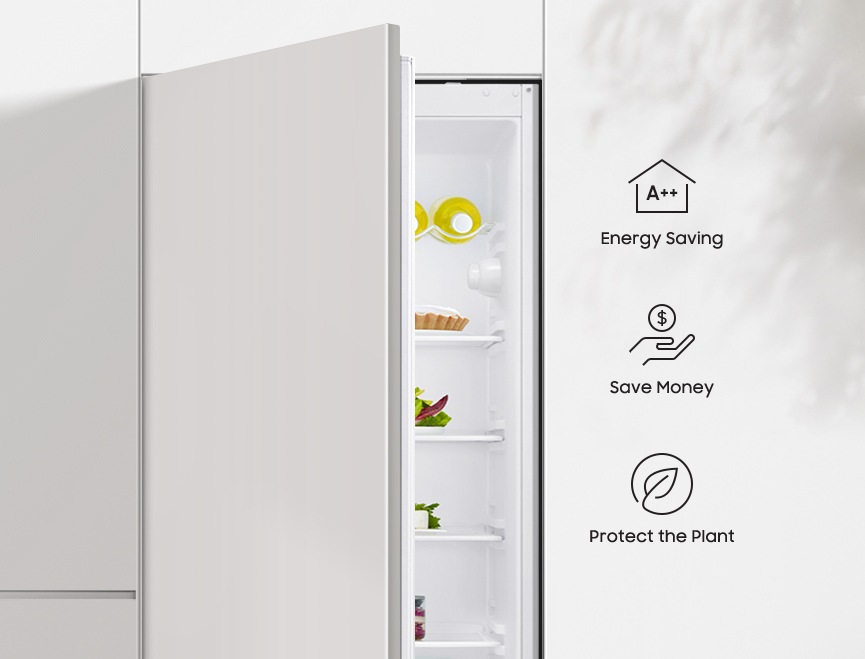 How Long Does a Refrigerator Last?
With regular cleaning and good maintenance, refrigerators can last up to a decade. If your appliance is more than 10 years old, you should consider replacing it; the energy savings you make could eventually cover the cost of buying a new fridge freezer.*
* Source: https://www.uswitch.com/energy-saving/guides/fridges-and-freezers/
Installing a Fridge Freezer
Freestanding refrigerators are easy to install; you just plug them in! However, integrated types should be installed by a professional fitter.
Once your new fridge has arrived, you should leave it to sit for 3 hours before plugging it in and switching it on; you'll also need to let the fridge stabilise overnight before loading it with food.* It's always worth giving new fridges a quick wipe down before you use them too.
Any installation concerns you have should be covered in the user manual.
* Source: https://www.samsung.com/hk_en/support/home-appliances/i-have-just-had-my-fridge-freezer-delivered-how-long-do-i-need-to-leave-it-before-using/
* Samsung offers free installation to all our Home Appliances
Cleaning a Fridge
Cleaning a fridge is considered simple maintenance; it's a quick and easy way to get rid of any bacteria and prevent contamination between produce.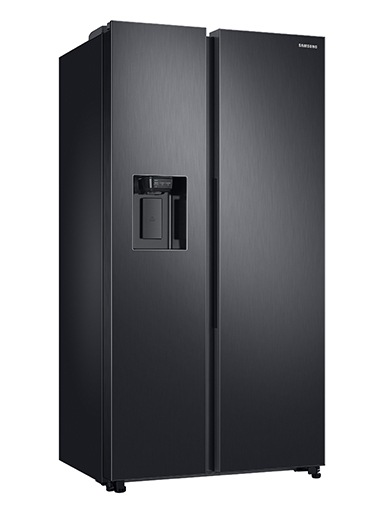 How to Clean a Fridge
Keep on top of minor spills and drips, wiping them away immediately; liquids are easier to clean before they've dried onto a surface.

Ideally, you should give your refrigerator a thorough clean every month. Using a damp, soapy cloth, wipe down the shelves and interior of your fridge, before patting dry with a tea towel. Remove shelving systems where possible to make the process simpler.

Keep the door seals of your fridge clean; heat can enter and escape from your refrigerator if these are clogged with dirt and debris. Simply wipe them down, whenever you notice that they're getting dirty. On Samsung models, seals can be removed to make cleaning easier; they can be put in the dishwasher too.

If your fridge has a water and ice dispenser, you should replace the filter every 6 months.
Whether you're looking for a no-frills fridge freezer or something smart in which to store your snacks, find the right refrigerator for your family by shopping the range online today.