Introducing new features of Galaxy Z Fold2
Last Update date :
Sep 15. 2020
A phone beyond the phone is here that provides the ultimate transformative experience. This is not magic but innovation to unfold the next chapter of mobile and change the shape of the future. Here are new technologies to unfold the way to experience immersive theater, enjoy ultimate usability and convenience, and reshape the way of work and play. 
Smoother & natural viewing with Adaptive refresh rate up to 120 Hz
Superb viewing experience is all yours with dynamic refresh rate up to 120 Hz. With infinity display, you can smoothly scroll with no jelly effect and eye-friendly screen transition causes no after images.
① 120 Hz (120 refreshes in 1 second) ② 60 Hz (60 refreshes in 1 second)
Note: Main display is set 120 Hz as default and cover display is 60 Hz only. 
Automatic refresh rate is optimized by content you consume so it can minimize battery consumption and reduce device heating as well. Adaptive mode is set as default of Z Fold2 that adaptively applies dynamic refresh rate up to 120 Hz. 

Internet article: 11 Hz (10.9 Hz) 
Movies: 24-120 Hz
Games: 48/120 Hz
How to change screen refresh rate
Step 1. On the Settings screen, tap Display > Motion smoothness.
Step 2. Select a refresh rate. 
Adaptive: Get smoother animations and scrolling by automatically adjusting your screen refresh rate up to 120 Hz. 
Standard: Use a standard refresh rate in normal situations to conserve battery power. 
Full-viewing Cover screen
You can experience a full smartphone, 63% larger Super AMOLED screen. The Cover screen is edge-to-edge 6.2" display that this full Infinity-O screen is for enhanced usability even when folded. 

Dynamic sound experience from High-Dynamic dual speakers
Not only with its large, cinematic 7.6" screen, but you can also experience more immersive dynamic sound with the Galaxy best sound quality. High-Dynamic dual speakers outperform improved sound balance with enhanced bass (low-pitch) sound. Enjoy enhanced stereo effect and sound clarity with dual speakers for lively sound.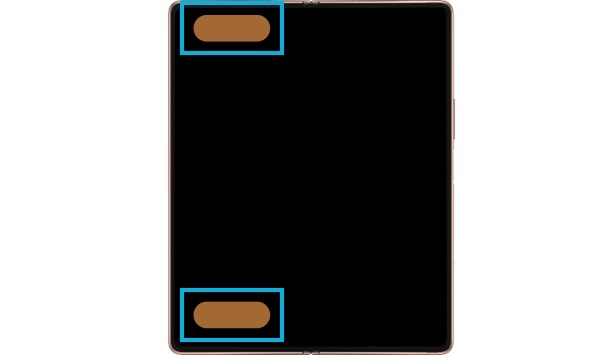 Smart Wi-Fi
Wi-Fi 6.0 is lightning-fast with 1.2 Gbps of peak speed while Wi-Fi Optimizer enables automatic latency optimization for judder-free connection.
For more convenient connection, you can send pop-up request to friends for automatic Wi-Fi connection without a password.
Note: Sending pop-up request is available when you are on friend's 'Contact List' and your friend's mobile screen is on.
Ultra Wide Band for your everyday life
Ultra Wide Band(UWB) offers high accuracy with enhanced security as next generation's wireless communication technology. Intuitive file sharing allows you to point a target device to share between UWB supported devices, such as Z Fold2 and Note20 Ultra. You can also Nearby share between devices with Android M OS or higher. Moreover, SmartThings Find lets you find everything in a most advanced way. 
Play two things at once with TV as second screen, without losing control over either device. You can free use of a mobile phone while playing mobile phone's content on TV in wireless connection. You can easily get connected using the Quick Panel when it is available with Smart TV with phone screen mirroring support. QHD (2,560x1,440) resolution is highly supporting vivid and crisp details. Find more about 'How to use Wireless Dex with Galaxy Note20 Ultra' with Samsung Support. 
Note: Device screenshots and menu may vary depending on the device model and software version.