What to do when your Galaxy S21 Ultra does not recognize s pen input on certain screen areas 
Last Update date :
Jun 24. 2021
Some users may think an error has occurred if the Galaxy S21 Ultra does not recognize S Pen input and does not respond. Here are some useful tips to the common issues that may arise with S Pen and how to troubleshoot these problems.
Before you try the recommendations below, be sure to check if your device's software and related apps are updated to the latest version. Please check the following steps for how to update your mobile device's software.
Step 1. Go to Settings > Software update.
Step 2. Tap on Download and install.
Step 3. Follow the on-screen instructions.
Check 1. Attached cases or covers with magnetic material to a device
Any third-party cases with magnetic closures or clasps can cause interference with S Pen recognition. If a magnetic case or cover is attached to the device, it is recommended to remove the attached case or cover and try again.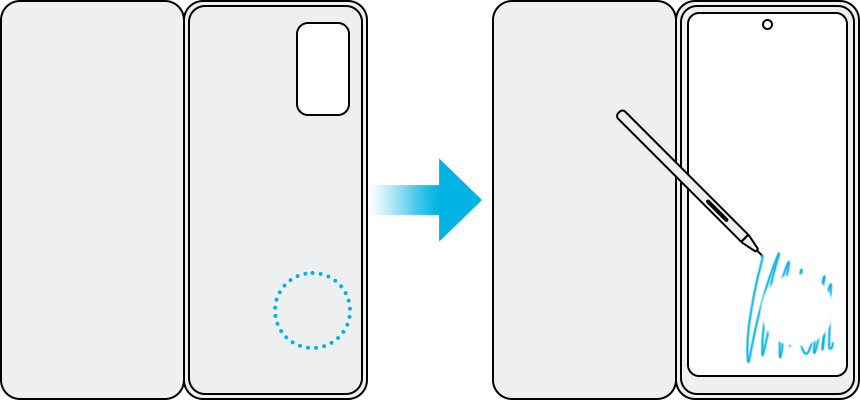 Check 2. S Pen may not work due to a magnetic force
If you use the S Pen in certain affected by magnetic force, the S Pen may not work.
Check 3. Screen protector can cause the S Pen issue
Screen protectors can cause inconsistent motion and pressure when using the S Pen. If the screen protector on your Galaxy S21 Ultra has the following issues, it is recommended to remove the screen protector.
Too hard or rubbery surface for writing.
An uneven surface, which affects consistency.
The thickness of a screen protector can affect the screen sensitivity.
A dirty or old screen protector can affect performance.
Note: 
If you use the S Pen at sharp angles anywhere on the screen, the device may not recognize the S Pen actions.
Device screenshots and menus may vary depending on the device model and software version.
If you are experiencing unusual behavior on Samsung mobiles, tablets, or wearables, you can send us a question in the Samsung Members app.  
This allows us to take a closer look at what is happening. The data is anonymized and only held for the duration of the investigation. Find out more about sending an error report through the 'How to use the Samsung Members app'.
Please answer all questions.