Energy Efficient Products
Samsung continuously develops highly energy efficient products and strives to meet or exceed higher standards than global energy regulations. We systematically and comprehensively evaluate the sustainability performance of our products through our eco-rating system. In doing so, we work hard to reduce power consumption and GHG impacts generated during the product use stage.
Improvement of Product Energy Consumption
Samsung shares information on environmental requirements and technology trends through its company-wide Eco Council. As a result, annual average power consumption improved by 47 percent compared to 2008 levels in 8 major products.
* 8 Major products : Phones, Note PC, TVs, Monitors, Refrigerators, Washing machines, Air conditioners, and Printers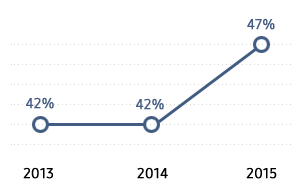 [Power Consumption Improvement Rate of Products]
* Based on 2008, improvement of annual average energy consumption of 8 major products
Major Energy Reduction Technologies
Samsung has developed various energy-saving technologies, low-power SoC design LED TVs, software for the power saving mode on PCs using a chipset motion mode control, and reduction of power consumption for the sleep mode on printers and multifunctional devices. In fact, we had our leading energy-saving technologies officially recognised when we acquired Green Technology certification in Korea for products with high energy efficiency.
LED TVs low-power SoC design
Power consumption reduction for sleep mode
Software for power saving mode using a chipset motion mode control
Power saving automation technology for user and schedule