Samsung Electronics established its mid-term roadmap of Eco-Management 2020 (EM2020) in 2014. The company now manages GHG reduction at the product use stage and during the manufacturing process as key performance indicators (KPIs). As it goes forward, we will continue to work hard to provide new value for customers, the environment, and society through eco-friendly innovation activities with all stakeholders.
Green Management Scheme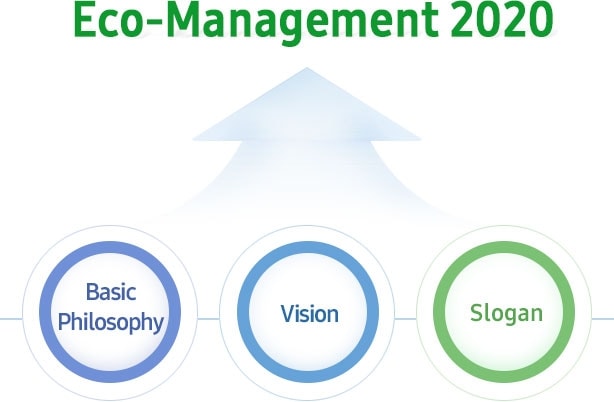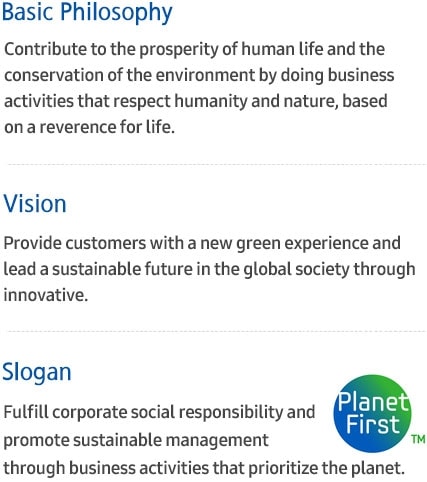 Eco-Management Framework
GHG Reductions at the Phase of Product Use
In order to reduce GHG emissions at the product use stage, we continuously improve the energy efficiency of products, with the aim of achieving a cumulative reduction of 250 million tons of GHG emissions from 2009 to 2020.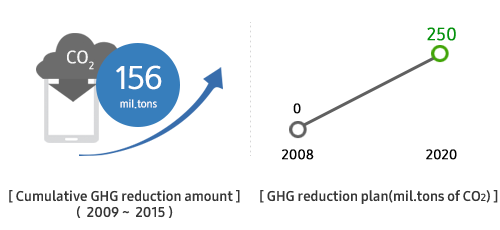 Reduction of GHG Emission Intensity at Worksites
To reduce GHG emissions at manufacturing sites, Samsung operates facilities with high energy efficiency and treats gases, such as F-gas, generated during the production process. By doing this, we aim to reduce 70 percent of 2008 GHG emission intensity levels by 2020.
Eco-Product Ratio
Samsung Electronics manages eco-product development ratio as our performance indicator. It evaluates the environment aspects of a product is evaluated by product developers according to eco-design process. The result is classified into three levels: Premium Eco, Good Eco, and Eco. We are striving to have 90 percent of new development projects receive the Good Eco-Product stamp of approval or higher by 2020.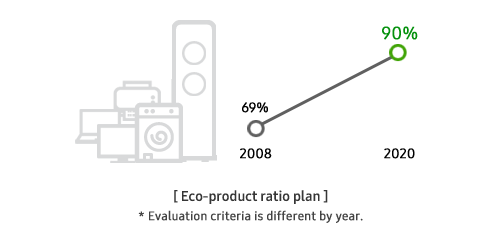 EHS Management System Certification
The EHS management system certification indicates a comprehensive environmental management system that clearly defines and tracks goals, activities and review processes so that our manufacturing sites operate to the same high global standards.