9.7" (245.8mm)
Size (Main Display)
CMOS 8.0 MP
Main Camera - Resolution
5870
Standard Battery Capacity (mAh)
Increased Productivity
The Galaxy Tab S2's 4 : 3 ratio display provides you with an ideal environment for performing office tasks. Use the Galaxy Tab S2's Book Cover Keyboard for a desktop PC-like experience, and work on a range of documents.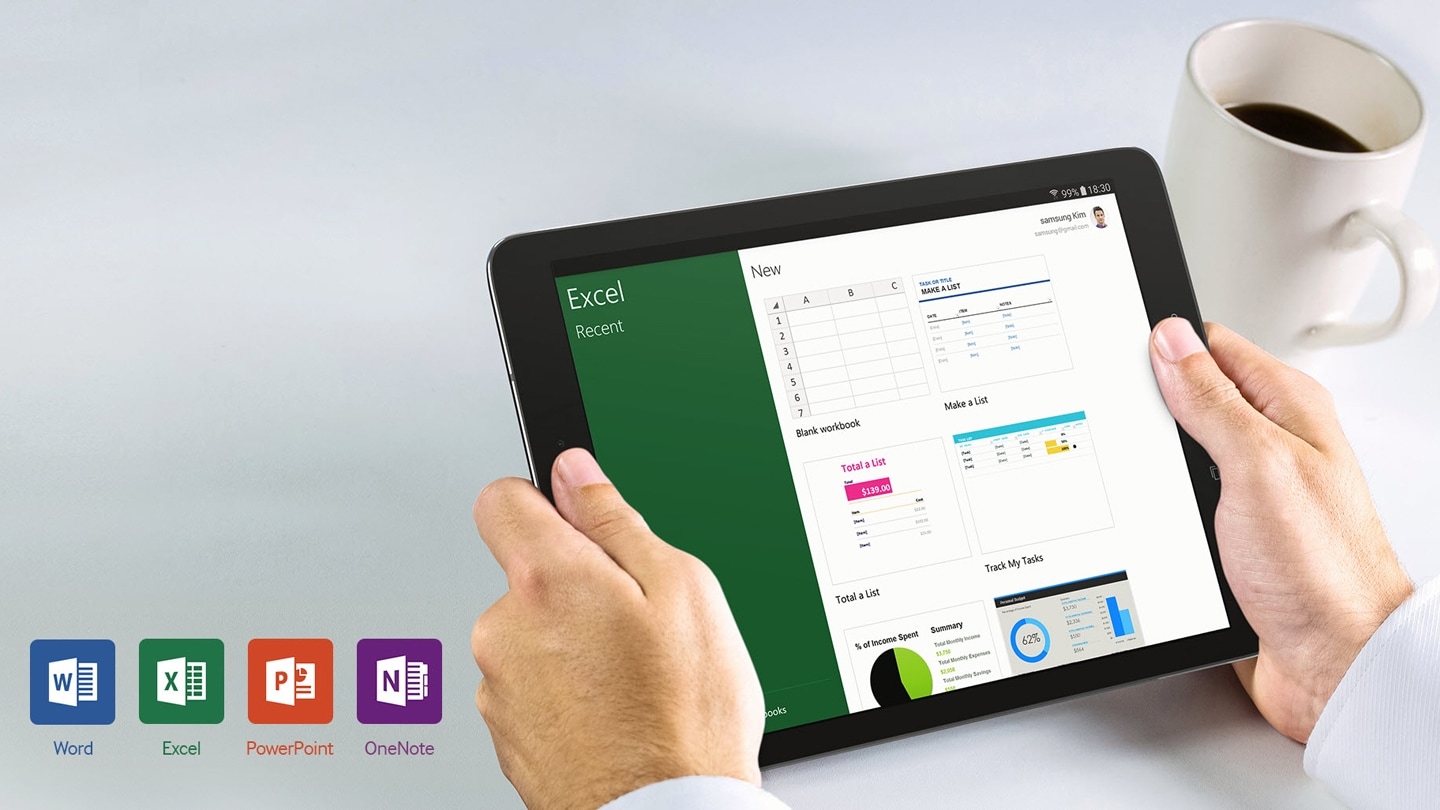 Clearer, Brighter Images
The Galaxy Tab S2's 8MP camera and f/1.9-apperture lens allow you to take brighter and crisper pictures and videos than ever before, even in low-light conditions. View your photos and videos in superb clarity on the device's large Super AMOLED screen.
Seamless Multitasking
Multitask like a pro with the Galaxy Tab S2. Watch HD movies while you are flicking through a digital magazine or surfing the net. Run multiple apps in split screen mode or in pop-up windows.
* Feature only compatible with certain apps.
* Feature only compatible with certain apps.
Fingerprint Security
Get greater security with convenient and accurate fingerprint functionality. Activate fingerprint lock by pressing the home button. Use fingerprint verification to restrict/allow access to your web browser, screen lock mode and your Samsung account.
9.7" (245.8mm)

Size (Main Display)

CMOS 8.0 MP

Main Camera - Resolution

378

Weight (g)

5870

Standard Battery Capacity (mAh)

Up to 12

Video Playback Time (Hours)

1.8GHz, 1.4GHz

CPU Speed
Rated

5

out of

5
by
Ferg the Kerb
from
Samsung S2
This Samsung Galaxy Tab S2 8 inch display is the same as the Samsung Galaxy Tab S2 9.7 inch version apart from it has a smaller batter capacity, smaller screen size and the back camera protrudes a little more than the 9.7 inch display version. The cost is also cheaper and if you have a compatible television you can use this tablet for screen and audio mirroring which makes the smaller sized screen irrelevant when using at home. I purchased the 9.7 inch version as well as the 8 inch version for my Wifes birthday. My reviews are similar as these tablets are similar. I really like this Samsung Galaxy Tab S2. The design is very slim, compact and smart looking. You can also do Screen and Audio mirroring with compatible televisions so you can view the contents of your tablet on a bigger display. This feature is good for watching movies or writing documents on a bigger display. The tablet also has a smart stay feature which looks for the presence of your eyes and prevents the screen going in to sleep mode whilst you are looking at it, Ultra Power Saving mode, S-Finder, Voice Assistance, Smart Manage which allows you to monitor and manage your Battery, Storage, Ram and Device Security, Application Manager, Full HD video and more. The built in Super AMOLED screen on this tablet and the main 8MP camera provides very clear and quality video and picture recording and playback. The screen size is very good and efficient for a multitude of uses including for writing documents, watching videos and playing games. I had to choose between an iPad or a Samsung Galaxy Tab S2 and I am glad I went with the Tab S2. It is a brilliant tablet which worked and performs excellent. The built in 4000 mAh battery lasts for many hours before needing a recharge and due to the fact the screen display is smaller than the 9.7 inch version last just as long as the larger mAh battery in the 9.7 inch version. Overall very good tablet which is worth buying and I am very happy I chose this instead of an iPad.
Date published: 2018-02-08
Rated

5

out of

5
by
gladaxy
from
Samsung Galaxy Tab S2 9,7 tablet
I have found my Samsung Tab S2 excellent. The ease of use and the fast response are great.
Date published: 2018-01-23
Rated

4

out of

5
by
ann at windy corner
from
GREAT TABLET
I bought this to replace my old one and I am very pleased. It was easy to set up and transfer stuff from my old one at the press of a button.
Date published: 2018-01-23
Rated

5

out of

5
by
Ethel100
from
Fantastic new version
Absolutely love new tablet, it's fast, loads of new additions, really sexy and easy to use, battery lasts longer too.
Date published: 2018-01-22
Rated

5

out of

5
by
Heg70
from
Prompt service
Learning to use my New purchase. Happy New year to all of you.
Date published: 2018-01-19
Rated

5

out of

5
by
Hodgy20
from
Excellent service and product
Fast Delivery Goid Communication Excellent Product
Date published: 2018-01-18
Rated

5

out of

5
by
mackattack
from
East Use
Bought this for Xmas and was easy to set up and use.Husband uses it with key board.Excellent to fit in back pack to take anywhere.
Date published: 2018-01-17
Rated

5

out of

5
by
chattysim
from
Finally I have joined the technological age!!
After so much nagging by friends and family I have finally bought one and now I do not know what I would do with out it.
Date published: 2018-01-17
User manual & Downloads
Live Chat
How It Stacks Up
Battery time is based on our own laboratory measurements, and may vary depending on factors such as device settings, usage patterns and operating conditions.
Network band : The bandwidth supported by the device may vary depending on the region or service provider.

Memory size - User memory is less than the total memory due to storage of the operating system and software used to operate the phones features.
Actual user memory will vary depending on the mobile phone operator and may change after software upgrades are performed.