Today's Technology
With 3G, cellphone users were introduced to the concept of internet access at their fingertips while away from their home or office desks. Nearly a decade later, LTE greatly expanded and modernized the mobile internet, bringing parity between the desktop and mobile usage experience. Yet, for all its transformational characteristics, 4G connectivity is in many ways still limited by its underlying technologies and a core focus on generalized voice and data connectivity.

With LTE, the underlying technologies were formally transitioned to mirror the same IP-based systems that the Internet is built upon, enabling more rapid and more flexible deployments. But from a benchmark perspective, much of the focus remained on improving spectral efficiency of then-currently assigned frequency bands, as well as the introduction of advanced interference mitigation techniques that would allow for denser deployments. In each case, the primary benchmark was an emphasis on throughput.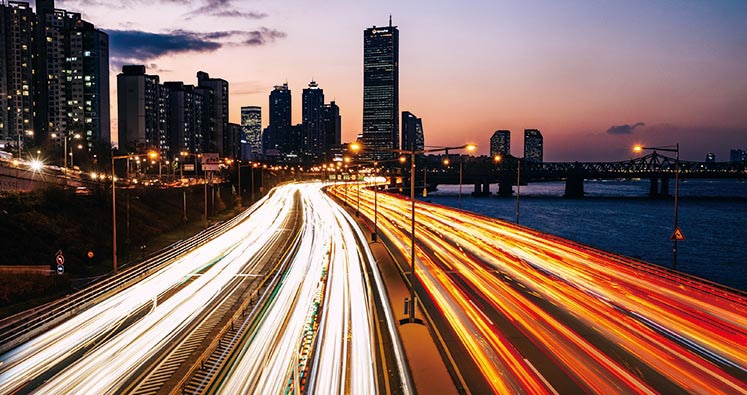 LTE as a Way of Life
This focus on faster bitrates - particular in the downlink - perfectly mirrored the explosive of bandwidth hungry services, such as video and content sharing. In many markets, monthly data consumption has ballooned from a handful of megabytes per month, to double-digit gigabytes, in the span of less than a decade, and the trend is predicted to continue. Thus, LTE opened up entirely new application and service possibilities, cementing the smartphone into a place of necessity for many, as social networking, work, education, banking, shopping and more have become ever-more convenient as a result.
The Challenge We Face
However, in the vast majority of cases, these services are external to the mobile networks, with users simply leveraging the connectivity as an agnostic vehicle that allows the applications in their devices to communicate with the servers that manage the experience, leaving the network service providers (NSPs) standing in the middle providing what often amounts to a dumb pipe. This means that an entire component of the process - the connectivity - remains generalized, unoptimized and ignorant of the very services, applications and experience it serves to enable. This creates a considerable challenge, both for NSPs who seek to innovate the services they offer to end-users, as well as for the application service providers, who often find themselves constrained by the capabilities and one-dimensional scope of today's mobile networks.
A 5G Revolution Paradigm
With 5G, the telecommunications industry has set out a goal to re-dimensionalize the concept of mobile connectivity - going beyond simple connectivity conventions by seeking to enable entirely new categories of connectivity, and vastly rethinking the way that networks are put together, so that they can be shaped and molded by the services they carry, and themselves contribute to enhancing the potential of these services.

Thus, 5G is looking at a far broader array of 'performance benchmarks', that includes both traditional measures, such as throughput and spectral efficiency, while introducing new emphasis in areas such as latency, reliability, device density, energy efficiency and more. At the same time, 5G will see an important shift from monolithic and proprietary hardware-based platforms that provide static performance characteristics, towards a more dynamic software-driven architecture, that will enable NSPs and the infrastructure they deploy to constantly adjust themselves to meet ever-changing user demands and network conditions. This process of virtualization will also allow for incredibly unique network infrastructures for equally novel use cases, such as vehicle-to-vehicle communications (V2V), robust public safety networks (PSN) and more.
5G is Technologies and Services
The core components of next-generation 5G networks can be abstracted into two major components: technologies and services. In both cases, there are both tangible and intangible aspects that will play a role in enabling a connectivity revolution. Perhaps most importantly, however, 5G is all about thinking outside the box - adopting a certain open-mindedness about what can be done with technologies, and how they can be applied to solve today's and tomorrow's challenges. This is an increasingly important component, not just within the telecommunications industry, but across every technology-related industry.

5G networks will continue to play the traditional part of data-carrier, but it will increasingly be called upon to be both a possibility-enabler and itself a host of services. More than anything else, this key point is the defining differentiator between today's 4G networks and the 5G networks of tomorrow.
Technology-Driven Innovation
From a technology standpoint, 5G will transform or beneficially impact virtually every component of the mobile network in some way. At the network edge, next-generation networks will implement advanced new radio interfaces that take advantage of entirely new radio frequencies, such as **millimeter waves** (above 6GHz), and improve both spectral efficiency and interference mitigation through the use of technologies such as **beamforming** and **massive MIMO**. Meanwhile, the traditional base station will largely disappear in most cases, with its functional split between the radio **access unit** and a more centrally-located (and aptly named) **central unit**.

These various functions are today undergoing a shift towards software virtualizations in the most advanced LTE-Advanced Pro networks, and this **Network Function Virtualization** (NFV) will be a standard component of 5G networks. Most affected by this transition, will be the **next-generation Core Network**, which will gain the ability to scale in and out various resources to meet demand, and flexibly adjust its own architecture to match real-time network usage, infrastructure outages and the deployment of new services.
Service-Driven Future
Once deployed and commercial, 5G networks will be less defined by their ability to provide connectivity - as 3G and LTE networks are today - and more by the various services they will enable. In the ideal case, it will be difficult to concretely define precisely what a '5G network' really is, as each one will be completely different from the next, both in form and function. While one may serve to provided much needed data backhaul for a city broadband network, another will provide affordable gigabit internet service to suburban neighborhoods, while another still will be leveraged to provide reliable and low-latency coverage for autonomous vehicle networks. Each will be composed of similar parts, but thanks to underlying virtualization, **network slicing** and **radio access technologies**, will take on different shapes, sizes and performance profiles.
A More Integrated Ecosystem
Perhaps most critical to understanding the value of 5G networks, is the idea that NSPs will no longer play the role of men-in-the-middle charging a toll for access to 'dumb pipes'. Their ability to meaningfully shape network characteristics and performance, will allow them to engage directly with new ecosystem partners from end-to-end, and develop applications, and services we can only dream of today - enhancing the user experience and building unique, new connectivity scenarios, with a network that plays an active roll in expanding the potential for technological innovation.

By simultaneously expanding and tightening the telco ecosystem, as well as building bridges between newly-connected or under-connected industries, 5G networks will call upon the industry to reconsider the traditional mobile connectivity paradigm, to explore new possibilities and shape new realities.
Growing Chaos
One of the most common misconceptions of 5G is that it will provide a new network layer to be placed atop existing layers, such as 4G, LTE or WiFi. Today's mobile networks are often better thought of as individual sub-networks that are coaxed into cooperating. LTE, for example, has now grown to rival 3G in terms of subscribers across the globe, but in most markets, the transition is far from perfect, and users often express frustration when their devices struggle to switch seamlessly between the two technologies.
5G as an Integrator
It's important to recognize that 5G is not being developed with the same intention. With 3G networks often playing the role of reliable fallback, LTE increasingly providing the common connectivity medium and the growing ubiquity of WiFi networks, the industry as a whole recognizes that 5G cannot be a new item to add to the mess, but must instead play a more important unifying role. The underlying technologies of next-generation networks are being developed to provide the potential for a single, centralized network management capability, that - thanks to technologies such as NFV - will allow for a modular approach to technology integration. For example, a software-based 5G core could be loaded with a virtualized LTE core network, with additional software to manage users and connectivity between the two. This avoids traditional issues with hardware interface incompatibilities, and allows for on-the-fly optimization through software updates - a very familiar concept today.
Next-Generation Development is Well-Underway
Many of the core technologies behind 5G are already in the field today. The first NFV-based networks are **in commercial deployment** in leading LTE-Advanced markets, such as Korea, already. Meanwhile, NSPs and infrastructure vendors such as Samsung are already aggressively undertaking field trials for other key technologies, such as millimeter wave access.

Critically, with the emphasis on the services side of the equation being a central focus of 5G, trials that involve use cases outside of traditional mobile connectivity are underway in places such as the United States. In this vein, 2017 will play host to some of the first commercial-scale trials and demonstration of the services potential of next-generation network technologies.
Only a Few Years Away
Industry-wide 5G standardization efforts have been ongoing for several years, and Samsung has been a staunch contributor to the process. With these early efforts expected to culminate in the first set of 5G standards by the middle of 2018, everything is on track for the deployment of the first specialized 5G networks in use cases such as **Fixed Wireless Access**, which aims to provide a cost-effective alternative to fibre-to-the-home (FTTH) as early as the same year. Meanwhile, more generalized mobility-focused 5G networks are expected to follow as broader device availability begins to occur by 2020. This measures a full decade since the launch of the first true 4G LTE networks, and represents a healthy and reliable innovation cycle within a mobile industry that continues to grow at an exciting rate.