Galaxy S9 | S9+
The phone. Reimagined.
Efficiency
Infinity Design
Get immersed in your work, wherever you go.
See more of your work and multitask easily on the Infinity Display. We've minimized visual distractions and made the screen a deep black to blend in with the bezel. And when you're out in the field, you can read documents or take video with ease because the screen's contrast has been enhanced.
*Infinity Display: a near bezel-less, full-frontal glass, edge-to-edge screen.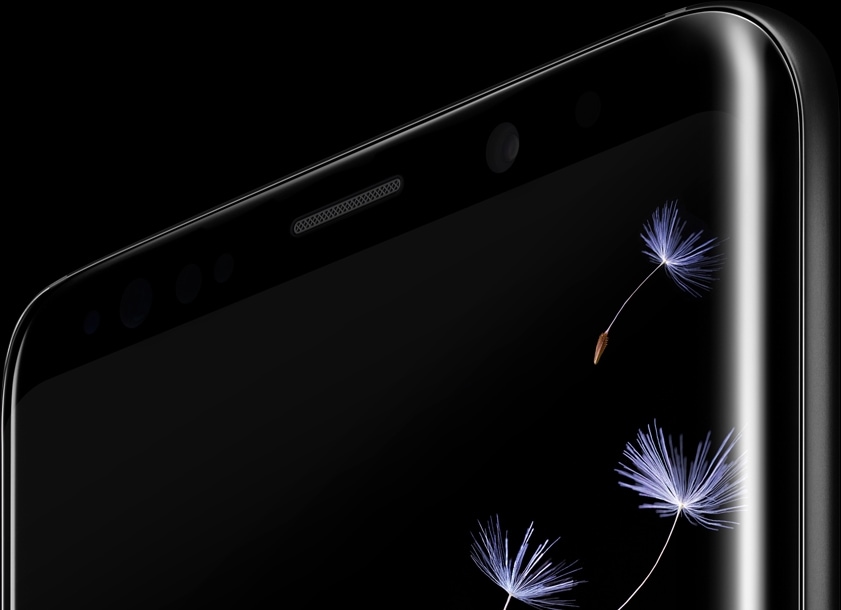 Camera
Capture detailed photos and videos with ease.
When you're taking photos or videos for work you need them to come out crisp and clear. The camera on Galaxy S9 and S9+ offers Dual Aperture and noise reduction to help you get great photos in low light. While Super Slow-mo lets you record four times slower, slowing down reality so you don't miss the details.
*Dual Aperture supports F1.5 and F2.4 modes. Installed on the rear camera (S9)/rear wide camera (S9+).
*Super Slow-mo only supports HD resolution. Limited to 20 shots per video with approximately 0.2 seconds of recording and 6 seconds of playback for each shot.
*Check your available storage capacity before use.
Samsung DeX
Bring a desktop-like experience with you.
Be productive when and where you need to with the new Samsung DeX Pad. Whether you're working on the road or from home, it allows you to use your Galaxy S9 or S9+ as a keyboard and touchpad meaning all you need is a monitor for a rich desktop-like experience. It has a dedicated GUI with things like contextual menus and drag-and-drop functionality so you can check emails, create and edit documents, and more.
*Using the original HDMI cable and charger included with Samsung DeX Pad is recommended.
*Samsung DeX Pad, accessories, and monitor sold separately.
*Available on selected Samsung smartphones running Android 8.0+.
Multitasking
Efficiency made easy.
Streamline your mobile workspace by opening two apps at once with Galaxy S9 and S9+'s multitasking capabilities. Pair two apps you use together frequently and pin them to the home screen for instant access. And if you're in the middle of something and you get a message, simply drag the notification down to reply without switching apps.
*Multitasking and App Pairing are available for select Android apps with Multi Window capability. These apps can be found in the App List on your phone.
Security
Samsung Knox 3.1
Lock down your data at every level.
Work anywhere while still keeping your files and data protected. The defense-grade security platform Samsung Knox is built in from the chip up and starts working the instant you turn on your phone. Samsung Knox offers multiple layers of real-time security that keeps your data safe in a secure folder that only you can open. Not only that, it even keeps your work and personal things separate.
*Samsung Knox container must be activated by an EMM solution.
*TIMA is TrustZone-based Integrity Measurement Architecture.
Biometric Authentication
Access your phone with ease.
When you need to unlock, it's simple with Intelligent Scan. It's a fusion of face recognition and iris scanning, allowing you to easily open your phone in different environments. If you're in low light, iris scanning kicks in to bolster face recognition when identifying you. Or if you're outdoors on a bright day, face recognition supplements iris scanning.
*Above image shows iris scan GUI.
*In situations where a more secure unlocking method is necessary, iris scan is recommended.
*Accuracy of Intelligent Scan may differ depending on surrounding conditions.
*Iris Scanner might not work properly due to environmental factors.
Live Translation
Stay informed around the world.
Easily read work documents from your global partners or understand the menu at a working dinner abroad. Open your camera and Live Translation will provide real-time text translation.
*Accuracy depends on various factors such as text size and design.
*Samsung Account login and data network (Wi-Fi or internet connection) required. Translation speed may vary depending on internet connection and word count. This function is limited to selected languages. For the full list of languages please visit http://www.samsung.com/global/galaxy/apps/bixby/vision/.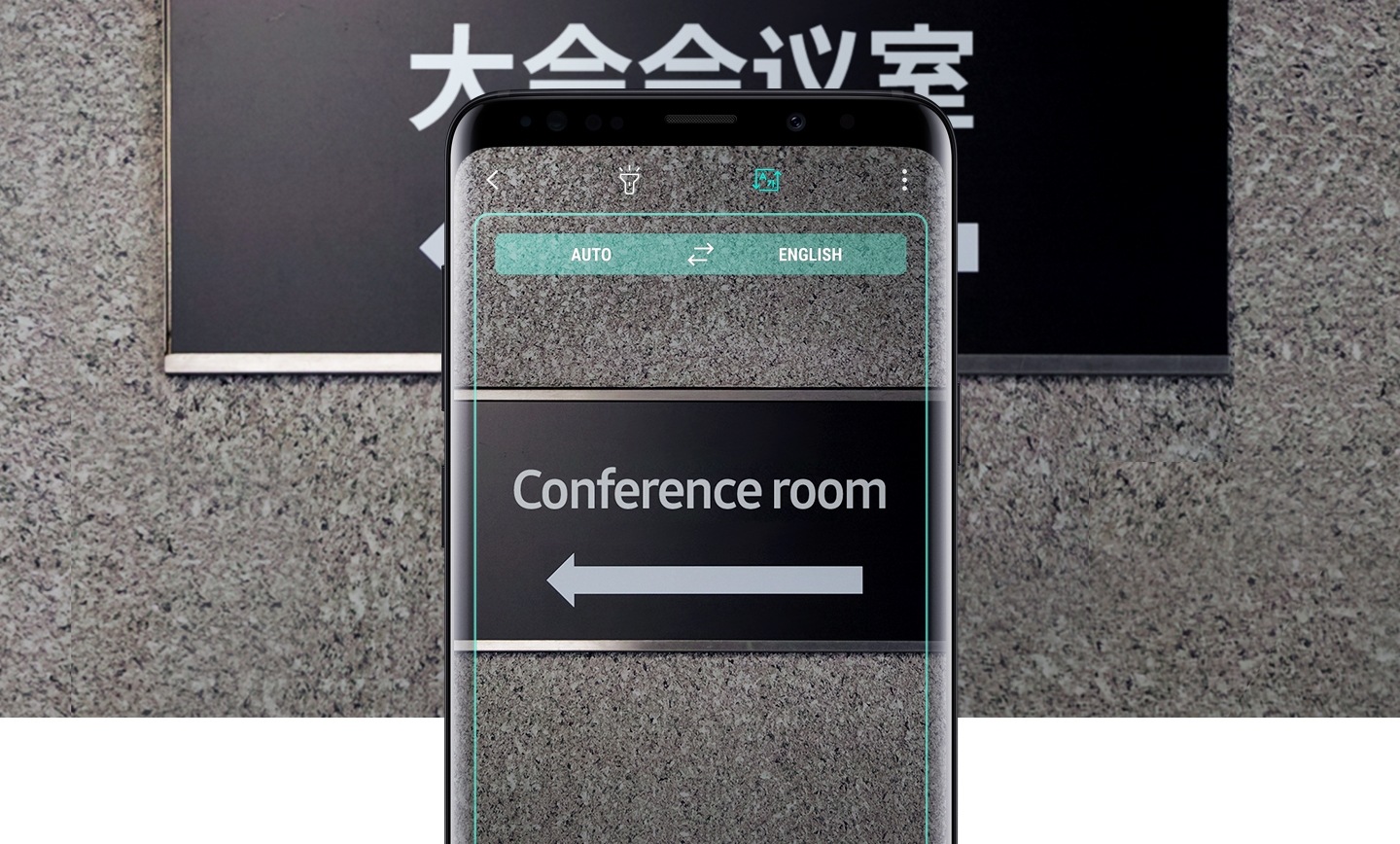 Water and dust resistance
Work through the unexpected.
Go on using your phone even if work takes you into less-than-ideal environments. It's rated IP68 for water and dust resistance so you can continue emailing or taking photos if you get caught in the rain or a dusty area.
*IP68 Rating. Based on test conditions for submersion in up to 1.5 meters of water for up to 30 minutes. Rinse residue/dry after wet.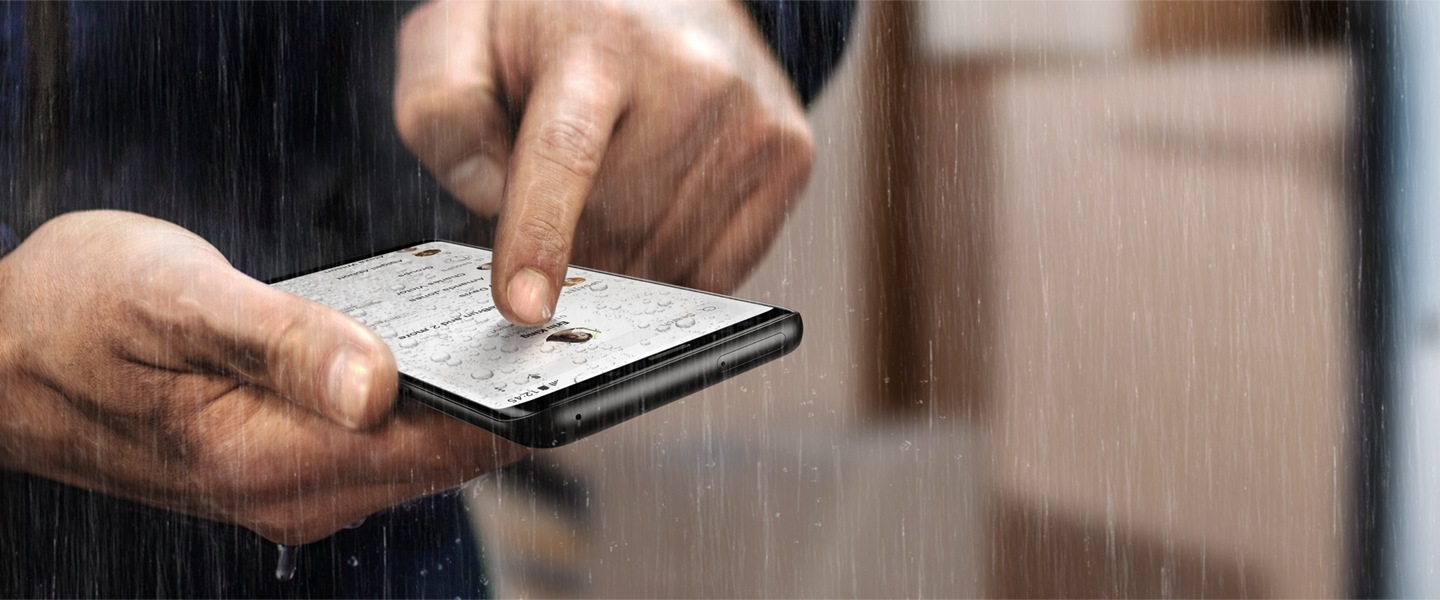 Gigabit LTE
Download and stream with seamless speed.
Being out of Wi-Fi range doesn't mean disconnecting. Even when you're using data, you can quickly access files and documents like graphics or 3D renderings and utilize AR/VR apps. That's because Galaxy S9 and S9+ can connect with LTE speeds up to 1.2Gbps.
*Actual speed may vary by country, carrier, network environment, content provider, and other relevant factors.
*Data subscription required. Additional data charges may apply.
*Actual speed may vary by country, carrier, network environment, content provider, and other relevant factors.
*Data subscription required. Additional data charges may apply.
Expandable memory
Convenient storage options.
Store important documents and data on your phone without a second thought. The Galaxy S9 and S9+ offer expandable memory, allowing you to add up to 400GB with a microSD card.
*MicroSD card sold separately.
Dual SIM
Two numbers, one phone.
Insert a second SIM card to have your separate home and work numbers on one device. Or if you need to connect while abroad, you can use a foreign SIM and still keep your domestic number live.
*SIM card sold separately.
*Availability of Dual SIM may vary by country and/or carrier.
*SIM card sold separately.
*Availability of Dual SIM may vary by country and/or carrier.