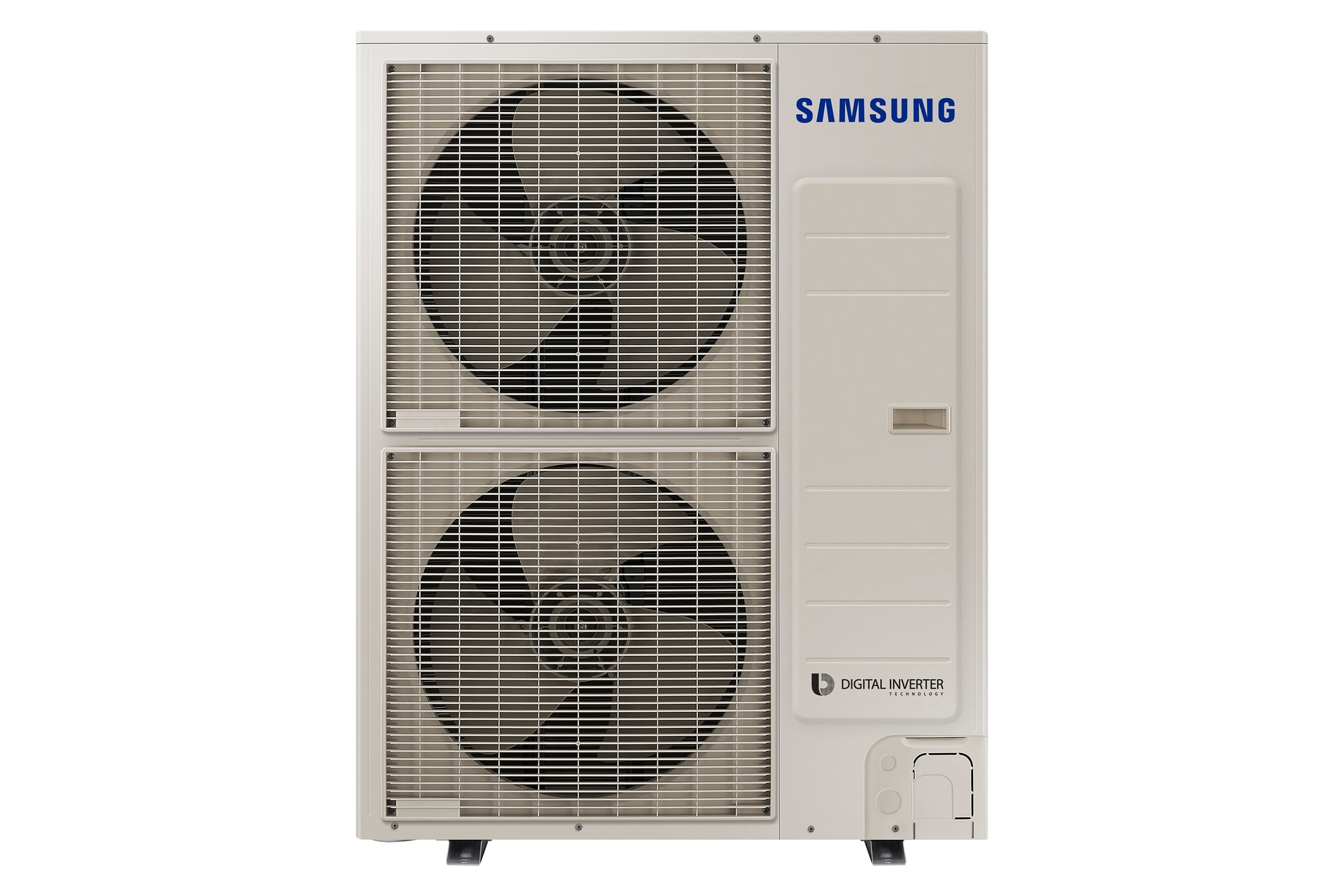 AM090FXMDGH/TL
DVM S Eco, Heat Pump R410a, 380~415V, 50Hz, 3Ф, Outdoor Unit
Clean and efficient air provider
Top-class energy efficiency
Small footprint and volume
Best in class capacity
Provides more coverage, but takes up less space. It has the largest capacity in its class of 14 HP, enabling you to create a small footprint VRF solution. So it's ideal for installation in places with limited space.
Compact design for extra flexibility
The most compact air conditioner in its class, making it very easy and economical to install and operate without compromising on performance. It also leaves plenty of extra space that can be used for other purposes.
Advanced performance & energy efficiency
Its advanced technology radically improves performance and reduces wasted energy. It includes an innovative Digital Inverter Compressor, an optimised heat exchanger with corrugated fins and highly efficient fans.
Connects more, fits more
Has a 4 way piping system, with connections at the front, side, bottom, and rear, and a 160 m piping length, so it fits into many more places, including small or narrow spaces, and is easier to install and maintain.
Improved reliability in cold conditions
Featuring advanced refrigerant control technology, its flash injection provides improved heating performance at -25 °C. And it continues to perform even at lower temperatures, for reliable comfort when it's freezing.
Flexibly install it almost anywhere
Provides the flexibility to be installed almost anywhere, regardless of its location or distance from the building. It has a piping length of up to 160 m (525 ft) and can reach up to a height of 50 m (164 ft).
Control your cooling anywhere
An optional Wi-Fi Kit lets you remotely control indoor units using a smartphone App*. Anytime and anywhere you can turn them on and off, select the operating mode and temperature, and utilise their other functions.
Specification
Features
Model Name
Power Supply (Outdoor Unit) [Φ, #, V, Hz]
System
Performance (nominal)
Capacity

Cooling [kW]

24.1 

Cooling [Btu/h]

82,200 

Heating [kW]

26 

Heating [Btu/h]

88,700 

Power Input (Nominal)

Cooling 1)

6.9 kW

Heating 2)

5.34 kW

Current Input (Nominal)

Cooling 1)

11.65 A

Heating 2)

9.01 A

Power
Energy Efficiency

EER (Nominal Cooling)

3.49

COP (Nominal Heating)

4.87

Compressor

Type

SSC Scroll x 1

Output(kW)

4.96 

Model

DS-GB052FAVADO x 1

Oil (Type)

PVE

Oil (Initial Charge) [cc]

1,100 

Fan

Type

Propeller

Motor (Output) [W]

139 x 2 

Air Flow Rate (High / Mid / Low) [CMM]

145 

Air Flow Rate(High/Mid/Low)[L/S]

2,416.67

Piping Connections

Liquid Pipe (Φ, mm)

9.52 

Liquid Pipe (Φ, inch)

3/8"

Gas Pipe (Φ, mm)

19.05 

Gas Pipe (Φ, inch)

3/4"

Installation Max. Length [m]

100 

Installation Max. Height [m]

30 

Field Wiring

Transmission Cable

0.75 ~ 1.5

Refrigerant

Type

R410A

Factory Charging (kg)

3.7 

Sound

Sound Pressure

57 dBA

Sound Power

76 dBA

External Dimension (Outdoor Unit)

Net Weight(kg)

135 

Shipping Weight (kg)

140 

Net Dimensions (WxHxD) (mm)

940 x 1,420 x 330 

Shipping Dimensions (WxHxD) (mm)

995 x 1,578 x 426 

Operating Temp. Range

Cooling (℃)

-5 ~ 48 

Heating (℃)

-20 ~ 24 
Images shown here are for representational purpose only, actual may vary. All features, specifications and prices are subject to change without prior notice. Model availability may vary from location to location.