Designed for everyday simplicity
One UI is easy to use so you can quickly navigate through any task and reduce the overload. Designed to help you focus on what really matters, the new design is unique yet accessible. The One UI experience is consistent and inclusive for everyone.
Availability of One UI features and apps may vary depending on device, OS version, and country. UI/UX may change upon commercial release, or after software updates. Describing the main features of One UI 2. A refined experience. Focus on the task at hand with less distractions and more entertainment. Default setting for notification size is large. Minimized notifications can be enabled in Settings. Interact more naturally with more information at a glance and better reachability. Viewing area, interaction area. Be visibly comfortable with more vibrant hues vivid moving icons and dark mode in more apps. Images shown illustrate changes applied to the One UI 2.0. Do more with high contrast visuals brightness recognition and hearing assistance designed to empower everyone. Feature may be activated by users via Settings. One experience across all your devices. This is One UI 2.
Focus on what matters
One UI visual language is simplified and designed for clarity.
The details are crafted for a consistent and friendly look. Easily view content in a single glance.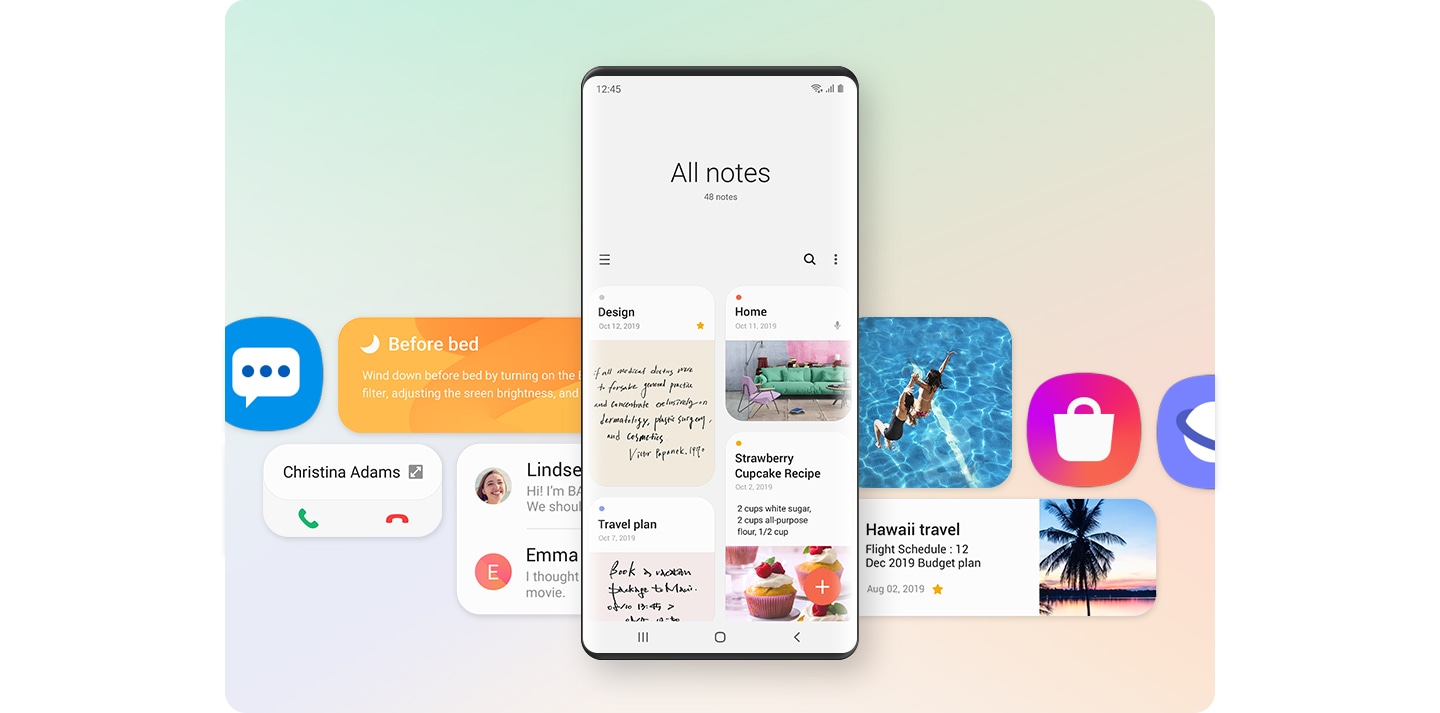 Get to what you need faster
The Galaxy experience feels natural and easy with simple interactions that make sense.
Frequently used apps and features are always at your fingertips on every Galaxy device. No matter your Galaxy device's screen size, you'll be connected and focused.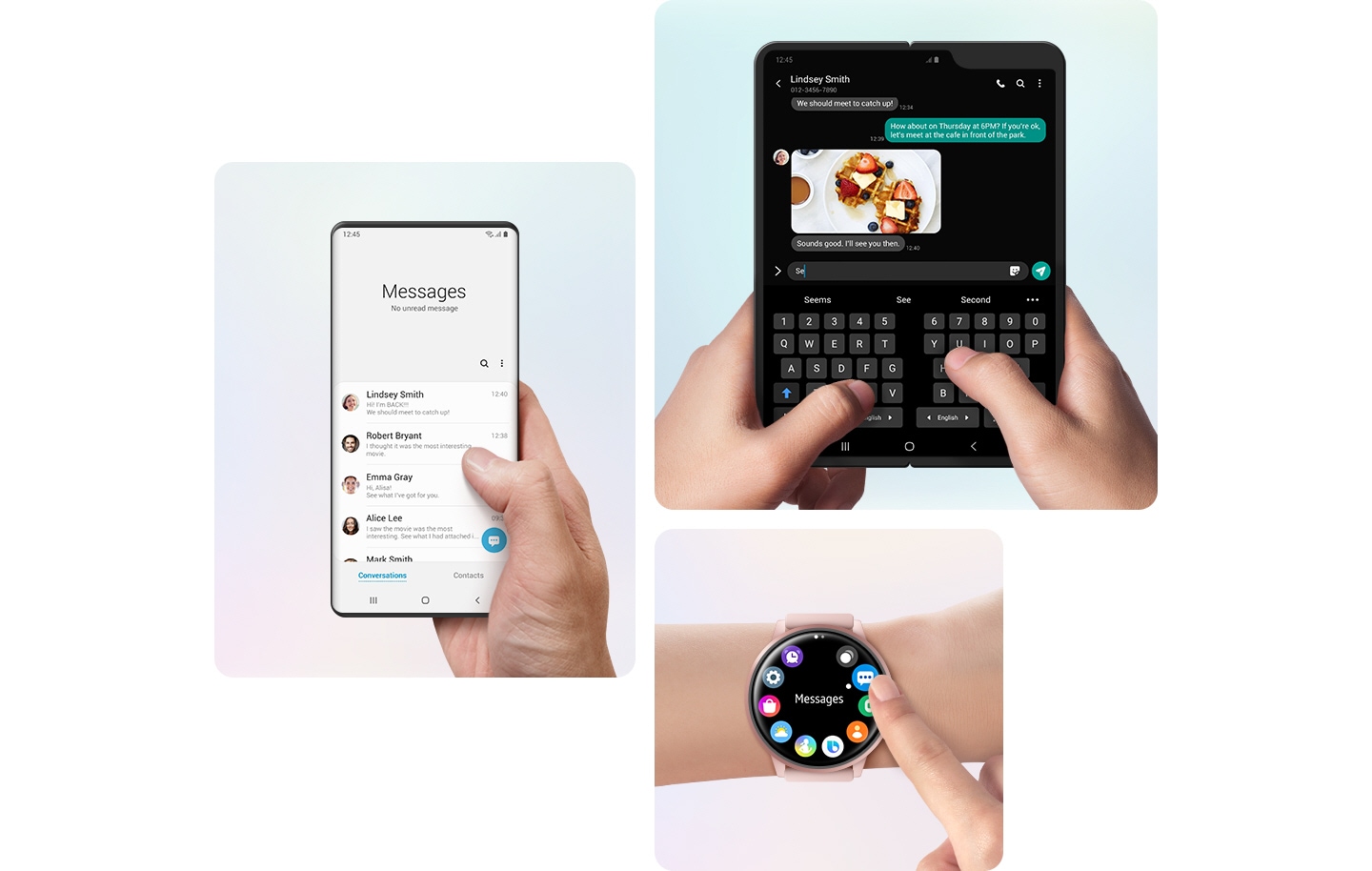 Stay informed, not distracted
The new One UI 2 features a streamlined design that keeps you up to date without getting in the way of what you're doing.
Notifications take up less space, so you can focus on what matters even more.
* Notification size is set to large in default settings for all devices. Minimized notifications as shown can be enabled in Settings.

Dark Mode is even smarter
Help your eyes at night by softening the display with an enhanced Dark Mode. Or turn it on for style with battery saving benefits. The choice is yours. Darkened menus and features are integrated across One UI 2 so your screen stays muted and your eyes comfortable.
Design that goes with the flow
Customize your screen in more ways than ever.
Turn on Dynamic Lock screen to refresh your display with a different image every time you unlock your phone.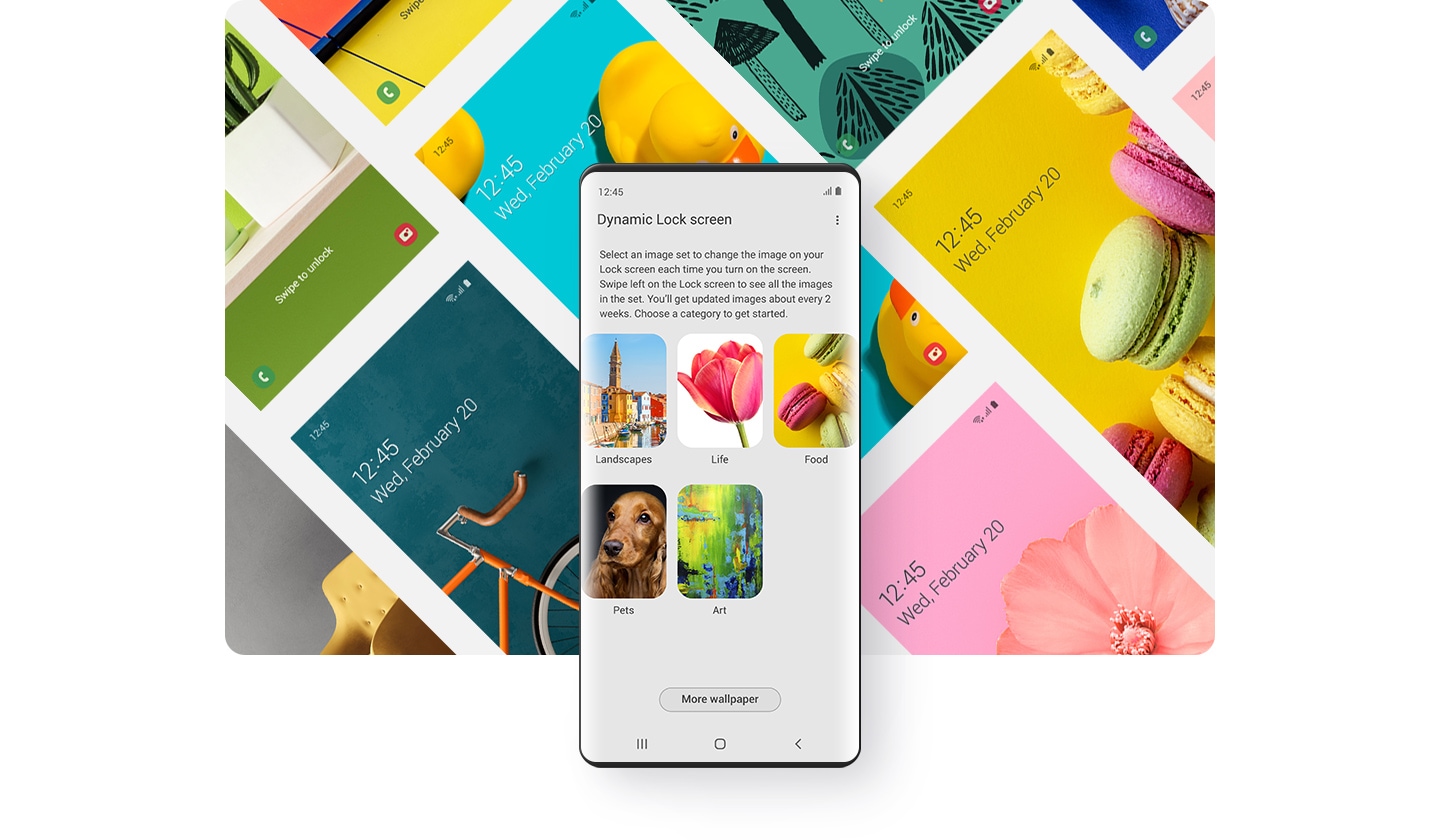 Thoughtfully designed for all
At Samsung, we want everyone to connect, create and share.
One UI 2 empowers people to do what they love with empathetic design and simple assistive technology.
Hearing Enhancements
Discover how Galaxy Buds can help you hear more.
One UI 2 introduces custom hearing enhancements, like amplification of ambient sound, in the accessibility settings.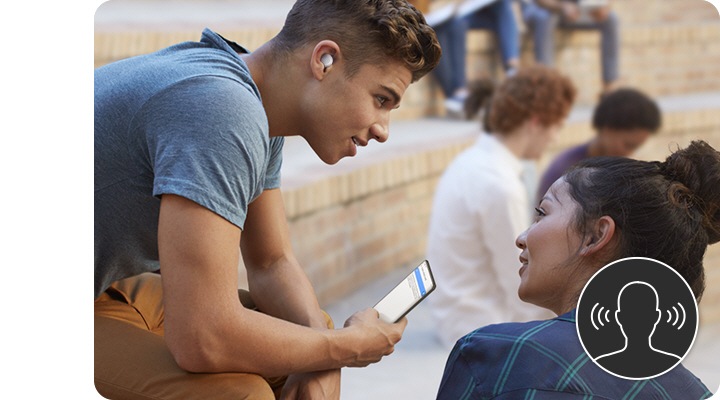 Visibility Enhancements
Customizing color preferences and high contrast elements is even easier with One UI 2. The new keyboard is fine-tuned with increased visibility and definition.
Keep your digital wellness in check
One UI 2 gives you the tools to manage phone use and focus on what's important in life.
Track your usage, manage screen time or enable focus mode to help avoid distractions.
* Availability of One UI features, apps and services may vary depending on device, OS version and country.
** Device and screen images simulated for illustrative purposes.
*** Certain features may require Samsung Account login, GPS connection, or data network (Wi-Fi or internet connection).