How can I use the Cover screen of Galaxy Z Fold2?
Last Update date :
Sep 15. 2020
You can experience a full smartphone that fits in one hand with its ergonomic design even when folded. When answering calls or taking selfies, all apps are easily handled with just one finger, and smoothly connected from screen to screen.
The Galaxy Z Fold2 has been designed to fit nicely into one hand while folded so you can conveniently use it to make calls, view messages, or quickly browse the internet. Launch any apps you want to use with ease on the Cover screen. Also, all apps can be run on the full-viewing Cover screen.
① Phone ② Messages ③ Internet
Next Level of Multi-Tasking
You can keep up with your multitasking by opening up to 3 windows with easy layout control. Cover screen supports 2 multi window configuration (Top/bottom). It means that the same 2 apps can be opened in different windows, that we call Multi-instance.
Note: Multi-instance supporting App: Internet, Myfiles, Samsung Notes, MS Office (Available app can be changed)
Continuing apps on the Main screen to Cover screen
The Galaxy Z Fold2's user interface is optimized not only for its inner Main screen but also for its Cover screen, so you can easily use all your apps with one hand, even when the device is closed. While using the Cover screen to view photos, videos, articles, maps, and more, you can open the Galaxy Z Fold2 to pick things up on the larger inner screen without any interruptions, and vice versa. To opposite case, from Main screen to Cover screen, the default settings is Screen off, and you can activate App Continuity on following paths. 
Step 1. Navigate to the Settings > Tap Display.

Step 2. Tap Continue apps on cover screen.
Step 3. Tap the switches of the apps you want to continue using on the cover screen.
Note: 
When you fold the device while the app is running in Main screen, the screen of the app will appear on the Cover screen. Some apps may not support this feature.
This is a phenomenon that the text appears blurred and clear when the screen is switched while using the cover screen. This is the same as previous Fold, and it is a normal operation and is not a product defect.

As Cover screen only supports 60Hz, the screen may be shaken or stuttered relatively to the Main screen 120Hz (default setting). This is due to differences in basic hardware specifications and is not a software problem. 
Using the camera with Cover screen
You can take photos or record videos using the cover screen while the device is either fully folded or unfolded.
Dual Preview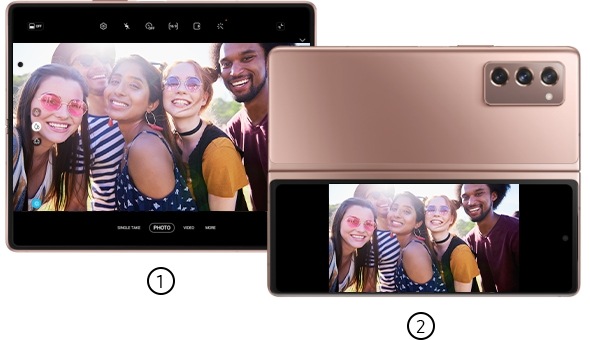 ① Main Screen (Preview1) ② Cover Screen (Preview2)
When taking a photo or video, a preview is displayed on the cover screen at the same time. This allows the subjects of the photo/video to see how the result would look in Dual Preview.
How to use Dual Preview screens

Step 1. On the preview screen, tap 'OFF' icon. The Cover screen will turn on. 
Step 2. Tap Camera button to take a photo or tap Record button to record a video.
Note: This feature is only available in some shooting modes.
Rear Cam Selfie
Take a selfie with the high-resolution rear camera while checking the preview on the cover screen. Main screen will be automatically turned off when taking a selfie with the rear camera.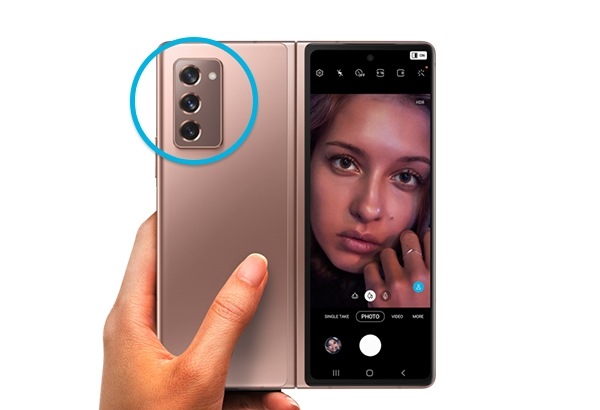 How to take a photo with Rear Cam Selfie
Step 1. Launch the Camera app on the Cover screen.
Step 2. Tap SELFIE.
Step 3. Unfold the device and face the rear camera. 
Step 4. Tap Camera button to take a photo or tap Record button to record a video. 
Note: This feature is only available in some shooting modes. 
How to display Home Screen in Landscape mode
On the Home screen, tap and hold an empty area, tap Home screen settings, and then tap the Rotate to landscape mode switch to activate it. Rotate the device until it is horizontal to view the screen in landscape mode and the landscape view is automatically applied to Cover screen. 
Note: On landscape mode of Cover screen, multi window and edge panel are not available.
Note: Device screenshots and menu may vary depending on the device model and software version.