How to set EQ
Last Update date :
Sep 22. 2020
[
Overview]
DNSe(Digital Natural Sound engine), unique sound technology of Samsung delivers richer and deeper sound for an unbelievable listening experience.
• You cannot set the Master EQ, while you using the Bluetooth Headset.
[Solution]
Follow these steps to set EQ
Master EQ setting
Step 1: Go to Menu >> Settings >> Sound >> Master EQ.
Step 2: You can optimize sound settings.
Select the desired frequency and its level.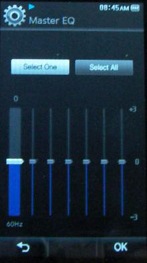 Using The Music Menu
The Music menu allows you to manage all facets of listening - from repeating tracks and albums to choosing the background on the screen as you listen.
Step 1. Tap [

] while listening to music.
The Music menu appears.
Step 2. Tap the Up, Down button to select Sound Effect and
tap[
]. The Sound Effect menu appears.
Step 3. Tap the Up, Down button to select the desired sound effect and tap [

].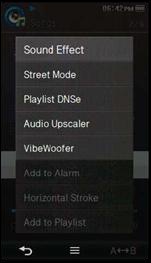 ※Note
• EQ setting method may differ depending on the portable
device model. Please refer to the user manual of your model.
You can find the user manual on.
www.samsung.com > Support > Download Center > Search by Model number.
Please answer all questions.