How to use the racks in my oven?
Last Update date :
Oct 19. 2020
There are various types of racks and accessories that come with your Samsung oven. Some of them look similar but they have their own different uses. Get to know how to use them properly. 
Overview of the oven accessories
It is important to put your racks in the right position. Different rack positions and types of racks will make for different outcomes of your cooking. Here are the proper ways to use and install oven racks and other accessories- Wire rack, Wire rack insert, Baking tray, Universal tray, Extra-deep tray, Telescopic rail, Side rack, and Divider.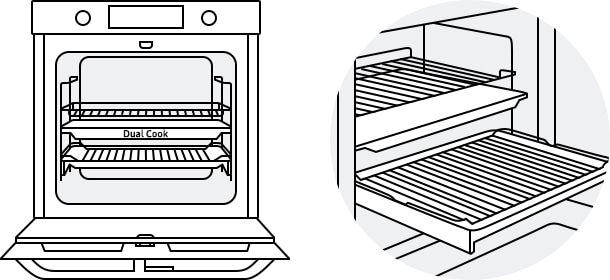 Tips for cleaning the racks
Certain kinds of detergents and cleaning tools can damage the oven and racks. Check before using them to clean the oven racks.
Available: Warm soapy water, mild cleaning detergent with a clean cloth, kitchen roll, dry towel.
Unavailable: Abrasive cleaning agent with a hard brush, scouring pads or cloths, steel wool, knives, or any other abrasive materials.
Please click the submit button below to share your feedback with us. Thank you for your participation.
Please answer all questions.