Meet innovative new features of 2020 model
Last Update date :
Sep 15. 2020
The 2020 Samsung Smart TV combines new technologies and design to provide viewers an innovative experience. Digital Butler allows you to smartly control all your devices and appliances, and you can enjoy a richer sound with Q-Symphony by connecting a soundbar. Moreover, special thanks to the Infinity Design of slightly tilted back of the screen, the flagship models Q900 and Q950 give the best immersion.

Immersive sound experience with Q-Symphony
So far, when you turn on the sound bar, the TV sound function is automatically turned off. However, Q-Symphony allows TV and soundbar to output sound together simultaneously. As a result, you can experience a richer sound than ever.
TV analyzes the video and audio signals and determines which speakers should produce and which sounds with artificial intelligence (AI) technology and collaboration between the speakers.

Note:
Only available from Q80T TV model (except Q80 49" model) and from Q60T soundbar model in 2020.
Only available for HDMI(ARC) or Optical connection type.

How to set the Q-Symphony
Make sure the soundbar is turned on. Then, connect to your soundbar in Sound Output menu.
When connected to the soundbar, sound is automatically output from the TV and the soundbar simultaneously.
Step 1. Press the Home button on your TV remote and select Settings menu.
Step 2. Select Sound menu, and then choose Sound Output.
Step 3. Find and select the Soundbar that you desire to connect for Q-Symphony (e.g. TV + Sound Bar [device name])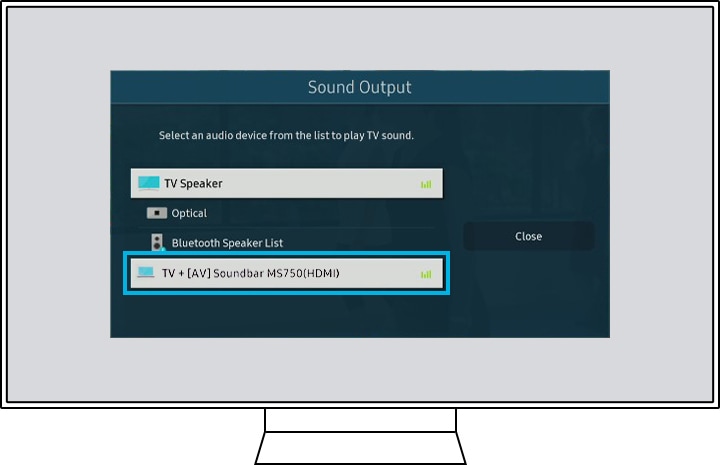 Note: Device screenshots and menu are only sample in English - they are also available in the language of your country.

Enjoy a convenient lifestyle with Digital Butler
Digital Butler is a feature in Samsung Smart TV that allows you to see all connected devices and appliances at once and connect to them to the TV. Digital Butler can make a chart of all connected devices, and shows you all of that in one shot on the big screen, which we believe will make your life much more convenient.
These days even home appliances have different types of connectivity technology such Bluetooth, BLE and Wi-Fi. Regardless of the technology. On top of all this, you'll be able to control most of your connected devices with Digital Butler. Digital Butler will automatically connect the appliances so there is no need to pay attention to the classification. Even legacy devices without special tech can be controlled by the Digital Butler with TV's IR signal.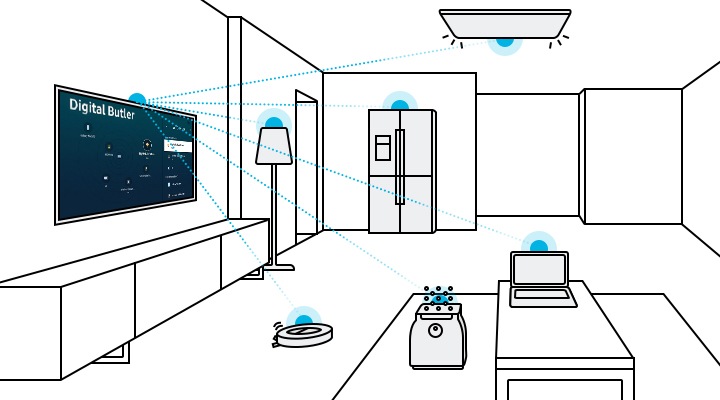 Note: This service may not yet be available at the time of product purchase. Digital Butler may not be supported with certain product.
Supported devices on Digital Butler
2020 TVs with Digital Butler, above TU8000 models
QLED 8K series: Q950TS, Q900TS, and Q800T
QLED 4K series: Q90T, Q80T, Q70T, and Q60T
Crystal UHD series: TU8000
Galaxy Series phones, above S6 models
Galaxy S series: S6/S6 edge/S6 edge+, S7/S7 edge, S8/8+, S9/9+, S10/10+/10e/10 5G, S20/20+/20 Ultra
Galaxy Note series: Note 5/FE/8/9/10/10+
Galaxy Fold and Galaxy Z Flip
Galaxy A series: ('16) A3/5/7/8/9/9 Pro, ('17) A3/5/7, ('18) A6/6+/6s/7/8/8+/8 Star/9, ('19) 01/51/71/2/10e/10/10s/20e/20/20s/30/30s/40/50/50s/60/70/70/70s/80/90
Galaxy M series: M10, M20, M30, M40
Galaxy J series: ('16) J1/2/3/5/7, ('17) J3/5/7, ('18) J2Pro/3/4/8
Galaxy Tab: ('16) A10.1, ('17) A8.0, S3/4/5e/6, A8.0/10.1 Pen, A 10.501/51/71/2/10e/10/10s/20e/20/20s/30/30s/40/50/50s/60/70/70s/80/90

*Android phone which is installed SmartThings is possible to use.
iPhone Series, above iOS 7.1
iPhone: iPhone 4S and above with iOS 7.1 and up
iPad: iPad2, iPad Air and up, iPad Pro series, iPad mini 2 and up
iPod Touch: iPod Touch 5th generation and up

Legacy Device (IR sniffing)
Air conditioners (Samsung, Carrier, Daikin, Lennox, LG, Mitsubishi Electric)
Air purifiers (Samsung, Airmate, Amway, Cairs, Dyson, LG)
Robot vacuums (Samsung, Bobsweep, Ecovas, Hoover, iRobot, LG)
Humidifiers (Bionaire, Daewoo, Dyson, Lasko, Winia)
Electric fans (Samsung, Airmate, Balmuda, Bionaire, Dyson, Hanil, Hitachi, Honeywell, Lasko, Rowenta, Shinil)
Bluetooth devices
Speakers, headsets, and soundbars (Bluetooth A2DP profile)
Keyboards, computer mice, and gamepads (Bluetooth HID profile)

SmartThings devices
A full list of supported devices is available on the SmartThings website. Link (https://www.smartthings.com/products)

*Support country: USA/ Canada/ Germany/ Spain/ UK/ Italy/ Sweden/ Qatar/ Hongkong/ Singapore/ Philippine/ Denmark/ Finland/ Norway/ Turkey/ China/ Australia/ New Zealand/ Mexico/ Chile/ South Africa

Source devices
DVD players and Blu-ray player

Home theater systems
Game consoles
OTT boxes and Set-Top boxes
USB memory devices
*The source device must be connected to HDMI or USB port.

Experience the 2020 Tilt back design
The Samsung flagship model not only offers improved performance, but also a particularly impressive design. 8K Q900 / 950 series are the first Samsung TVs with the Infinity Design concept. One of the new design features is that it is designed with a tilt backwards of 3.5 degrees when installed using the supplied stand. Therefore, it is available to provide the optimal viewing angle for the viewer, when the large screen is installed a relatively low position.
Note: Tilt-back design only applies to Q900 / 950 series in 2020.
Design features for maximum concentration

The tilted design was applied in consideration of not only the best resolution, but also the optimal viewing angle of the large screen, and through this, it was possible to maximize the concentration of the screen. Picture shown below is of a unit leaning backwards and showing why this has been done. Viewers eyes are at 90 degrees to the screen.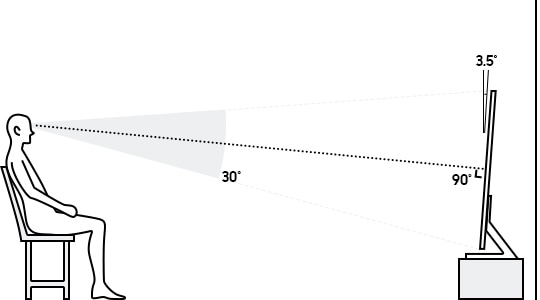 Do not attempt to adjust the TV tilt

Q900/950 Series are designed to lean back slightly, where the top of the screen is further back than the bottom. It is the concept of the product. 
The amount of leaning back is also fixed it is not adjustable.
Please do not try to correct this or attempt to level with flat objects underneath the TV base as this can be dangerous and cause the TV to become unstable and fall over.