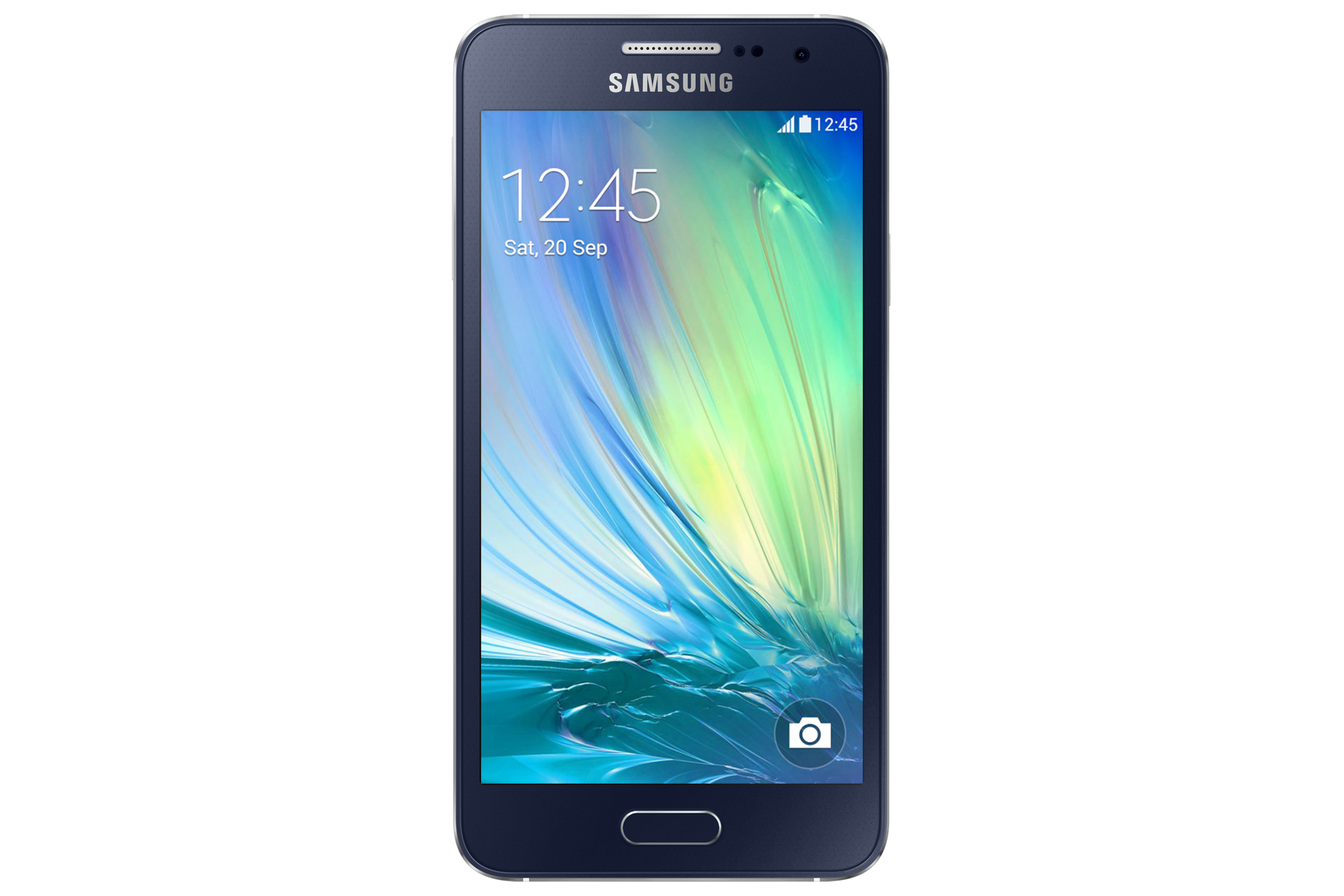 SM-A300FZKUBTU
Galaxy A3 (2015)
Galaxy A3 (2015)
is rated out of
5
by
364
.
4.5" (114.8mm)
Size (Main Display)
CMOS 8.0 MP
Main Camera - Resolution
1900
Standard Battery Capacity (mAh)
Premium metal design and stylish colours
With its refined full metal unibody design, 4.5-inch qHD Super AMOLED display, and ultra-slim 6.9 mm body, the Galaxy A3 is both portable and robust. Available in four beautiful colours, it has everything you're looking for in a smartphone
Experience more with Adaptive technology
The Galaxy A3's adaptive Super AMOLED display delivers true-to-life colours all the time. By intelligently adapting to your surroundings, it ensures that your experience is always maximised.
Enhanced Shooting
The Galaxy A3 captures life as it happens using a 8 MP rear camera and 5 MP front-facing camera. Furthermore, it also features image detection / voice recognition software, and enhanced new settings like new Wide Selfie and Animated (GIF) Selfie functions.
Fun selfie experience with animated GIF
Sometimes you need more than one photo to show what's going on. The Galaxy A3's Animated Selfie lets you record those longer moments by snapping up to 20 continuous photos and automatically creating a sharable GIF instead of a movie
Up your storage with flexible memory
With such great cameras and enhanced connectivity, storage space is easily used up. For this reason, the Galaxy A3 comes with flexible memory, which allows the 16GB storage to be increased with a 64GB MicroSD card.
Powerful performance
Equipped with a 1.2 GHz Quad core processor, the Galaxy A3 runs at super-fast speeds. You'll be seamlessly watching movies, listening to music, and running multiple apps without a problem. What's more, with support for the LTE Cat 4, you'll be downloading content without delay.
Stay powered for longer
Never miss important calls because of a dead battery. Ultra Power Saving mode dramatically reduces battery consumption by shutting down unnecessary functions, ensuring your phone is available when you really need it. This is a smarter battery for a smarter phone.
4.5" (114.8mm)

Size (Main Display)

CMOS 8.0 MP

Main Camera - Resolution

110

Weight (g)

1900

Standard Battery Capacity (mAh)
Rated

3

out of

5
by
Kosti
from
Water Resistant? avoid contact with water!
So I had this phone for 2 years now. I was really happy with it. Small, compact size, metal housing, good camera... All I need for the phone. (I prefer having a phone which is a phone.. if I need bigger screen I have tablet, if I need better camera, I have the camera...). So my happiness just ended 2 days ago when I accidently dropped the phone into the bucket of water. I rescued it literally after it dropped inside... it spent there what 1, 2 seconds? And I already said bye. I turned the phone off, let it dry for 2 days... It drank the water like a sponge (after removing the sim and SD card the water leaked out from it, also flashlight and camera were foggy), you cannot remove the battery yourself, so you better leave the phone without using it to dry... I would expect something better from samsung to be honest, it is not like I was swimming with it. The phone is still running, however it turns applications on randomly (especially google all the time), flashlight is dead, phone is only charging when switched off, cannot connect to the PC, the on-off button doesnt work so I cannot use the phone until I receive msg/call, typing is pointless as well, now need to look for another phone (what a shame).
Date published: 2017-08-16
Rated

5

out of

5
by
edmhorv
from
best so far
Earlier, I always switched to new models after 2 years of using -- now for the first time I don't want to replace my A3.
Date published: 2017-08-15
Rated

4

out of

5
by
Roscoe
from
Good Phone - But Ran out of use-able Battery after 1 Year
Great Phone and Features for the price - However it went from extremely great battery life during its first year to extremely poor in its second year (Now 18Months old). Gets very little use and is charged regularly but now have to charge overnight and during the day for a top up. If I was an active social media user or Photo journalist ;-) , I could perhaps understand but in use predominantly as a "Ring-Ring" user, is now painful as I have to constantly check it charge state before going anywhere. Recent note: Screen has just started Pulsing in brightness, have Reset the phone numerous times but it appears to be getting more regular. Time for a new phone perhaps ;-(
Date published: 2017-04-25
Rated

5

out of

5
by
Tobs
from
After two years this phone has held up brilliantly.
I had now had this phone for 2 years and it is as brilliant as when i got it. The only downside is that the camera was faulty but i never got it changed, and it was extremely easy to change the screen and LCD. The phone has a lot of features yet for my it is missing a fingerprint scanner and an IR blaster. Overall brilliant value for money.
Date published: 2017-04-20
Rated

5

out of

5
by
DC1246
from
Brilliant phone!
Battery life is fantastic! Excellent screen clarity & performance matched by a top notch camera that has good features for the expensive price tag. 10 out of 10 compared to my last device which was very poor.
Date published: 2017-01-11
Rated

5

out of

5
by
Jcppp
from
Great phone
Had this phone for just over a month, very easy and intuitive to use. Would recommend!
Date published: 2017-01-05
Rated

5

out of

5
by
juke17
from
Great features and good size
I bought this for my husband for Xmas and he's very happy with it.
Date published: 2017-01-03
Rated

2

out of

5
by
C3108
from
within a week of having my galaxy A3, the touchscreen had ceased to work.
In the short space of time that my device worked for me, I did like its features. However, it did break(not physically) within a very short period of time
Date published: 2017-01-02
Smart Simulator
User manual & Downloads
Live Chat
How It Stacks Up
Battery time is based on our own laboratory measurements, and may vary depending on factors such as device settings, usage patterns and operating conditions.
* User memory is less than the total memory due to storage of the operating system and software used to operate the phones features. Actual user memory will vary depending on the mobile phone operator and may change after software upgrades are performed.

** External Memory may be used to store media (photos, video, and music files) but not applications.

Notice to our customers - safe battery use

If your mobile phone battery is damaged, for example if it is dented, we recommend that you stop using it immediately and replace it with a Samsung genuine battery. If a damaged battery is used, this may affect performance of the battery and in some cases cause damage or injury through overheating, fire or explosion. Examples of situations in which a battery may become damaged are: use in an excessively hot environment, dropping the battery, external pressure on the battery, pet-biting, etc. We recommend that spare batteries are kept in a hard-shell case when not in use.

You should use only Samsung genuine or approved batteries that have been specifically designed for use in Samsung products. The use of incompatible batteries, cables and chargers may not be safe to use and could cause damage to the device or external damage. Please purchase Samsung-branded batteries from reputable and approved sellers to ensure the batteries are not counterfeit.

Battery time is based on our own laboratory measurements, and may vary depending on factors such as device settings, usage patterns and operating conditions.
Network band : The bandwidth supported by the device may vary depending on the region or service provider.