Stylish 3D glasses give Perfect Wearing Experience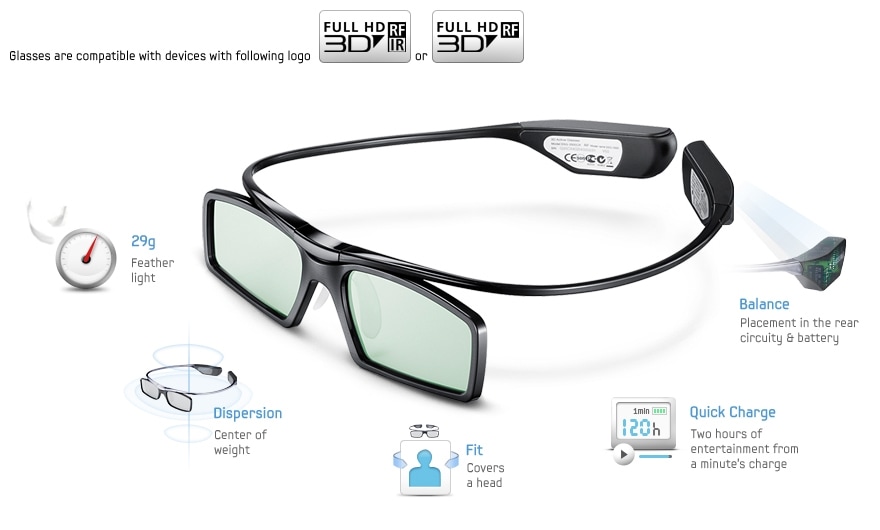 Take your 3D Perfect Wearing Experience to the next level with the Samsung 3D glasses SSG-3550CR. A unique ergonomic design, which guarantees the perfect fit, brings a touch of luxury to the whole 3D experience. The 29g featherweight frame design provides a flexible bridge, nose pad and perfect weight balance for total comfort. The 3D glasses are rechargeable and are available in optimised sizes for everyone. So, experience 3D in luxury with your new 3D glasses that are made to fit.
Bring 3D to life with advanced performance

Settle for nothing less than the absolute best 3D experience. With the advanced 3D effect, the Samsung 3D glasses SSG-3550CR deliver a 3D performance that is simply stunning. Both lenses work in perfect harmony to produce images that are true-to-life. These glasses are ready to transform an entire 2 hours of 3D viewing after charging for approximately one minute. And add to this the stable connection, which keeps a safety link to your TV via RF equipment, and you are ready for a new world of entertainment. *3D glasses sold separately in various regions.
How It Stacks Up
Features and specifications are subject to change without prior notification.

Certain features with the Smart Hub may not be available without expressed consent regarding the collection and use of personal information. Content available through Smart Hub may vary among product categories, models and territories. Certain applications must be purchased and may not be available in all regions.