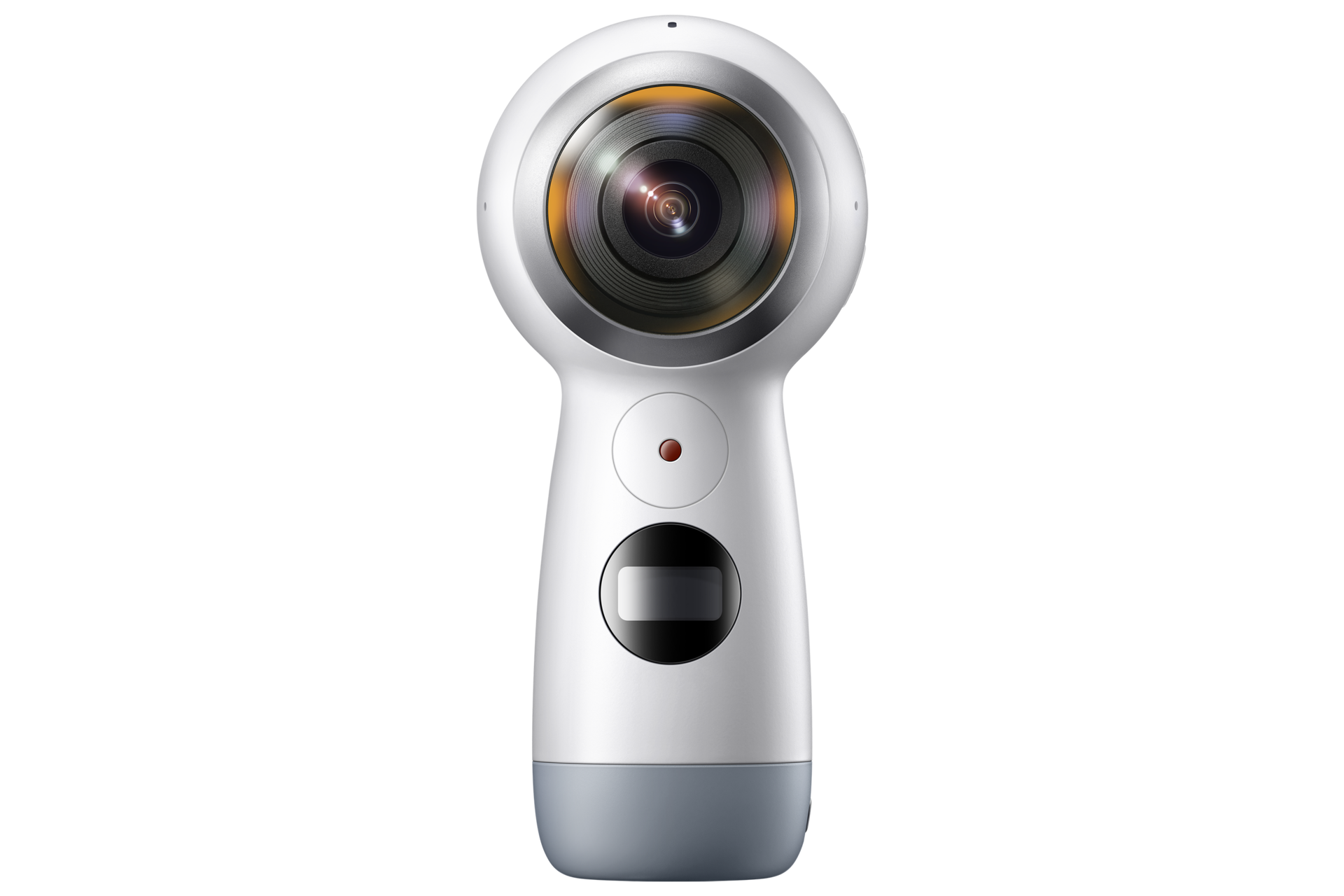 SM-R210NZWABTU
Gear 360 (2017)
Gear 360 (2017)
is rated out of
5
by
9
.
Give friends and family a look into your life as it happens with social 360° live streaming
Capture every moment in high-quality 4K 360° videos
Easily edit and share content by using the Gear 360 app
Comfortably hold the slim and sleek grip
360° Camera
4K Video
Live Social Streaming
Splash & Dust Resistant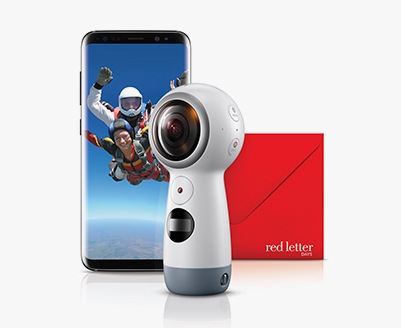 Relive the thrill in 360
Claim a £75 Red Letter Days voucher when you buy a Gear 360*
Valid from Nov 02. 2017 to Dec 14. 2017
See details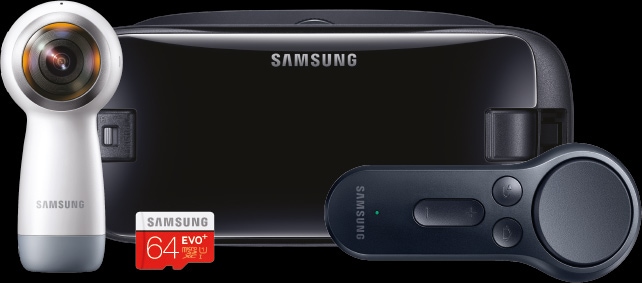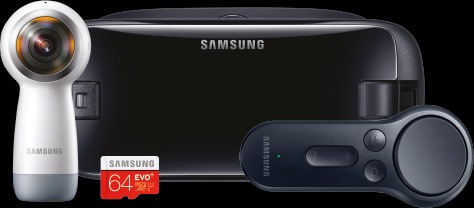 Introducing the 360˚ VR Collection
Capture, view and share your world in a whole new way
Learn More
Say Hello to Gear 360
Capture and share life as it happens in a way never seen before with the new Gear 360. Make your world bigger, take it with you on every adventure and make every video a masterpiece with our most advanced features yet.
4K 360°
video
The full picture
4K 360° video is here. Breathe life into everything you shoot. From mind-blowing mountain top views to those unforgettable front-row festival moments. Transport yourself and re-live those memories in flawlessly crisp 15MP.

Share your world
Live stream the action and let everyone see what you see. With social 360° live streaming, you can give your friends and family a window into your life, as it happens. Just sync with your smartphone or PC and start sharing – it's never been easier.
*Compatible with Android, iOS, Windows PC and Macs




*Live Broadcast resolution is 1920 x 960 and requires Nougat OS.
*This feature may not be available depending on the mobile device, OS, or service region.
*The bandwidth supported by the device may vary depending on the region or service provider.
Create effortlessly
Transform your photos and videos into masterpieces with the Gear 360 app and share them to your social feed with just a few taps.
Splash and Dust resistance
Capture the moment wherever it happens, with the dust and splash resistant Gear 360. It's built for the outdoor life, so you can take it with you and record your adventures like never before.
*'Certified IP53 for protection against harmful deposits of dust and against water sprayed at any angle up to 60° from the vertical'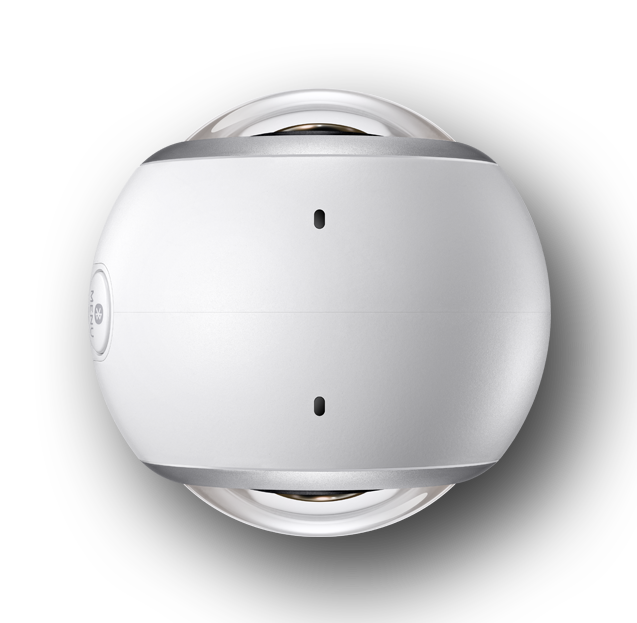 DUST
SPLASH
Perfectly portable
Light and compact, the Gear 360 is built to go places. It'll fit perfectly in your bag or pocket, so you can always be ready for action. Plus, the slim and comfortable grip - which can also be attached to a tripod, makes it the perfect sidekick on your adventures.


Complete compatibility
Rest assured knowing that you can use a whole load of different devices alongside the Gear 360. Connect using your Samsung devices such as the Galaxy S8 and S8+ (and even Android and iOS products) to record, share and livestream seamlessly. No stress.
Mobile Device
Gear 360
PC

*Android and iOS devices require a mobile app, and PCs and Macs require the installation of software to work with the new Gear 360. *Compatible devices include Galaxy Note8, S8, S8+, S7, S7 edge, Note5, S6 edge+, S6, S6 edge, A5/A7(2017) running android 5.0 or later, and iPhone 7, 7+,6S, 6S+, SE running iOS 10.0 or later. (There are functional limitations when using with iOS devices.) *Availability of features may differ depending on mobile device, OS version and region. *Please visit the support section of www.samsung.com for more information.
Gear VR with Controller
Virtual worlds controlled your way
Pop the Galaxy S8 or S8+ into the new Gear VR and get ready to experience Virtual Reality adventures that are truly out-of-this-world.
Galaxy S8 | S8+
Unbox your phone
The Galaxy S8 or S8+ is the must-have accomplice to take you further than you ever thought was possible. Pop the handset into the Gear VR with Controller and the enormous Infinity Display instantly creates a totally immersive and life-like experience.
Buy Now
DISCOVER THE S8 | S8+
Open up new worlds
Capture life as it happens with the Gear 360 and enjoy immersive viewing with the Gear VR with Controller or stay connected with the Gear S3 smartwatch – our range of wearables give you new ways to connect like never before.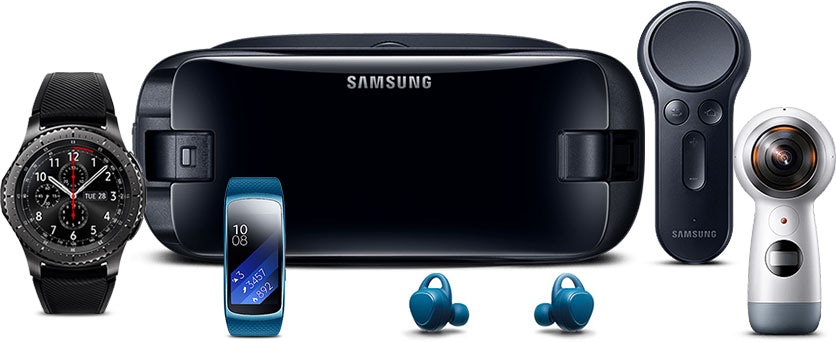 x
This item has been added to your basket.
Bluetooth v4.1 Bluetooth Version
CMOS, 8.4 MP x2 Image Sensor
100.6 x 46.3 x 45.1 mm Dimension (HxWxD)
130 Weight (g)
Rated 1 out of 5
by
obasegmez
from
Poor iOS app
I can't view saved pictures and videos in the app. I had to find a third party app for that. This problem should be fixed.
Date published: 2017-11-30
Rated 4 out of 5
by
Steveparky
from
Easy to use and food pictures
Just back from holiday and am so impressed with the videos and pictures from such and easy camera to use, 360 pictures to Facebook are just a click, you will definitely need a selfie stick or the thumb that's on all of them will start to get on your nerves, but lots of apps out thier that easily gets rid of it. I am using an s8 using live video is easy, also taking stills of the 360. Outside and good lighting are the best pics
Date published: 2017-11-13
Rated 1 out of 5
by
Ohms
from
Can't get it to look like 4k
I can't get my photos or videos to look anything like what has been advertised. It always seems grainy and not anything like the quality on the s8 or s7 would say the s6 was far better to. Absolutely love this idea and was so looking forward to getting it yet so disappointed now that I have.
Date published: 2017-10-31
Rated 1 out of 5
by
Wazzer
from
Unhappy with the issues.
Great idea. If it would worked how it should then perfect, but unfortunately mine had issues. Wouldn't hold it's charge properly so kept turning off mid way through recording. Would turn it back on to find still 50 battery?? Anyhow, like I said, it's a great idea. If the camera works as one would expect, then no doubt the, you'll enjoy it. I hope they sort the issues out with the battery.
Date published: 2017-09-16
Rated 1 out of 5
by
GO26
from
Poor Quality Images will be the downfall of this product
I agree with all the previous comments regarding poor image quality. My Samsung S7 is far, far, higher in image quality, so I am returning my Gear 360 2017 to look for an alternative, unless Samsung can assure me that they will definitely address this issue fairly quickly.
Date published: 2017-07-09
Rated 4 out of 5
by
robert360
from
Easy to use but not realy 4K
This camera is easy to use. it can be difficulty to get started with finding the correct PC software versions and how to upload 360 videos to websites. The image quality is good when you consider you are viewing a window on the inside of a spear. The whole spear is something like 4K. It does exactly what I wanted it to do after some effort. A supplied DVD with software and apps would make it much to get working well.
Date published: 2017-06-22
Rated 2 out of 5
by
Dennis
from
Not as expected
Gives you 360 views and video but not very clear at all. Great features but let down by picture quality. Not 4k or anything near. More an expensive toy than serious camera. Needs a software upgrade to enhance picture quality or this is will become a damp Squibb.
Date published: 2017-06-03
Rated 3 out of 5
by
Mr Borry
from
Disappointed
I was beyond excited to get my hands on the Gear 360 2017 but after reviewing footage the camera and video quality just isn't that great. My S7 Edge photos are much more crisp even when using the panoramic setting. I hope Samsung will get back to me about these issues.
Date published: 2017-06-03
User manual & Downloads
Live Chat
How It Stacks Up
Camera : There may be certain blind spots and double images of the images or videos created by Gear 360. Please read the manual before use.
USB (Type-C) : You may only sync with a personal computer that originally incorporates USB port A type.
Compatible Models : Availability and feature may differ depending on the mobile device, OS version and region. Please visit support section of www.samsung.com for more information.