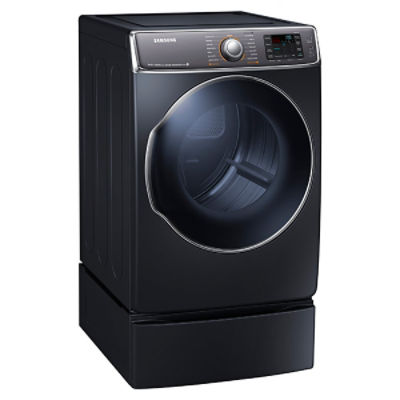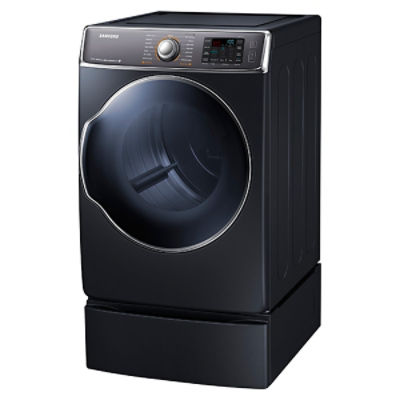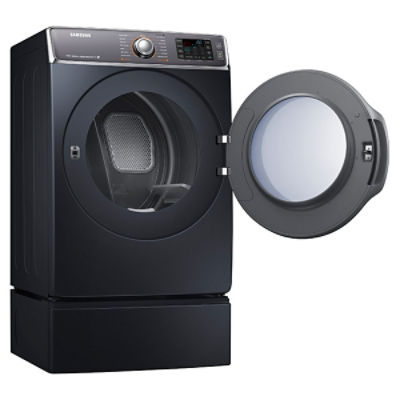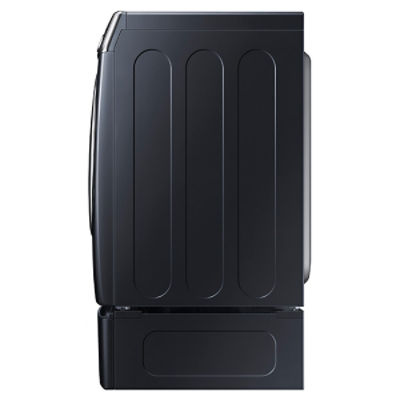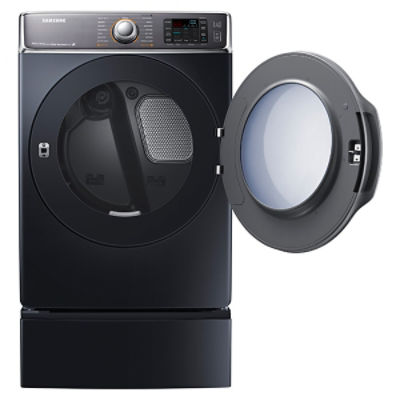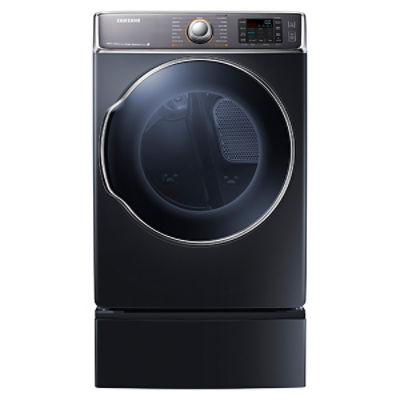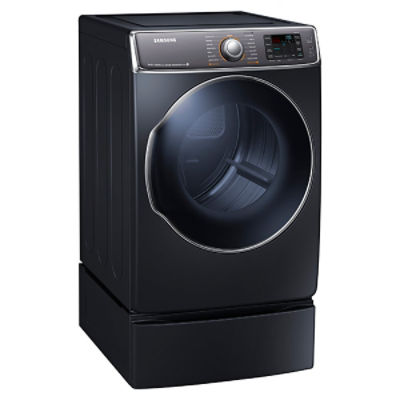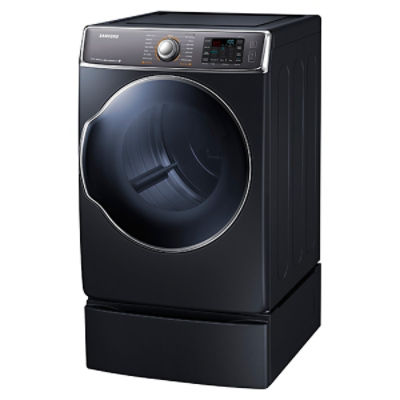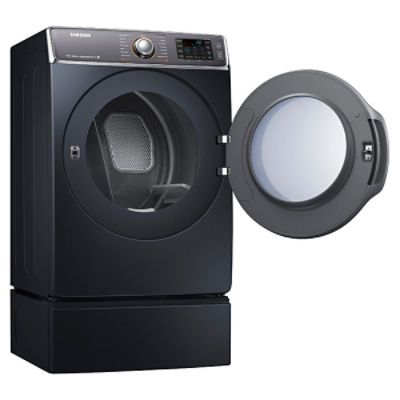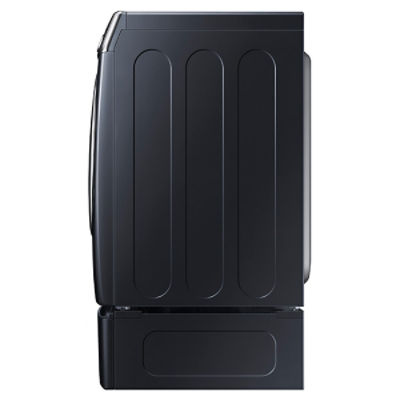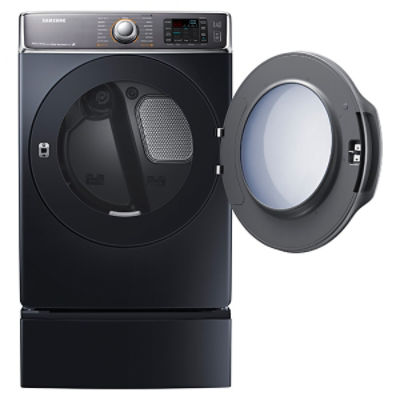 DV56H9100GG/A2
DV9100 9.5 cu. ft. Gas Dryer
9.5 cu. ft. Capacity – world's largest dryer* handles 3x the laundry
Steam Dry – steam away wrinkles, spend less time ironing
9.5 cu ft
Total Capacity (cu. ft.)
9.5 cu ft. Capacity
The Samsung 9100 Series 9.5 cu. ft. capacity front load dryer lets you do 3x the laundry in 1/3 the time.* It has 15 cycles and allows you to dry 4 laundry baskets in a single load.**
Learn more.


*Based on 3 standard loads of laundry (based on baskets) at 60 minutes each total clean time is equal to 180 minutes which is equivalent to 1 load in the 9000. **Based on an 8lb load of laundry.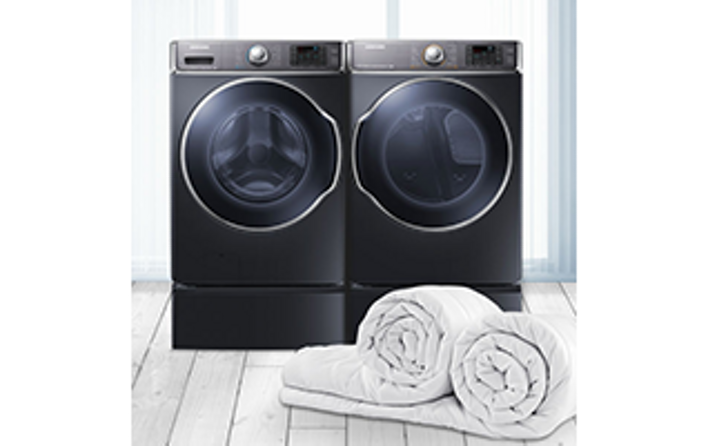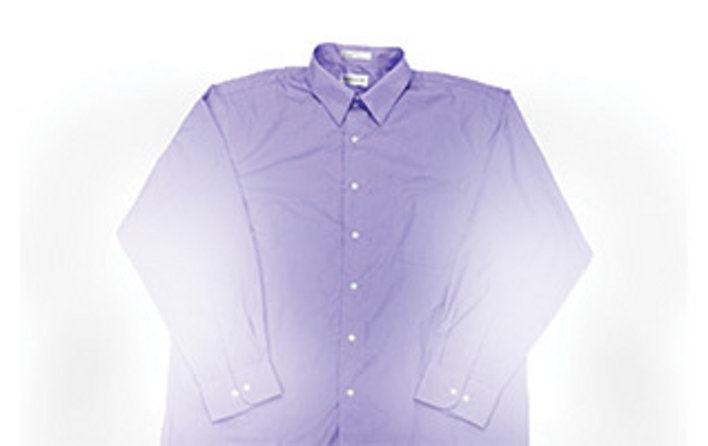 Steam Dry
Eliminate odors and freshen clothes with Samsung's powerful Steam Dry cycle. Unlike other steam dryers which require users to manually refill a water reservoir, Samsung's Steam Dry cycle requires no refills. Skip the dry cleaners and leave your iron in storage – getting smooth, wrinkle-free clothes is as easy as pressing a button.

Vent Sensor
Vent Sensor detects duct blockages and reminds you to clean your vent. Vent Sensor conveniently allows you to forward these alerts to your smartphone.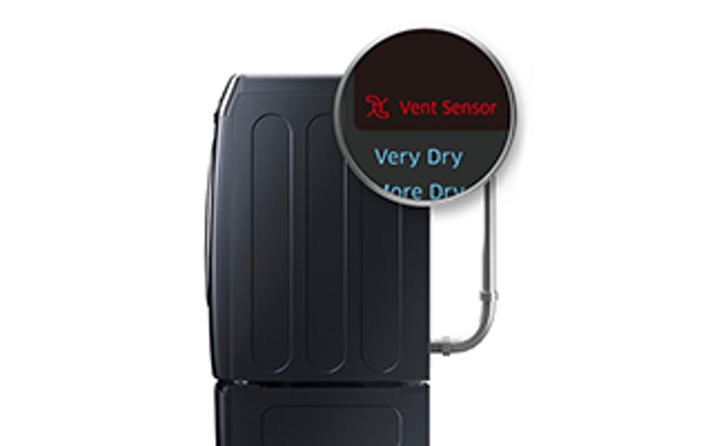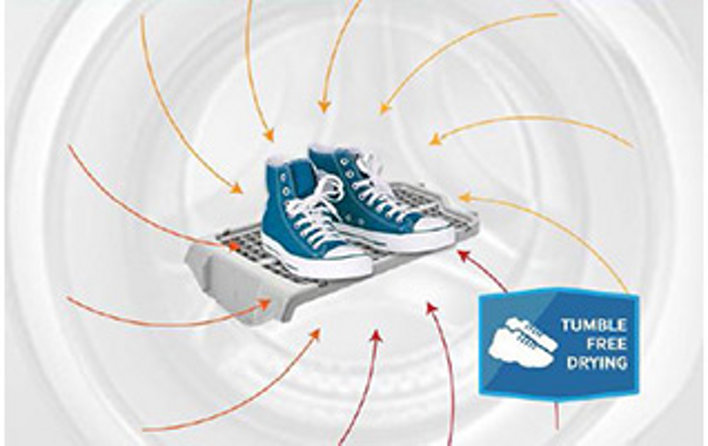 Dryer Rack
Protect your special-care items like sneakers, sweaters, and stuffed animals from high impact tumbling. Place them on the dryer rack for a safe and even dry cycle -- without the tumble.

Sensor Dry Moisture Sensors
Sensor Dry combines the latest Samsung innovations to provide a drying cycle that's timed to perfection. Plus, moisture sensors protect your laundry from heat damage by automatically shutting off the dryer when your clothes are dry.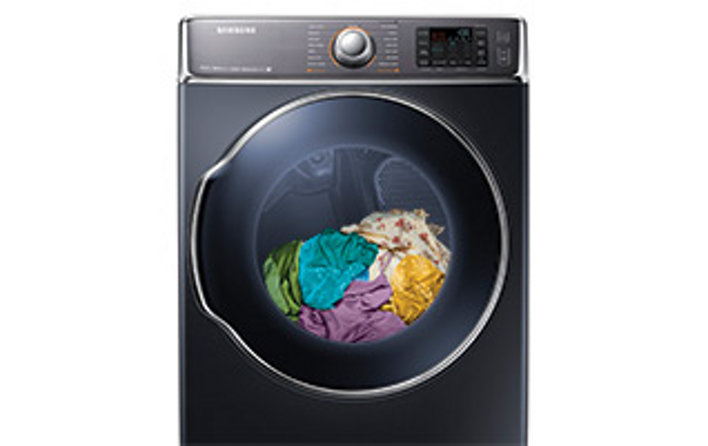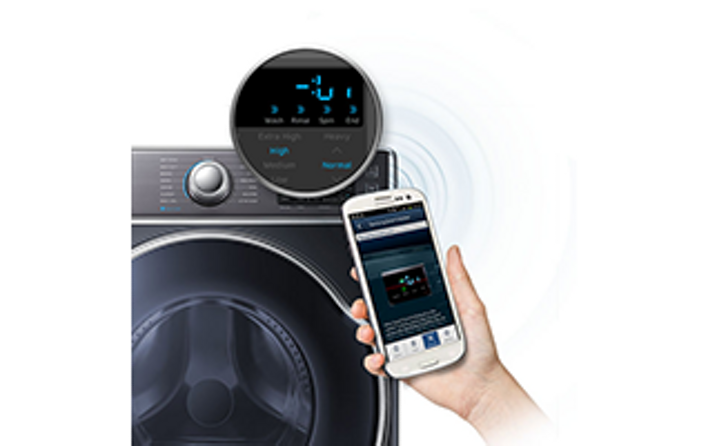 Smart Care
Skip customer service and troubleshoot issues straight from your smartphone. Smart Care interacts with your washer and dryer to perform an immediate diagnosis and offer quick solutions.*

*Available for iPhone 3GS/4/4S/5/5S/5C/6/6+ and Galaxy S1/S2/S2(HD)/S3/S4/S5/S6/NOTE/NOTE2/NOTE3/NOTE4. Smart Washer/Dryer App available on Google Play and iTunes App Store.
Features and specifications are subject to change without prior notification
Steam Drying Technology

Yes

Lint Filter Indicator

Yes

Controls Display

Ice Blue LED

Adjust Time (Up / Down)

Yes

Drying Rack

DC61-03751A (Included)

Total Capacity (cu. ft.)

9.5 cu ft

Drum Material

Stainless Steel

Rack Dry (Manual Dry)

Yes

Sound On / Off Button

Yes

Adjust Time (Up / Down)

Yes

Shipping Dimensions (W x H x D)

31 7/8" x 46 1/4" x 33 5/8"

Product Dimensions

30" x 42 5/8" x 32"

Wrinkle Away (Steam Dry)

Yes

Sanitize (Sensor Dry)

Yes

Time Dry (Manual Dry)

Yes

Air Fluff (Manual Dry)

Yes

Delicates (Sensor Dry)

Yes

Quick Dry (Manual Dry)

Yes

Heavy Duty (Sensor Dry)

Yes

Permanent Press (Sensor Dry)

Yes

Steam Refresh (Steam Dry)

Yes

Eco Normal (Sensor Dry)

Yes

Display Color (LED)

Ice Blue

Heating Element

22,000 BTU/hr

DOE Energy Factor (lb/kWh)

2.67 lb/kWh

Product Weight (lb.)

159 lbs

Energy Guide Label

Gas - 270 liter ?

DOE Energy Factor (lb/kWh)

2.67 lb/kWh

Matching Washer

WF56H9100AG/A2

*While supplies last at participating authorized Samsung retailers. Subject to change. Prices may vary. Additional restrictions may apply. Check with your participating Samsung retailer for complete details and availability. Items are subject to available inventory.*Based on USDOE/EPA listing.Promotion valid 11/4—12/2
Additional colors available - Actual retail prices may vary*Promotion valid 11/4—12/2
Actual retail prices may vary*
Click clear all to begin adding products from a new category.
You have 4 products ready to compare. Remove 1 or hit "Clear All" to add more!