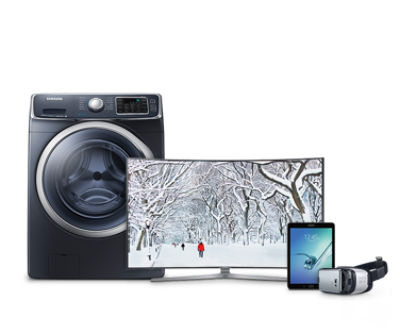 Our $100 Gift to You
Get up to $100 off any Samsung.com purchase when you activate Samsung Pay and register a compatible card between 11/23/15 - 11/30/15*Ɨ
SEE DETAILS
© 2015 Samsung Electronics America, Inc. Samsung, Galaxy Note, S Pen and Gear S are all trademarks or registered trademarks of Samsung Electronics Co., Ltd. Use only in accordance with law. Other company and product names mentioned may be trademarks of their respective owners. Screen images simulated. Actual appearances may vary.
Citi and Citi with Arc Design are registered service marks of Citigroup Inc.
Chase credit cards are issued by Chase Bank USA, N.A. Account subject to credit approval. Debit cards are provided by JPMorgan Chase Bank, N.A. Member FDIC
*Only compatible with select cards, carriers and Samsung devices; see the Samsung Pay Support page for compatibility information.
†See Terms & Conditions for additional details.
If you have received and/or have agreed to participate in a car-wrapping campaign for a new Samsung Galaxy smartphone, call 888-987-HELP. This is not a legitimate Samsung campaign and we urge you not to sign up.
We recently clarified some of the language in our privacy policy. Please click here to learn more.