The cloud-hosted and managed service
During these times of change, early adopters have fully embraced Cloud Technologies. Samsung is changing the way businesses bring content to life with MagicINFO™ Cloud, a complete digital signage content management software solution.
Building upon the success of the existing MagicINFO™ platform, the cloud-hosted and managed service provides customers with an easy, reliable and affordable web-based offering for the creation, scheduling and delivery of eye-catching content across digital signage networks. Enhanced by data-driven insights, MagicINFO™ Cloud gives businesses web-accessible control over a variety of displays, a single point platform to create and distribute content, manage and control your connected display end points and an optimized workflow to run seamless media from content creation, publishing through to device management.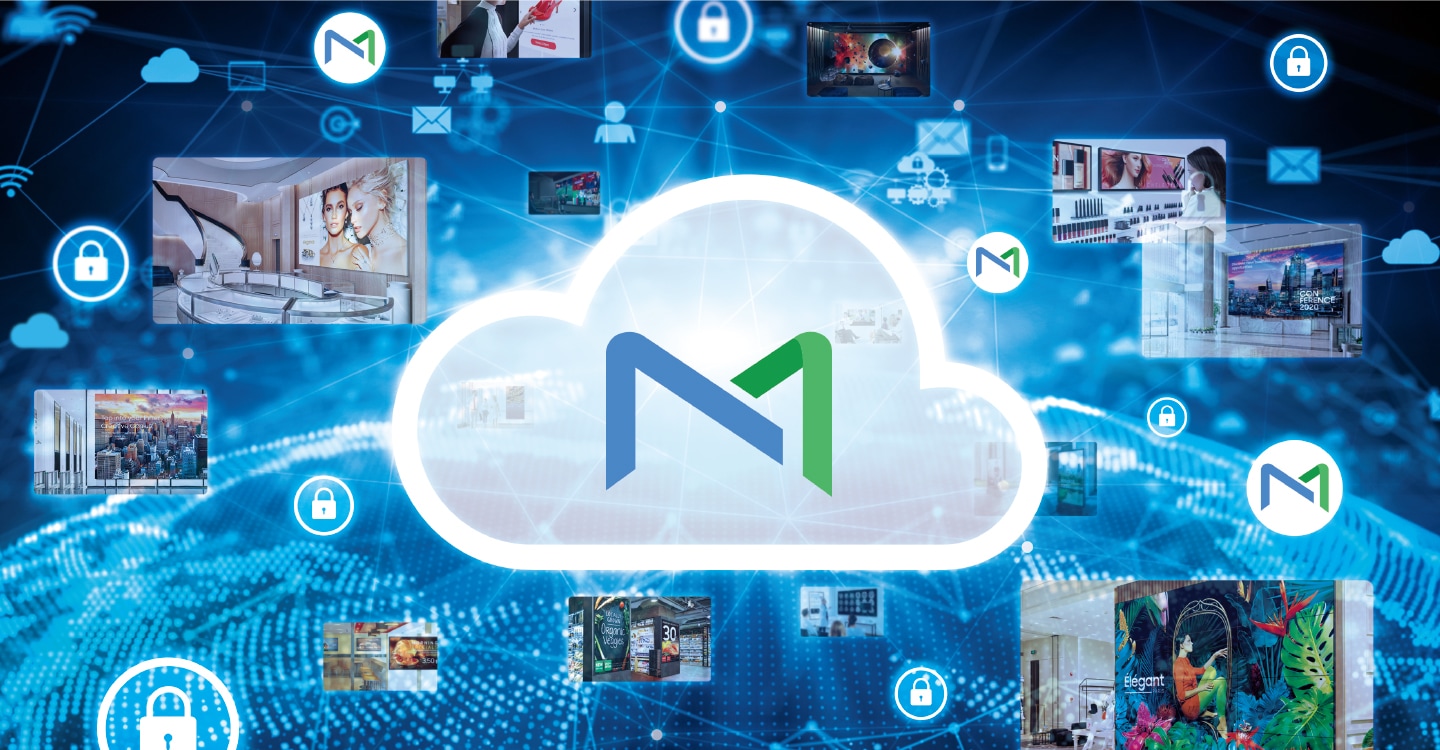 The optimal and cost-effective way of operating Samsung Digital Signage
There's no need for upfront licensing fees or the stress of setting up your own servers (and maintaining them). Focus your energy on elevating and delivering your messaging across your Samsung digital displays, while our experts manage the rest on powerful, dedicated servers. No hidden costs or extras --just one all-inclusive price per year. Samsung's MagicINFO™ managed solution is an intuitive service that:

• Provides web-accessible control over a variety of Samsung commercial displays (from standalone units to video walls).
• Offers a single-point platform to create and distribute content, remotely and collaboratively, anywhere in the world.
• Offers optional in-house support, from our pool of Samsung experts to guide you through your digital journey.

Harness the power of Samsung MagicINFO, the all-inclusive digital signage platform that offers seamlessly-integrated software and hardware management tools, now in a cloud-hosted managed solution.

1) NOC : Network Operations Center
Offerings information
* Language support - English, Spanish, Chinese
* Response time depending on severity levels defined
Service Offerings

Standard

Premium

Premium Plus

MagicINFO™ Cloud 

hosting server

O

O

O

MagicINFO™ Cloud server 

upgrade and maintenance

O

O

O

MagicINFO™ Cloud server 

technical inquiry

O

O

O

Proactive monitoring

-

O

O

Remote Technical Support via 

email, Phone 1)

-

12 x 7

24 x 7

Response time with SLA 2)

-

O

O

Priority path for issue escalation

-

O

O

Add-on service availability

-

O

O