Washing Machine Buying Guide
Washing machines are an essential home appliance for busy families, making light work of heavy laundry loads. But when it comes to buying a new washing machine, knowing what to look for can be difficult – after all, there are plenty of options out there! You should factor in size and capacity, and consider which features you're going to benefit from, to ensure you get a washing machine that suits your needs. Compare washing machines with our guide, and find out which type is right for you.
Understanding Washing Machine Capacity
Washing machine capacity is given in kilograms; it refers to the maximum load weight a particular model can hold. The larger the capacity, the more items you'll be able to wash at any one time. It's worth remembering that this usually refers to cotton programs only; the usable capacity for other cycles may differ.
Washing Machine Sizes and Measuring Advice
Washing machine dimensions can vary; you should always double check the width, height and depth of your washing machine against the space that's available, to make sure you don't end up buying something that just won't fit. Remember to factor in clearance space too; washing machines require a gap of at least 50mm at the back and 25mm at either side, to accommodate piping. Stacking kits can be used to fit washers and dryers on top of one another if space is at a premium in your home. These are designed for specific models, so you'll need to make sure you buy one that's compatible with both appliances.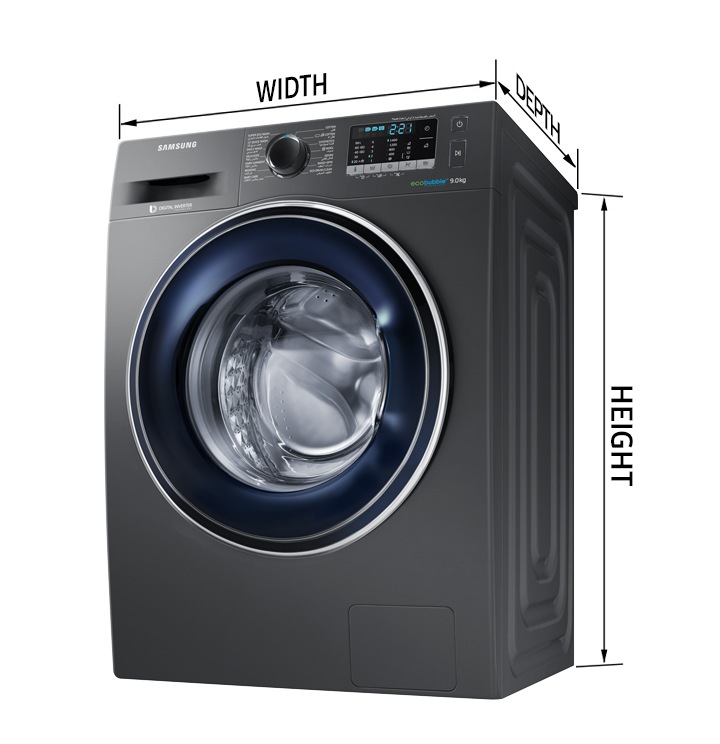 Should I Buy a Washer Dryer?
Combined washer dryers are ideal for smaller homes, since you only need the one appliance. They're a popular option for those living in flats, or more compact houses without a separate utility area or the outdoor space to hang laundry to dry.
Washing Machine Programs Explained
It might sound obvious, but it's worth getting to grips with the different wash programs out there to ensure you're running the best cycle for your load.
Cottons
Cotton fabrics are usually washed at higher temperatures, especially when it comes to bedding, underwear or more heavily soiled items (this type of material can take more agitation and spinning). Cotton programs allow you to wash your cottons without damaging the fabric.
Synthetics
Synthetic fabrics, like polyester and viscose, are usually a little more delicate than cottons; this cycle washes at a lower temperature with a slower spin. If your washing machine doesn't come with this specific program (which some don't), wash synthetic fabrics on a delicate setting instead.
Baby Care
Baby Care cycles wash at higher temperatures, to rid laundry of any leftover detergent that may harm or irritate your baby's sensitive skin.
Spin
Sometimes, an extra spin is needed for a larger load of laundry or to reduce drying time. This program removes more water, and can be selected in addition to the cycle you've already completed.
Rinse and Spin
Rinse and spin settings can be used to freshen up garments that only need rinsing, or to add fabric softener to a load. This cycle can also be used after a different one, if your laundry needs extra rinsing and spinning.
Eco Wash
This setting washes at lower temperatures to reduce energy consumption.
Outdoor Care
Outdoor care cycles are designed for waterproof garments and sportswear. These wash for longer at lower temperatures to remove sweat marks and odours, whilst protecting specialist fabrics or finishes.
Wool, Delicates and Hand Wash
This cycle washes at lower temperatures and spins at a reduced speed to protect delicate items.
Quick Wash
Get your lightly soiled laundry clean in no time with quick wash settings.
Eco Drum Clean
Cleaning settings like this remove dirt and bacteria from the drum. Select this program about once in every 40 washes – minus your clothes and any detergent – to keep your machine in good condition (and your laundry free from any residue).
Deodorisation
This uses an Air Wash cycle – with powerful air currents at high temperatures – to remove odours from your clothes without the need for detergent.
Cotton Dry
Tumble dry your everyday cottons using this program.
Synthetics Dry
For heat-sensitive garments, select a Synthetics Dry setting – it dries clothes at a lower temperature.
Features to Look Out For
Modern washing machines come with lots of additional features that are designed to make the laundry process easier.
Ecobubble™
Samsung's Ecobubble™ technology creates small bubbles that penetrate your laundry, cleaning it more thoroughly – even at lower temperatures.
AddWash™
Put an end to stray socks with Samsung's AddWash™ feature, which allows you to add laundry or detergent to the wash once a cycle has already started*.
* AddWash™ door can be opened at any time when the drum temperature is below 50°C.
QuickDrive™
Samsung's QuickDrive™ technology uses a pulsator in the drum, which speeds up the water flow and forces detergent deep into your clothes – giving you a thorough clean in half the time*.
* Samsung QuickDrive™ WW8800M vs Samsung WW8500K (5kg 40°C Cotton wash).
Diamond Drum
Samsung's Diamond Drum has smaller, deep-set holes, set in diamond-shaped depressions; it protects your laundry from wear and tear.
Time Delay
Heading out for the day and don't have enough time to a run load before you go? The handy time delay function means you can get your washing ready and decide when you want it to finish.
Weight Sensors
Sensors detect the weight of your load, adjusting the rinse time and water accordingly. In Samsung models, this is known as Auto Optimal Wash.
Pre-Soak Settings
Pre-soak functions are designed to tackle stains, giving your laundry some extra soaking time, prior to the wash cycle commencing.
Internet Connectivity
Some modern washing machines can connect wirelessly to your phone, allowing you to detect problems and provide solutions if a fault develops*. This is called Smart Check on Samsung models.
Selected models also come with a Smart Control feature, allowing you to control your washing machine remotely, so you can monitor cycles when you're not at home **.
* Available on Android and iOS.
** Requires SmartThings app. Available on Android and iOS. An internet connection is required.
Vibration Reduction Technology (VRT)
VRT helps to keep the drum balanced – even on fast spin cycles – to reduce noise and vibration when your machine is in use.
Energy Efficiency
Washing machines are rated according to their energy efficiency, with the most efficient appliances achieving A+++. You can also wash at lower temperatures or select Eco Wash programs to reduce energy consumption whenever you do your laundry. Samsung's Ecobubble™ technology also washes clothes at lower temperatures, helping you to launder more sustainably – and cut down on your energy bills. And because it can reduce washing time by up to 50%*, Samsung's QuickDrive™ technology saves energy too.
* Samsung QuickDrive™ WW8800M vs Samsung WW8500K (5kg 40°C Cotton wash).
Washing Machine Maintenance
Follow these simple tips to get the most out of your new appliance for many years to come.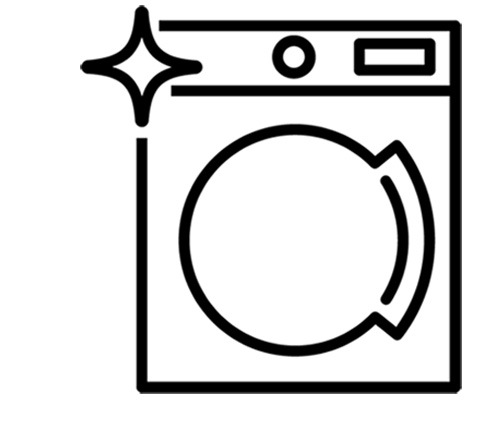 Washing Machine Maintenance Tips
Don't overload your washing machine; doing so can impact the drum movement and cause damage to the motor, leading to a breakdown.

Don't leave damp laundry in your machine; this can lead to a build-up of moisture and mould.

Check the hosing every month or so to make sure there are no cracks, blockages or leaks.
How to Clean a Washing Machine
You should clean the drum regularly to stop it from smelling musty, and ensure your next laundry load is free from any residue.
If your washing machine comes with a clean cycle (such as Eco Tub Clean, Clean Tub or ECO Drum Clean), run this once in every 40 washes to remove detergent residue and build-up. If your machine doesn't have a cleaning cycle, wipe the drum down with a cloth and set a hot wash (minus the clothes!).

If your appliance doesn't have a StayClean Drawer – a drawer rinsing setting that does this for you – you'll need to remove and clean the detergent drawer every so often, to get rid of any soap residue or mildew.

You should clean your washing machine filters to avoid drainage and water problems. Mesh filters – which are located at the water supply – should be cleaned once or twice a year. You should clean your debris filter 5-6 times annually.
Whether you're after a large capacity washing machine, a space-saving washer dryer or a handy new tumble dryer, Samsung's range of washers will have your laundry squeaky clean in no time.