Can I back up data like chatting logs of WhatsApp installed on my Android device?
Last Update date :
Sep 22. 2020
You can back up your messages and media by using Google Drive and restore it again to new Android device.
However, please note to back up data is only available between devices based on same OS.
To use Google Drive, make sure the following items:
1. Your mobile device must be synced with Google Drive.
2. Google Play Services must be installed (only available for Android OS 2.3.4 and higher)
3. Your Google Drive account must have enough space for your all WhatsApp data.
4. Your mobile device must have enough free space to create the backup.
How to back up to Google Drive
1. Open WhatsApp.
2. Tap More button.
3. Tap Settings.
4. Tap Chats and calls.
5. Tap Chat backup.
6. Tap on Back up to Google Drive and set up the backup frequency, and then tap Back Up to do an immediate backup. It back up your message and media to GoogleDrive.
7. Tap Back up.
Please note that backing up over cellular may result in Additional data charges.
How to restore my WhatsApp data
1. You can restore your WhatsApp messages and media from Google Drive when your reinstall
WhatsApp.
When you verify your phone number, WhatsApp will ask you to restore your messages
and media from backup.
2. Tap RESTORE when prompted to do so.
Please note that if you don't restore now, you won't be able to restore later.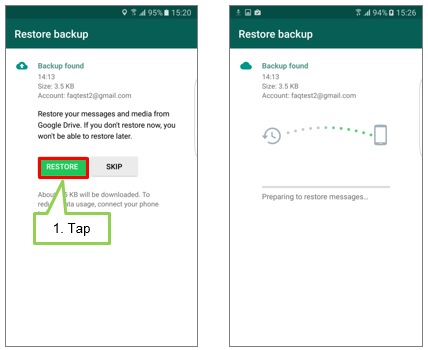 Note:
To backup and restore WhatsApp data is not available between devices based on other OS type.
WhatsApp's backup policy is only available between devices based on same OS type
Please click the submit button below to share your feedback with us. Thank you for your participation.
Please answer all questions.