[Galaxy S8/S8+]Irregular charging detected error appears while charging wirelessly
Last Update date :
Sep 22. 2020
Damaged data cable or Un-authorized fast wireless charger may cause unstable charging
and "Irregular charging detected" notification pop-up.
Please check your data cable and try again with another data
And please check your wireless charger also.
If your wireless charger is un-authorized wireless charger, please use Samsung
authorized wireless charger.
* Note 1: Even if "Samsung" Logo is printed or similar product label is attached, it may not be Samsung authorized accessory.
The detail will be followed in next slide
* Note 2: Samsung authorized wireless chargers satisfies WPC (Wireless Power Consortium)
standard tightly.
But un-authorized (or imitation) wireless charger may not satisfy the WPC standard and may make
the charging problem.
If the 3rd party wireless chargers satisfy WPC standard, they will be working well with Galaxy S8/S8+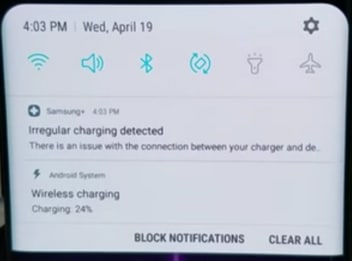 Please answer all questions.