Why is it better to use HDMI cables (HDMI v/s Component Cables)?
Last Update date :
Sep 23. 2020
We live in a high-definition world, and getting the best picture means using the best gear right down to the cables that connect your entertainment system. The two most desirable connectors for HD video are component and HDMI. Both work well, but of the two, HDMI is the better choice. It's a single cable for both audio and video hook-up that delivers superior picture quality, surround-sound audio, 3D support, and more, verses multiple cables using component connections.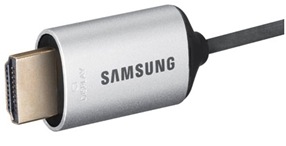 Video Quality :
● Although HDMI and component can both support 1080p video resolution, that doesn't mean the picture quality is equal. HDMI is a digital cable, so there's no wasted conversion from your digital Blu-ray disc, as there is over an analogue component cable. HDMI maintains a digital signal, and the TV knows exactly where to place the edges.
● HDMI supports high-definition content protection (HDCP), which is required by many high-definition downloads and Blu-ray discs. If you connect with component, you might see a lower-resolution version of the content. To retain the higher quality HDCP link, connect every device that touches your video signal—such as an audio/video receiver—through HDMI.
Move to 3D :
● Many of the latest HDTV's support an HDMI 1.4, which delivers additional colour space to reproduce vivid hues that closely match what you see in the real world. And because 3D content uses two images (one for each eye) to produce the three-dimensional effect, 1080p 3D video requires the high bandwidth that HDMI 1.4 delivers. With component connections, however, you might face additional compression or lower image resolution.
Audio Quality :
● HDMI is renowned for its video quality, but it also can carry audio without the need for multiple cables. HDMI supports Dolby TrueHD and DTS-HD for 7.1-channel sound for loss-less, theatre-quality audio. HDMI 1.4 also supports audio return channel, which sends sound from your TV tuner to your receiver. This equalises audio- and video-processing delays between different devices automatically, so the picture and sound stay in perfect sync.
Advantages of HDMI Cables :
● Single cable for both audio and video.
● High definition video output.
● Available on almost all the products.
● High future compatability

Please click the submit button below to share your feedback with us. Thank you for your participation.
Please answer all questions.