How can I clean the shelves and bins in my refrigerator?
Last Update date :
Oct 19. 2020
There are many ways to keep your refrigerator like a new one, but one of the most important things is cleaning the shelves and bins. Cleaning the shelves and bins helps to keep bad odors away and to keep them germ-free. See the cleaning instructions and additional tips below.
Overview of the shelves and bins
There are many different kinds of shelves and bins for usage in the refrigerator that you have.
Fridge shelf
Vegetable shelf
Foldable shelf
Door bin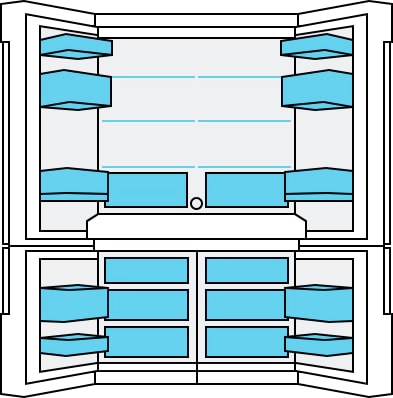 Note: The actual image and provided component parts of the refrigerator may differ, depending on the model and country.
Note:
For normal models, do not change the position of the freezer shelves. 
Freezer shelves have different lengths, and if you change the position, you may damage the product when closing the door.
Before removing any accessories, make sure that no food is in the way. When possible, remove the food altogether to reduce the risk of accidents.
Available detergent and cautions
When food is spilled, wiping it off immediately is the best way to prevent odors and bacteria.

It is very important to choose a suitable detergent for this purpose. We recommend using a mild detergent in warm water or a glass cleaner to clean the shelves and bins. In addition, use a clean sponge or soft cloth to avoid scratches.
It is recommended to wipe and dry it with a microfiber cloth after cleaning.
Cautions
Do not use benzene, thinner, or bleach for cleaning. They may damage the surface of the appliance and may cause a fire.

Do not use abrasive or harsh cleansers such as window sprays, scouring cleansers, flammable fluids, muriatic acid, cleaning waxes, concentrated detergents, bleaches, or cleansers containing petroleum products on the exterior surfaces (doors and cabinet), plastic parts, door, and interior liners, and gaskets. These can scratch or damage the material.
Note: 
Do not spray water directly on the inside or outside the refrigerator. There is a risk of fire or electric shock.
Do not use a hairdryer to dry the inside of the refrigerator.
Do not use a wet or damp cloth when cleaning the plug. Otherwise, there is a risk of fire or electric shock.
Do not clean the appliance by spraying water directly onto it.
Never put fingers or other objects into the dispenser hole. It may cause a personal injury or material damage.
Before cleaning or performing maintenance, unplug the appliance from the wall socket.
Do not clean glass shelves or covers with warm water when they are cold. 
Glass shelves and covers may break if exposed to sudden temperature changes or impacts such as bumping or dropping.
Additional tips for cleaning and replacement
Cleaning cycle
We recommend cleaning your shelves and bins at least once a year. After cleaning them, do not forget to clean between and behind them as well. Other cleaning and checking cycles are as follows.
Immediately: After a spill 
Daily: Checking expired items
Weekly: Unused ice
Monthly: Checking spills, crumbs, or messes
How to replace the broken shelves or bins
You can purchase extra shelves or bins to replace them when it's broken. Visit Samsung.com/support and go to the Shop category. You will find the available accessories that fit in your refrigerator and can purchase them.
The serial number of your refrigerator can be easily found by opening the upper left door on the front or the lower left side.
Please click the submit button below to share your feedback with us. Thank you for your participation.
Please answer all questions.