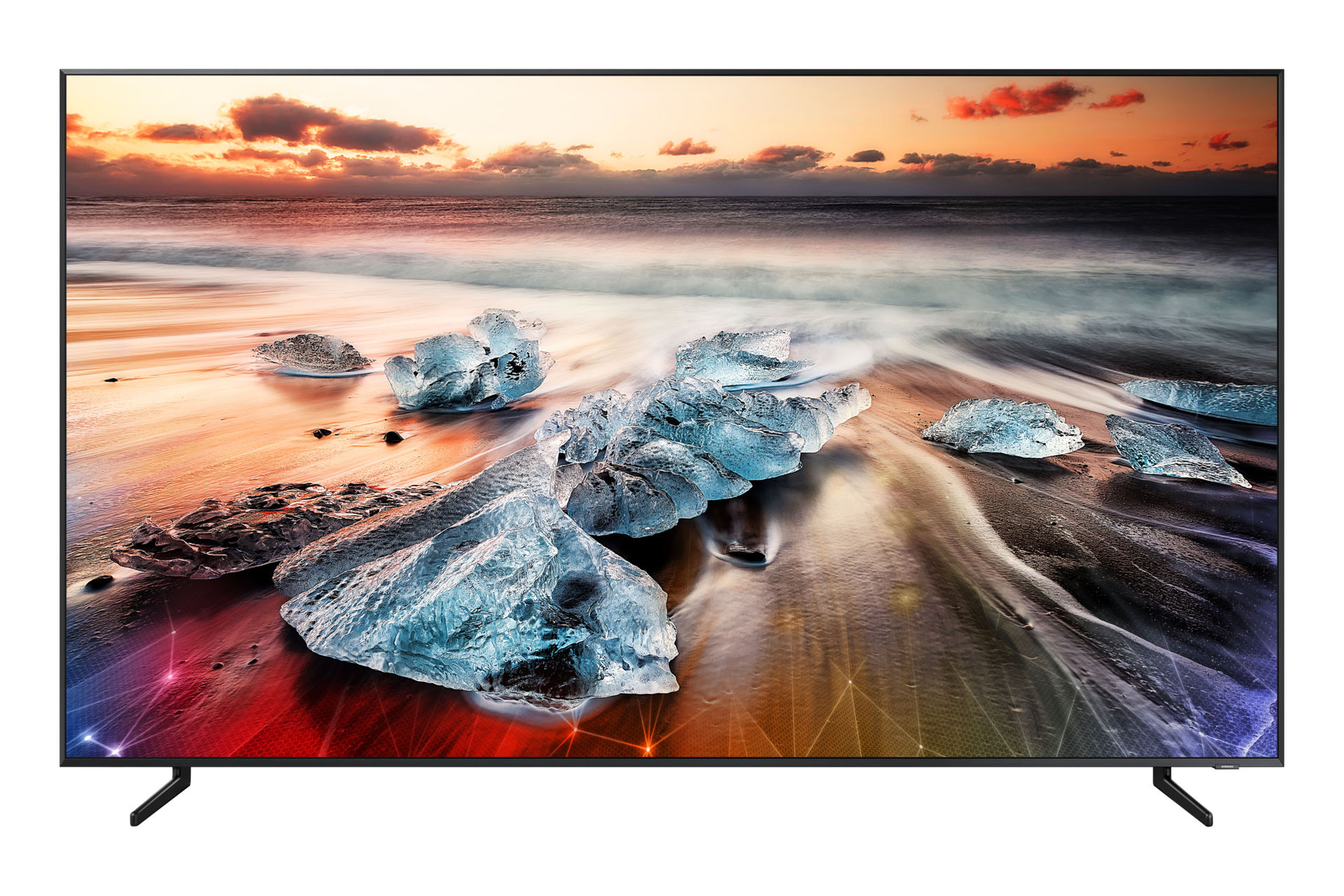 98" Q900R QLED 8K Smart TV (2019)
QA98Q900RBRXUM
98" Q900R QLED 8K Smart TV (2019)
is rated out of
5
by
459
.
BUNDLE
8K Resolution
Quantum Processor 8K
8K AI Upscaling
Quantum HDR 32X
Reality perfected with depth & detail
* Product design and specifications may vary depending on the model and size of the TV.
1. Real 8K Resolution
A new dimension of reality unfolds with 8K resolution.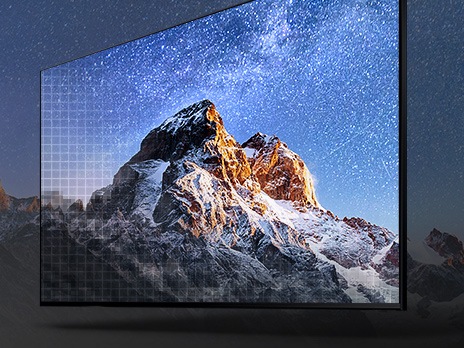 2. 8K AI Upscaling
Turn what you love into 8K with AI upscaling.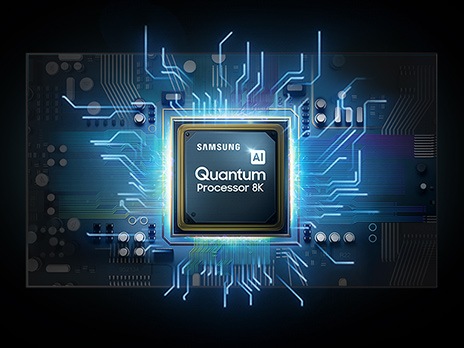 3. Quantum Processor 8K
Powerful intelligence that perfects reality scene by scene in real time.
4. Quantum HDR 32X
Witness real detail through unimaginable HDR with the brilliance of 8K.
Fall into the real 8K resolution
Samsung QLED 8K Q900R takes you into a nearly infinite depth of realism, like you're walking through each scene as you experience details so precise you can almost touch their presence. It's a whole new dimension of picture quality with super high resolution.
Breathtaking 33-million pixel resolution
What exactly is 8K resolution? It's super high resolution 4 times higher than 4K UHD and 16 times higher than FHD. With more than 33 million pixels, Samsung QLED 8K Q900R gives you an amazing pixel-less viewing experience. It's real 8K resolution.
Feel the deeper depth
Feel distance in a whole new way. Samsung QLED 8K Q900R's high resolution shows you even the small details in every scene, giving you more depth and immersing you even further into a new 8K reality.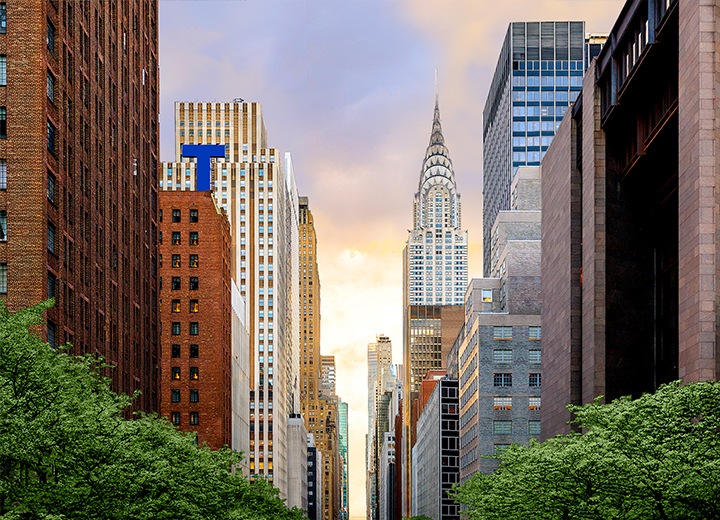 And, watch a bigger reality
Samsung QLED 8K Q900R delivers the clarity you've been expecting on a larger screen, with no visible pixels no matter how close you are to the TV. Just the joy of pure immersive reality.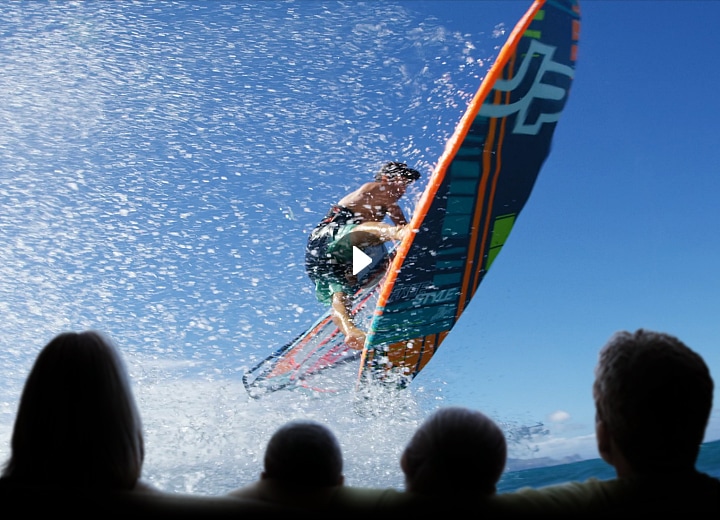 Precision makes perfect
Direct Full Array 16X
Welcome to a new class of precision. Witness details in true clarity as Direct Full Array 16X brings minute details to life by accurately controlling the backlight. You'll see enhanced depth beyond belief, scene by scene. Get ready for a superior viewing experience.
* Direct Full Array Numerical Index based on backlighting, antireflection and contrast enhancement technologies.
Unimaginable HDR with 8K brilliance
Quantum HDR 32X
QLED's Quantum HDR 32X offers a dynamic HDR expression that adapts to each scene and unveils the director's intention. Watch reality unfurl on your screen.
* The range of Quantum HDR claims luminance based on internal testing standards and is subject to change according to viewing environment or specific conditions.
See the bigger picture
with 82"
You've never been closer than this. Immerse yourself in a cinematic experience where details come alive. You'll experience every moment of the game, feel every explosion, and be right in the middle of the action. Everything gets very real on a bigger screen.
Brilliant scenes from every angle
Ultra Viewing Angle
Engineered to spread light and colour uniformly across the screen for the same great viewing experience from all angles. Turn every seat into the best one.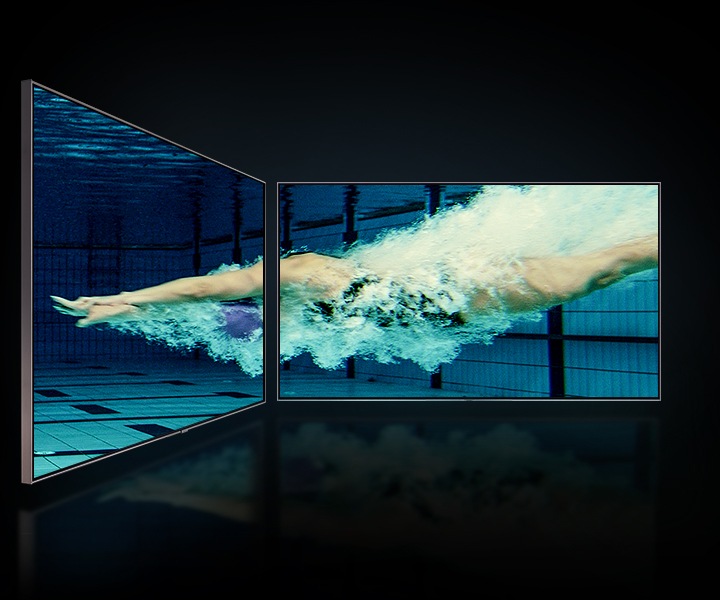 All powered by an amazing processor
Quantum Processor 8K
Experience QLED's Quantum Processor 8K. It uses its own unique upscaling algorithm to deliver clearer pictures, while adjusting the screen brightness and sound to match your room and the scene on the screen. QLED'S powerful processor delivers improved resolution and an amazing experience.
8K AI Upscaling
AI Upscaling makes a world of difference. QLED uses AI-powered machine learning to reduce image noise, restore lost detail, and even sharpen edges around objects and text. Now you can enjoy your content at near 8K resolution.
* Viewing experience may vary according to types of content and format. 'AI Upscaling' may not apply to PC connection, and certain conditions of Game Mode.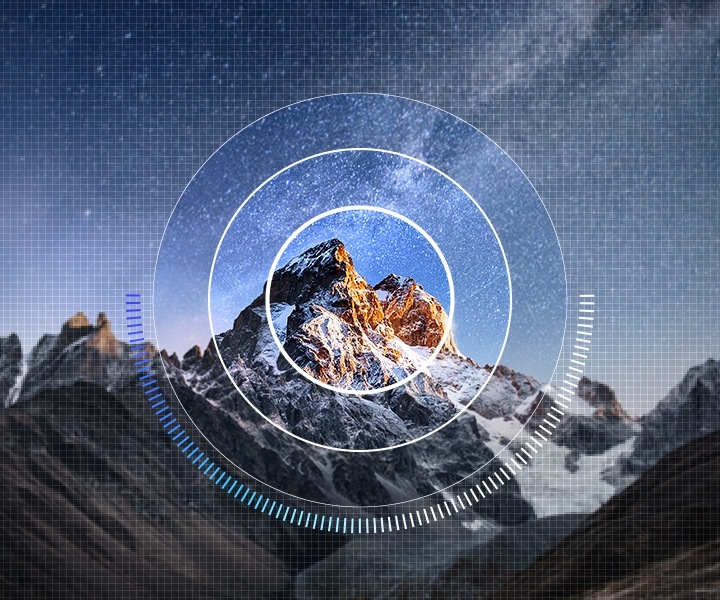 Automatically adapts to room conditions
with Intelligent Mode
Conditions in your room can change, and your TV needs to adapt. QLED's Intelligent Mode adjusts brightness and volume accordingly to match the TV's content and environment.
See the picture, not the TV
See for yourself how Samsung QLED 8K Q900R can elevate your viewing experience with its refined elegance and style.
Every aspect of design. Designed with craftsmanship.
* Actual product may differ from image shown. Please see our product gallery.
One Invisible Connection
Now everything including the power cable can be managed by a single, near-invisible cable. The new One Invisible Connection lets you keep your devices out of view by connecting them to the One Connect Box. Time to design your space with the Samsung QLED 8K Q900R.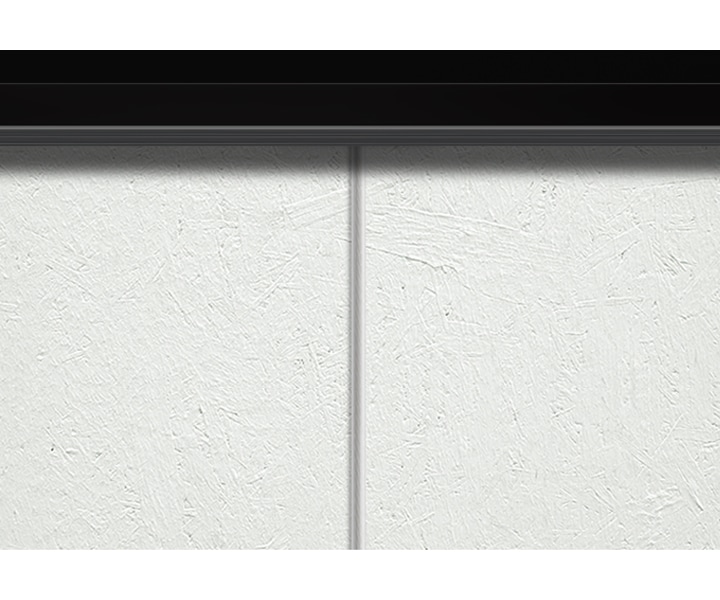 Personalize your wall
with Magic Screen
Magic Screen enables QLED to mingle with your home décor for a perfectly natural effect. Instead of a simple black screen, you'll see meaningful images that match your lifestyle, with easy settings and plenty of choices.
*The Magic screen background setting feature may vary depending on the environment where the TV is installed including, but not limited to, wall designs, patterns, and/or colours.
*Setup process requires a Samsung Account. TV must have an internet connection for mobile set-up.
Décor
Set your screen with an interactive background that matches your room décor perfectly.
Info
You can display info like the time and date on a beautiful background.
Photos
Display all your favorite photos from your mobile device*. It's your own personal gallery.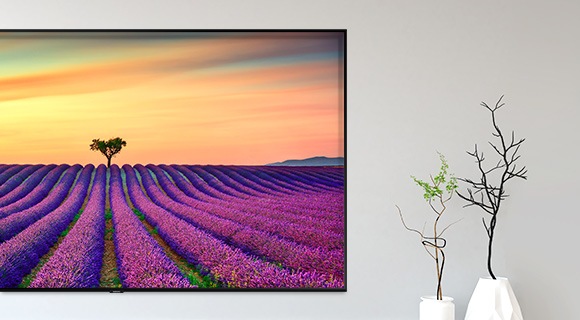 Artworks
Lovers of art will also enjoy beautiful pieces from well-known photographers and artists, all grouped on a variety of themes.
* Available art displayed may differ from image shown. Some art may require purchase or paid subscription with the Art Store. Art pieces in the Art Store are subject to change without prior notice.
Make the screen your own
Wall Setting
QLED uses a photo of your wall to recreate the pattern on screen. It's the perfect blend for your décor.
Décor Custom Design
QLED senses nearby colours in the room and applies them to a beautiful design on screen.
Photo Matte
Use various filters to transform your photos into beautiful works of art right before your eyes.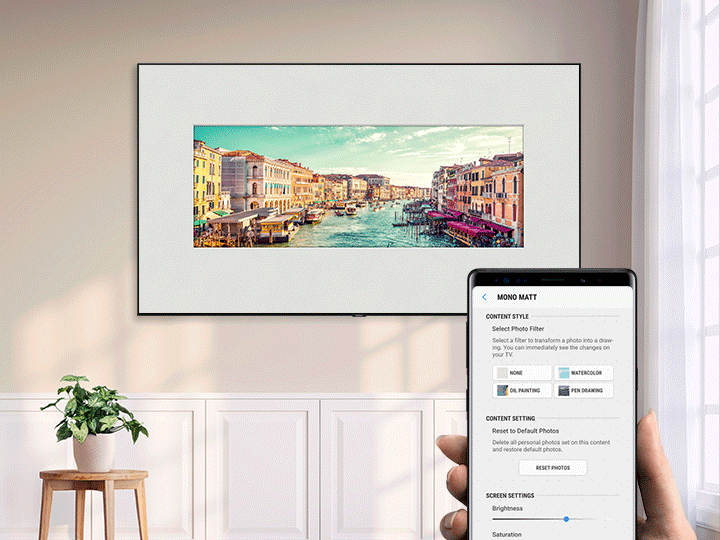 Light grid
Special lighting for special occasions. Select from a variety of options, like neon, and have some fun with your space.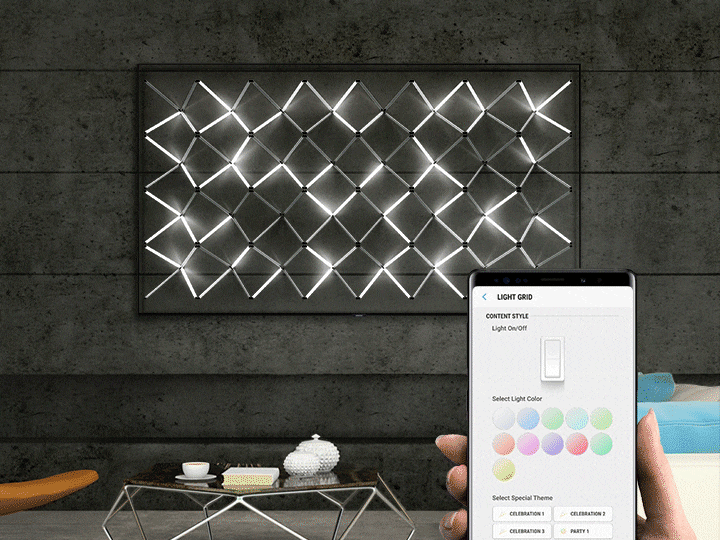 * The Magic screen background setting feature may vary depending on the environment where the TV is installed including, but not limited to, wall designs, patterns, and/or colours.
* Setup process requires a Samsung Account. TV must have an internet connection for mobile set-up.
* The set-up process can also be done by remote control.
*Auto recognition between mobile phone and TV may vary depending on the mobile device. For mobile devices that do not support auto recognition, open the SmartThings app on your mobile to begin set-up.
* Background feature accuracy may vary based on TV location, dependent on wall designs, patterns, and/or colours.
* Background feature accuracy may vary based on TV location, dependent on wall designs, patterns, and/or colours.
* Background feature accuracy may vary based on TV location, dependent on wall designs, patterns, and/or colours.
QLED makes everything easy
Smart Hub & One Remote
QLED gets even smarter with Smart Hub and Samsung One Remote. They place all the content you want right at your fingertips, from your set-top box to game console, apps, and live TV. All you need is one.
* Smart service and GUI(Graphic User Interface) may vary by model and region.
* Some features and functions provided by connected devices may not be supported or limited to use.
Hands-free control with your voice
Bixby on TV
Control the TV from the comfort of your couch simply with just your voice.
*Bixby service availability requires Samsung Account login and data connection. Available functions and features may vary by country, region, and language. Not all actions can be completed through voice control. Bixby only recognises certain accents and dialects of English (UK), English (US), French (France), German (Germany), Italian (Italy), Korean (South Korea) and Spanish (Spain). Other supported languages may be added in the future. Not all accents, dialects, and expressions are recognised, and actual performance may vary depending on pronunciation, voice level, and the surrounding environment.
* The content within the screen are simulated images and are for demonstration purposes only.
Build a Smart Home
with SmartThings
A truly intelligent home, tailored to your life. With Samsung SmartThings, connect all your smart home devices and control them from your Samsung Smart TV.
* Requires installation of SmartThings app on compatible mobile device.
* Requires an internet connection.
* Subject to device compatibility. Samsung SmartThings compatible devices may vary by region.
* Selected Samsung TV models are compatible with SmartThings.
Seamless connections
Works with
QLED can be the center of a new and more convenient connected lifestyle. It integrates seamlessly with smart speakers and mobile devices—even from other brands.
* Subject to device compatibility.
* Some features and functions provided by connected devices may not be supported or limited to use.
* Turn-on TV feature support may vary by model.
Q

Series

7,680 x 4,320

Resolution
Rated

4

out of

5
by
AsaMark
from
Great Up-scaling, No 8K Content!
The QN75Q900R was delivered Monday and the picture is awesome. I had the QN75Q9FN before and 900R is far superior to the 9FN in terms of Picture. Two draw backs. For the price, the 900R should come with the Silver remote not the cheap black one. Secondly there is NO content. Samsung currently appears to ONLY support one format (HEVC in geek speak) for streaming content and the only supplier, YouTube, uses a different one (VP9). My question would be, is Samsung planning support for YouTube (VP9 in MKV), or will there be some content somewhere where we can play with 8K content?
Date published: 2019-05-08
Rated

5

out of

5
by
Gigi3030
from
Unbelievable technology - Lightyears Ahead!
Samsung's 8K TV is absolutely incredible! I witnessed it for the first time tonight & was honestly blown away. The image brightness, clarity and detail is unlike any I've ever seen. The ambient mode is like something you'd see in Star Trek or a sci-fi film. The tv is able to match its surroundings & cloak itself. It looks almost ghostly, translucent. What an incredible piece of technology. Great design aspect too, with frames in a variety of colors/materials. This is where interior design & technology meet. There's even an option to display custom artwork & photos. Space saving, beautiful & cutting edge. Simply wow! [This review was collected as part of a promotion.]
Date published: 2018-10-05
Rated

3

out of

5
by
MDGANI
from
I bought this and it doesn't support YouTube 8K !!
Dear Samsung I purchased the 75" Q900R and replaced the old Q9FN I had. The only reason I bough it is because I saw that youtube supports 8K videos. HOWEVER - I saw that the Q900R cannot play the YouTube 8K videos and it give max of 4K. I explored the reason and found that YouTube using VP9 codec for the 8K videos and the Q900R supports V9 coded only upto 4K resolution. Is this a joke?? Why you released 8K screens if you support VP9 codec only up to 4K ?? I would like to get clear answer when you will release a patch that will make the Q900R support playing VP9 in 8K. NOTE: the only source today for playing 8K videos is youTube and it is really funny that you blocked 8K support in VP9 in your flagship 8K TV. Kind regards Moshe [This review was collected as part of a promotion.]
Date published: 2019-08-13
Rated

1

out of

5
by
JWR075
from
Nice TV when they One Connect box is working
Bought the 65" Q900 and had it installed in Aug of this year. TV was awesome for 3 days and then the One Connect box went bad. After having the box replaced it worked fine for a month and yet again the box has went bad. The One Connect box seems to be flawed and not reliable.
Date published: 2019-10-11
Rated

2

out of

5
by
Bentley
from
Worried Early 8K adopter
After buying into the hype of future proofing my viewing pleasure in diving into 8k it appears that the more I peel back the onion the more I see that my 75Q900RB is not properly capable of displaying 8K content. This became prevalent to me when I noticed I could not watch 8K content via YouTube. After reading messages on the boards and content around the web I understand that the AV1 codec required to watch 8K content on YouTube isn't on my television. I don't even want to discuss the contrast modulation aspect of 15% my TV can display which further debunks that my TV is true 8K. I am almost starting to regret my purchase and wish I waited for the Q950t which is supposed to be real 8k. I am hoping Samsung can do the right thing to ensure us early adopters can properly enjoy 8k content by either replacing our sets or providing a viable update that can correct this mess.
Date published: 2020-02-19
Rated

5

out of

5
by
qualcomm man 3434
from
everything is awesome except for ambient mode
ambient mode sucks to be honest they need a better color recognition system it would be awesome if they had a sensor or module that came with the tv that could accurately detect the color also there needs to be the option to select your own photos for ambient mode also i wish they had an android tv app and more apps
Date published: 2018-10-15
Rated

3

out of

5
by
Al Grey
from
Banding issue whilst watching sports
I have owned this Television for less than a week and already l can see the issues which made me send the first one back for this replacement. Admittedly watching normal everyday TV programme the picture quality is stunning. But watching sports like football, cricket etc l can see the dreaded banding effect during camera panning sequences. I have adjusted picture settings and turned down the backlight but this really makes the picture ridiculously dark and l brought this TV to replace my old Oled because my reception room is quite bright. I'm a little bit fed up and annoyed as spending so much l expected the picture to be fantastic no matter what l watched.
Date published: 2019-07-19
Rated

4

out of

5
by
Iquit
from
Has good design and technology
The voice controls are not consistently good. They pick up conversations from tv programs. We still have not been able to load our pictures from our phone to the ambient feature. Also have not been able to program the tv to allow both the tv speakers and the receiver speakers to work simultaneously. In other words the advanced technology needs to be better explained and simplified. These are minor inconveniences, the tv display is very good. [This review was collected as part of a promotion.]
Date published: 2019-07-22
* Key feature may different from Key Spec