Focus on what matters
One UI helps you focus on what really matters to you. With hardware and software working together in harmony, see only what you need,
using and viewing your phone with an experience that feels second nature. Because it's the small details that make a big difference.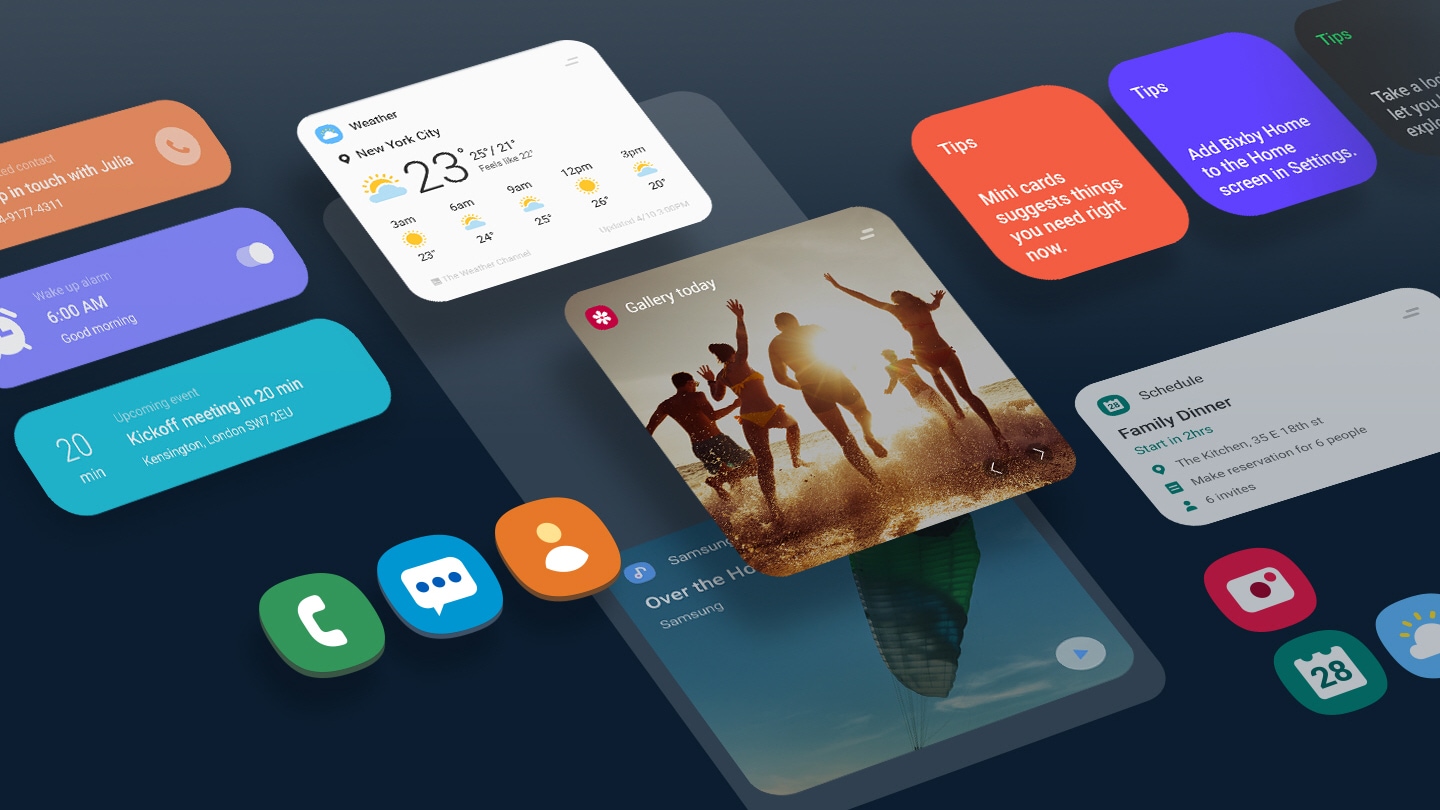 Find out all the buzz
Incredible software that transforms your mobile experience.
The world's biggest tech vloggers can't stop raving about One UI. This is what it takes to impress them.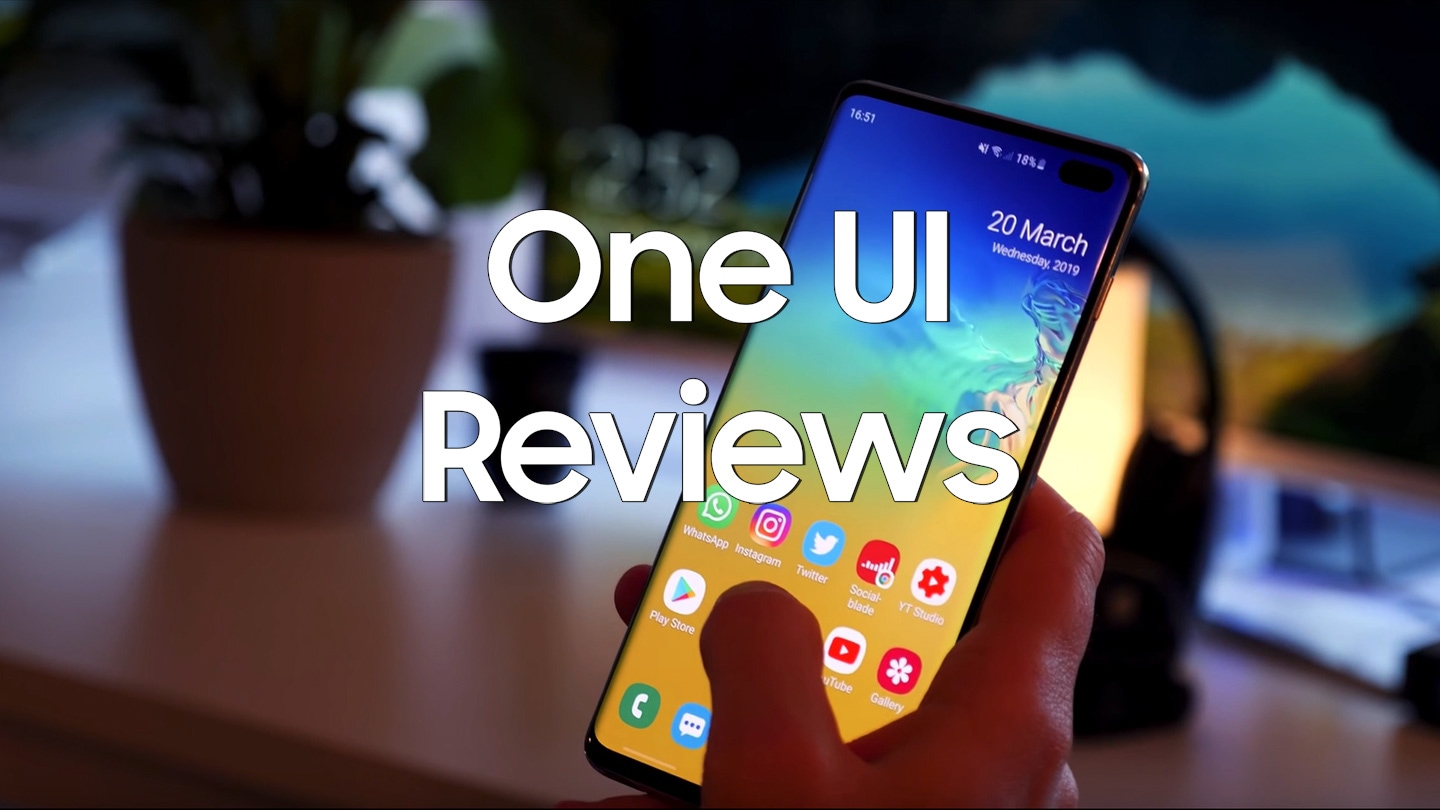 Natural, intuitive flows
Life's complicated, but answering a message while you drink your coffee shouldn't be.
Our interface is designed for better reachability so it is easier to get to what you want.
See what matters now
We keep it simple and show you what's essential so you can get what you need at a glance.
Your world, augmented
Do you want to find out more?
Point your camera at text, wine or food to get a quick assist from Bixby Vision.
* Supported language limited. For more information, please see https://www.samsung.com/africa_en/apps/bixby/vision/.
** The actual amount of calorie intake may differ by food and health status of the user.
*** Screen images simulated for illustrative purposes.
Don't stress over daily tasks
That stuff you do every day, like turning down the ringer before bed? Bixby Routines learns your patterns and does it for you.
Get hands-free navigation and music as soon as you're in the car, turn off sounds while you're at school or work, or turn on Wi-Fi so you can get the music started when you get home.
* Please use Bixby in compliance with local laws and regulations.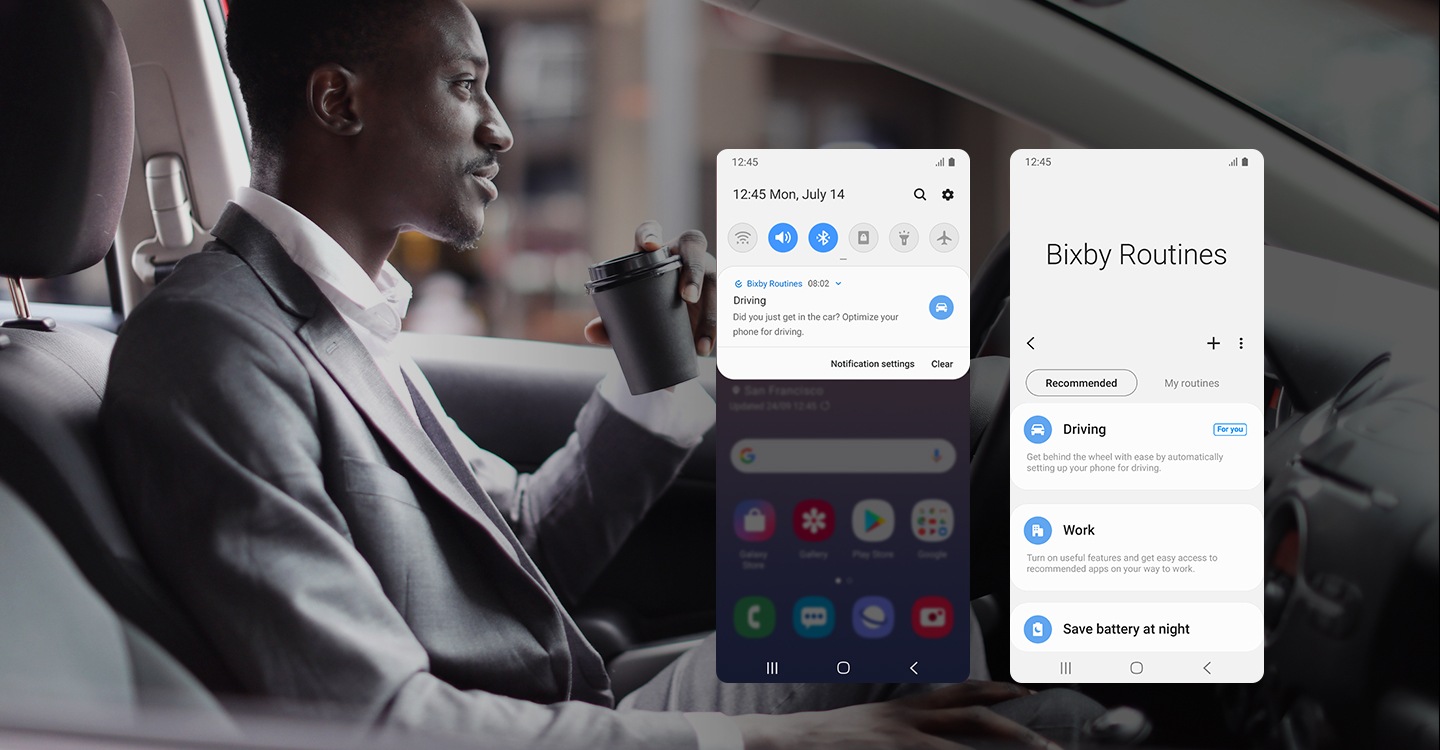 Good night, sleep tight
Whatever you need to wind down your day, Bixby Routines can make it automatic.
You can turn on the blue light filter, turn down the brightness, mute sounds and get ready for a good night's sleep.
You can hear tomorrow's schedule and weather.
And you can optimise your battery so there's still plenty left in the morning, even if you forgot to charge overnight.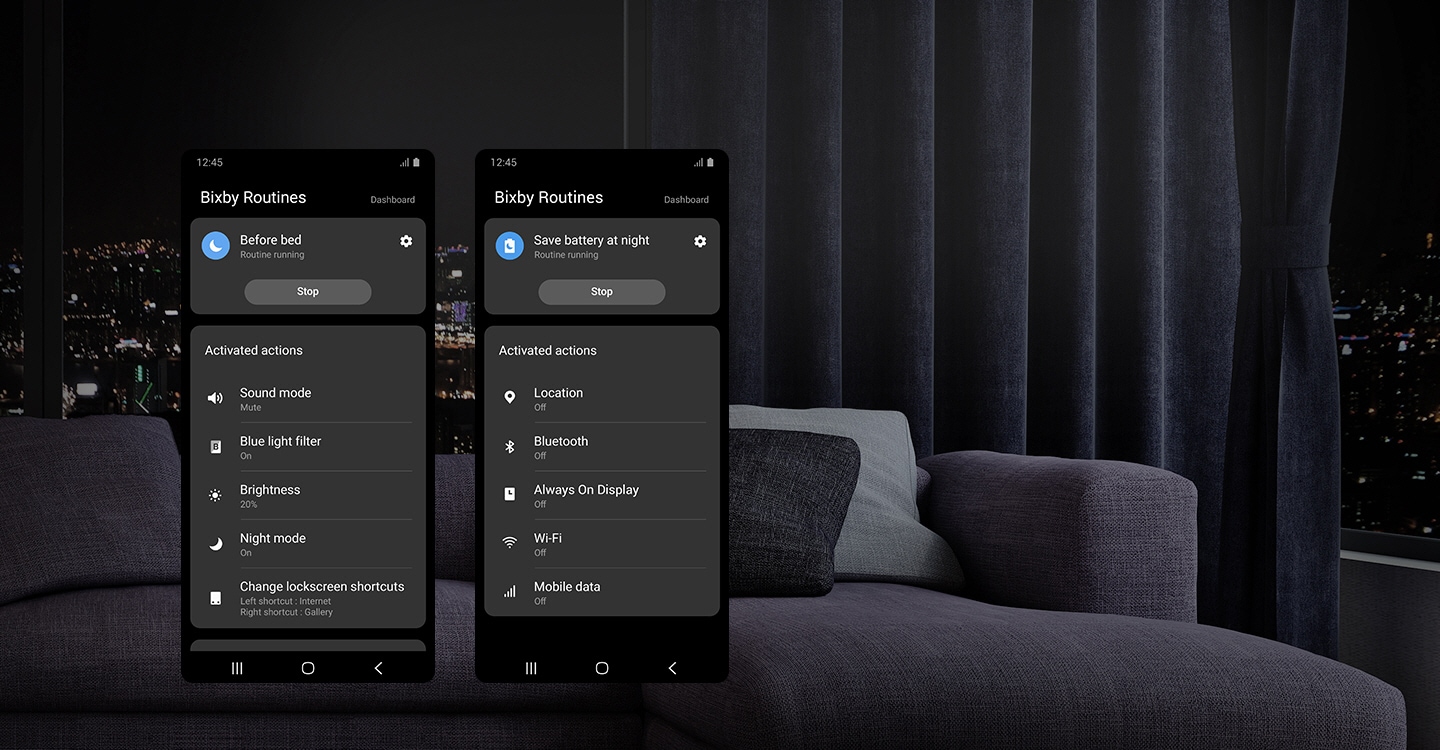 Be kind to your eyes
Night mode turns your phone dark. Switch to a darker view at night. Your eyes will thank you, and so will anyone who's sleeping next to you.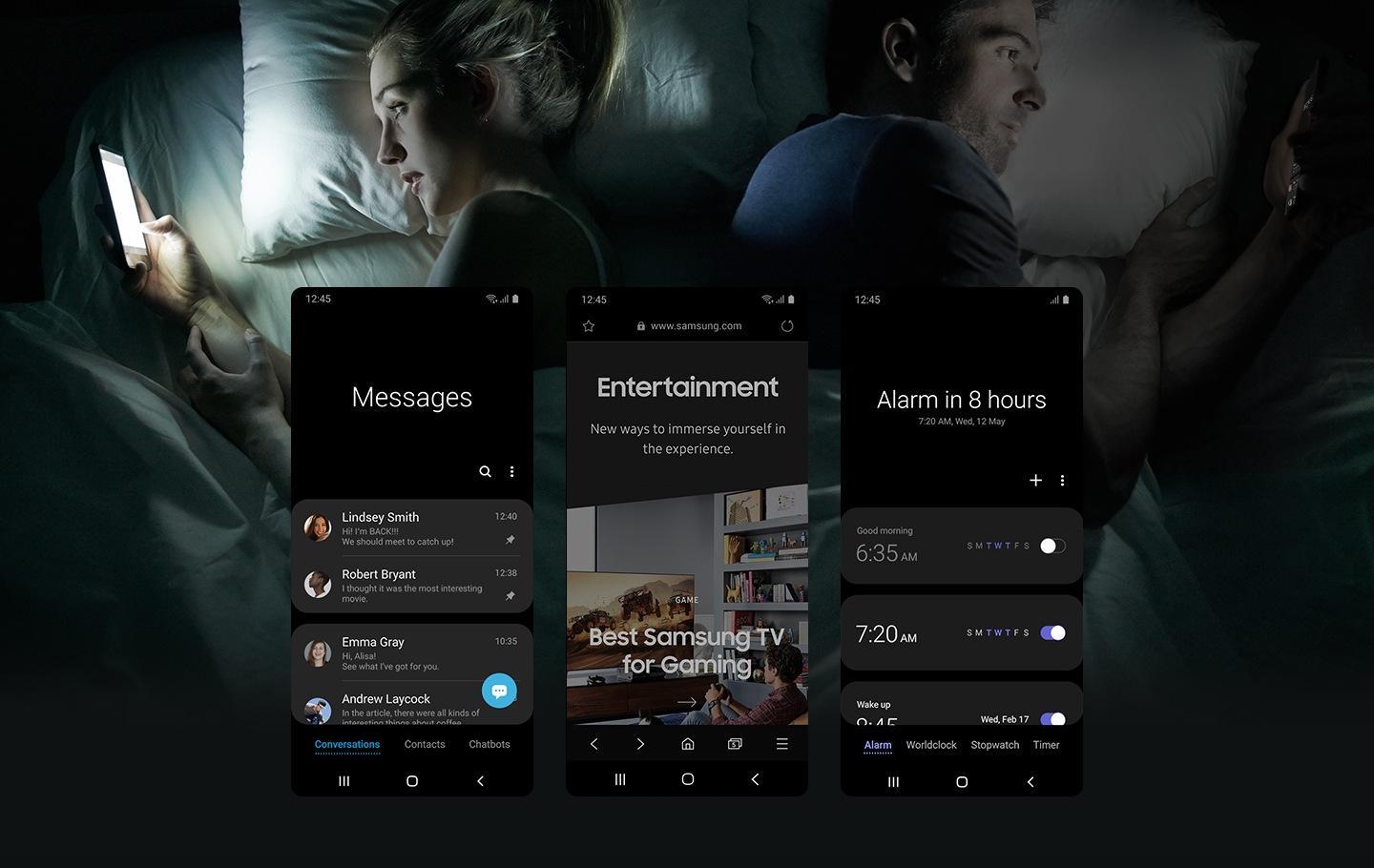 Some things are just for you
Secure Folder is your safe space. You can keep photos and files, even set up social media and chat apps with a separate account.
The quick panel gives you instant access and you can protect it all with a dedicated fingerprint.
Get the whole story
More smart ideas
Capture the whole page, top to bottom, including what's hidden below the screen.
When you check the image later, you can go back to the website with a tap.
* Only available in Samsung Internet Browser and Chrome Browser.
** Not applicable with images captured in multi-window or DeX mode.
Take control of notifications
More smart ideas
Swipe away notifications, snooze them for later or turn them off for the apps you choose.
Bring your data
from your old phone
More smart ideas
Whether it's a Galaxy, Android or iPhone, you can bring your old data to your new phone so you can pick up where you left off.
* Transferrable type of data and contents may vary by OS type and version.
** For more information, please see https://www.samsung.com/africa_en/apps/smart-switch/.


You can find the schedule for One UI upgrades
from Notices (P OS Update Notices) on the Samsung Members App.
You can download and install Samsung Members from Galaxy Store.
You can find the schedule for One UI upgrades from
Notices (P OS Update Notices)
on the Samsung Members App.
Tap below to go to Notices.
* Availability of One UI features, apps and services may vary depending on device, OS version and country.
** Device and screen images simulated for illustrative purposes.
*** Certain features may require Samsung Account login, GPS connection or data network (Wi-Fi or internet connection).