How to use my refrigerator with SmartThings
Last Update date :
Nov 09. 2021
Connect your Samsung refrigerator to the SmartThings app and manage it with just the touch of a finger. The SmartThings app can help you manage the cooling temperature and find the most efficient ways to keep your food fresh.
Experience various features with SmartThings
The SmartThings app is a simple, easy remote controller for your appliance. To use the various and convenient refrigerator functions via the app, connect your Samsung refrigerator with the SmartThings app on your smartphone. Simply tap the function categories that you want and manage settings.
Make sure your refrigerator and smartphone are connected to a Wi-Fi network before starting. All functions are available with a Wi-Fi connection. Also, sync your Samsung account and SmartThings app with your refrigerator. 
Please note that the SmartThings app connection and available features may vary depending on the refrigerator model you have.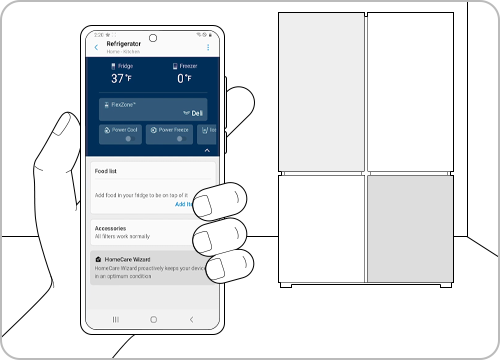 Navigate the SmartThings refrigerator features
The SmartThings home screen categories may vary depending on the local circumstances or the device model you have. 

Basic settings
Tap the refrigerator card and tap the 3 dots on the top right side of the screen to manage the basic settings.
App settings: Search and set your country and location.
Energy Monitor: You can monitor energy usage with the Energy Monitor here.
Self-Diagnosis: You can check the troubleshooting instructions on your smartphone directly. 
Information: You can see the model number, information, and device type, here.
How to use the basic features
1. Temperature
Set the temperature of the Fridge and Freezer.
2. Select Mode
You can select the desired modes according to the type of food. 
3. Power cool / Power freeze
If you want to chill food more quickly for optimal freshness, use the Power cool/Power freeze. Cold air is blown into the refrigerator to reduce the inside temperature to 1°C quickly but temporarily.
4. Food list
You can create the food list in your refrigerator to manage it. 
Additional features
Ice making: You can turn the ice making function on or off, and check the current settings of the function. Also, you can check the status and progress of ice-making.
Alarms: Set the alarm for the door opening, water filter replacement, abnormally high temperature, etc.
HomeCare Wizard: You can see the weekly report for the device management.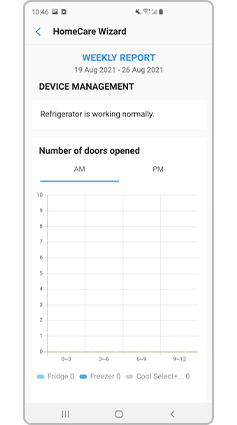 Note: 
Available technologies and functions may vary depending on the country, service provider, network environment, or product.
Before you try out the app connection, be sure to check if your device's software and related apps are updated to the latest version.
Mobile screen images on this content may vary depending on the device model you have.
Please answer all questions.