How to couple with a newly purchased earbud and a used earbud
Last Update date :
Oct 01. 2021
Even if you lost one of the earbuds set, you don't have to buy a new set of earbuds again. Buy one earbud separately and couple it with the remaining one, and you can use them together as a pair again.
Before you try out the recommendations below, be sure to check if your device's software and related apps are updated to the latest version. To update your mobile device's software, follow these steps: 
Step 1. Go to Settings > Software update.
Step 2. Tap on Download and install.
Step 3. Follow the on-screen instructions.
How to sync the earbuds to each other
If you recently damaged or lost one of your earbuds set and bought a replacement, you can easily connect the original earbud to the newly purchased earbud. Coupling is required to adjust the volume and delay between both earbuds. Follow the steps below to self-couple your earbuds.
Step 1. Check the direction of each earbud, the newly purchased earbud, and the original earbud, and correctly insert them into their corresponding slots in the charging case.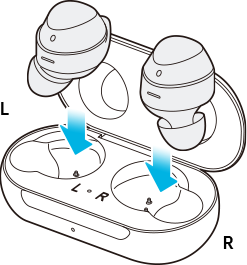 Step 2. Touch and hold both earbud's touch areas for 7 seconds or more. The earbuds battery indicator light will flash green and then return to the initial light. Then, the earbuds are coupled.
Step 3. When the earbuds are coupled, you will be able to reconnect to your compatible devices.

Note: The battery indicator on the charging case will keep flashing red when the earbuds are not coupled properly. Remove the earbuds from the charging case and insert them again.
Additional Tip for self-coupling your earbuds
If you cannot complete coupling with a new earbud, make sure the Block touches feature of the original earbuds was disabled on the Galaxy Wearable app. Try disabling Block touches by following the steps below.

Step 1. Open the Galaxy Wearable app.
Step 2. Tap the switch to disable Block touches.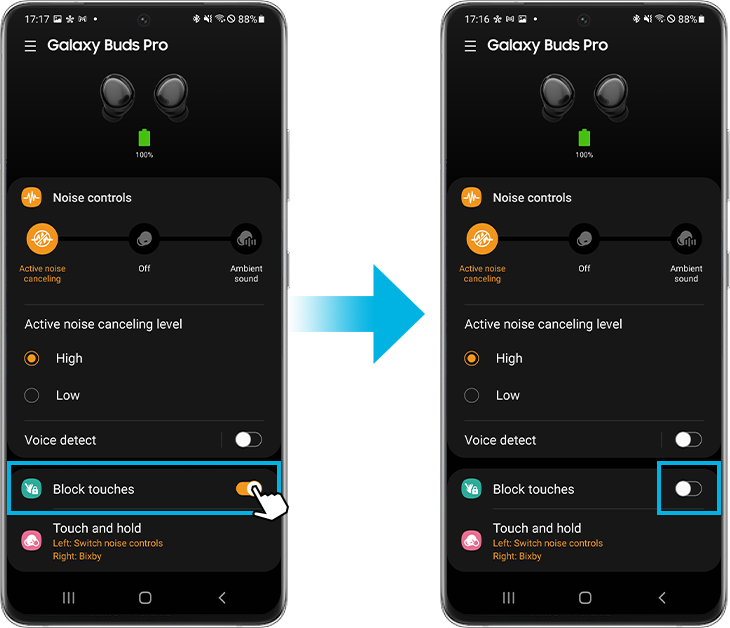 Note: 
If you lost an earbud but still want to use the other one by itself, you can use the single earbud with the device it was previously paired to. However, some features may be unavailable.
Device screenshots and menus may vary depending on the device model and software version.
If you're experiencing unusual behavior on Samsung mobiles, tablets, or wearables, you can send us an error report or ask us a question in the Samsung Members app. This allows us to take a closer look at what is happening. The data is anonymized and only held for the duration of the investigation. Find out more about how to send an error report here: How to use the Samsung Members app 
Please answer all questions.