How to update latest software for your Galaxy mobile device
Last Update date :
Aug 17. 2020
Samsung periodically releases software updates. Software updates bring new features and more security to your device. Samsung recommends keeping your device software up to date and back up any important data before updating the software.

Check for software updates
Step 1. Go to Settings > tap Software update.

Step 2. Tap Download and install.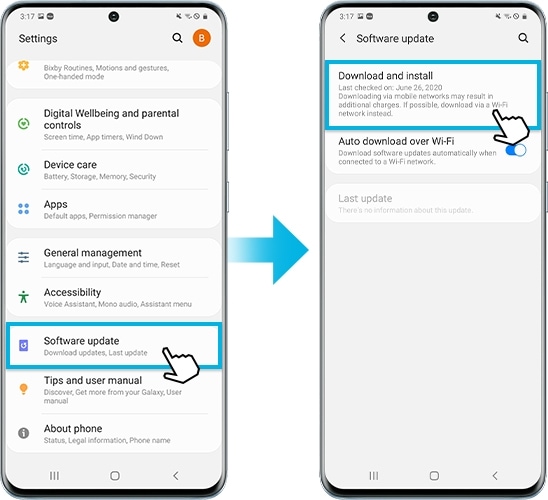 Step 3. If new software is available, you can choose Install now, Schedule install or Later. 
If you already have software up to date, latest update information will appear as below. 
Check for security updates
Security updates are provided to strengthen the security of your device and protect your personal information. For security updates for your model, visit security.samsungmobile.com. 
Step 1. Go to Settings > tap Biometrics and security 

Step 2. Tap Security updates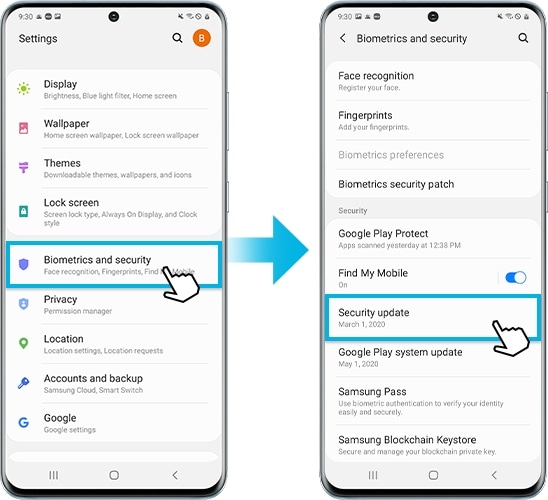 You can view the version of your device's software and check for updates. 
Note: The website supports only some languages. 
Software updates via Smart Switch
Not only is Smart Switch great for transferring data, it's also an easy way to update your device's software. When you open Smart Switch on your Windows PC or Mac, you will see an option to update to a new software version if one is available.  
Step 1. Connect your device to your computer using the USB cable provided with your device. 
Step 2. Open Smart Switch on your PC. 
Step 3. If a software update is available, Smart Switch will automatically prompt you to update the software or display an option to update.
Step 4. Tap Update and follow the on-screen instructions to download the necessary files and complete the update process. 
Note:

Make sure your phone or tablet is charged to at least 20 percent before proceeding.
Do not disconnect the USB cable or use your device until the update is complete. 
Your phone or tablet may turn on and off during the update process. 
Note:

Make sure the battery is sufficient before updating.
On some phones, it may say 'System updates' instead of 'Software update.'
Depending on your software version, it may be necessary to repeat this process multiple times.
Device screenshots and menu may vary depending on the device model and software version.
If you're experiencing unusual behavior on Samsung mobiles, tablets or wearables, You can send us an error report or ask us a question in the Samsung Members app. 
This allows us to take a closer look at what is happening. The data is anonymized and only held for the duration of the investigation. Find out more about sending an error report thorugh the How to use the Samsung Members app. 
Please answer all questions.