The Battery drain of my S10+/S10 increased after updating the firmware for Biometrics security patch. Why?
Last Update date :
Oct 30. 2020
Recently Samsung has released new firmware for better improved Biometrics(Fingerprints) security.
This update is available on notification panel and you should manually reboot your device  for avoiding
battery drain fast issue after downloading new firmware in order to complete Biometrics patch installation.
Please check your firmware version on following path :
Settings > Biometrics and security > Biometrics preferences > Version
You should reboot your device to completely finish new firmware(2.0.8.4) update.
1
Battery drain of my S10+/S10 What to do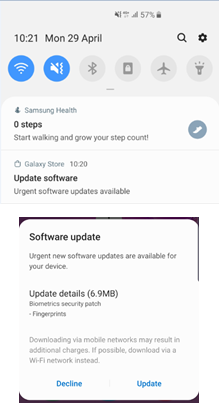 Please answer all questions.