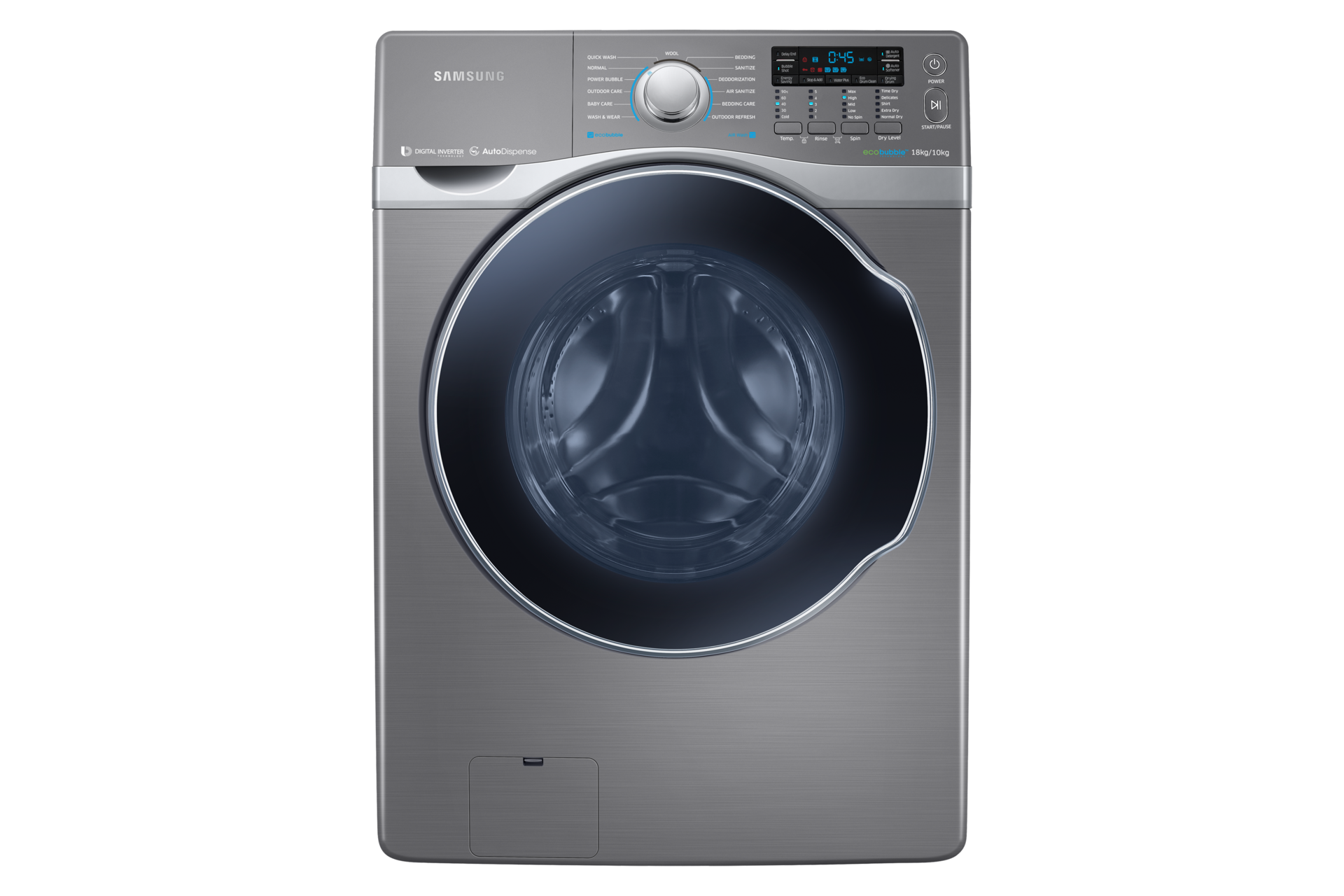 WD7000HK Combo Washing Machine with Digital Inverter Motor, 18 kg
WD18H7300KP/NQ
Bubble technology
Bubble technology
686 x 990 x 811 mm
Physical specification
Quiet, Fast, Efficient? You Choose
With Eco Wash, Speed Wash, or Silent Wash options you can pick the one best suited to your needs. Reduce your energy bills and be environmentally friendly, or wash clothes in a hurry, or enjoy some peace and quiet.
Wash Cool, Save Energy
Save a huge amount of energy by washing at low temperatures using Eco Bubble™ technology. Bubbles dissolve and activate the detergent, so it quickly penetrates fabric – washing effectively in cool water (15 °C).
* Tested in accordance with IEC 60456-2010 / 4 kg Wash Load / Super Eco Wash cold (WF80F5E5U4W) vs. Cotton 40° without Eco Bubble (WF0702WKU). Individual results may vary.
Sanitize Your Clothes with Air
Air Wash technology deodorizes and sanitizes your clothes, so they always smell fresh. Using just heated air, unpleasant odours are removed and bacteria eliminated without using water, detergent or other chemicals.
Open Wider. Unload Easier.
A full-width door, with a Metal Double Hinge that opens wider, makes it significantly easier to load and unload clothes. Its minimal frame and translucent, Crystal Blue finish fit perfectly within a modern space.
Guaranteed Durability
A Digital Inverter Motor delivers superior energy efficiency, minimal noise and exceptionally long-lasting performance, so it†s certified to work for 20 years* – backed-up by a 10 year warranty.
Durable and Wide Opening Hinge
The Crystal Blue door has a Metal Double Hinge that opens wider and last longer. It's metal construction makes it more durable and it opens out 170°, so it†s almost flat, making it easier to get laundry in and out.
Easy Trouble-Shooting
The Smart Check automatic error-monitoring system detects and diagnoses problems and provides easy troubleshooting solutions using a smartphone App.* So it saves you time and avoids the cost of engineer callouts!**
* Available on iPhones and Android devices. ** Service callouts will occasionally be required and may incur extra repair costs.
* Available on iPhones and Android devices. ** Service callouts will occasionally be required and may incur extra repair costs.
Chemical-Free Drum Sanitization
For the ultimate in convenience, Eco Drum Clean technology keeps your front load washer fresh without using harsh chemicals. And it can even notify you automatically when it needs cleaning.
18 

Washing Capacity

Bubble technology

Bubble technology

VRT

VRT

686 x 990 x 811 mm

Physical specification
User manual & Downloads
Live Chat
* Key feature may different from Key Spec

Product Images Gallery of PDP: Images are for illustration purposes only and the accessories are sold separately. Features and Specifications are accurate as of commercial launch but may be subject to change without prior notification.