Open a new desktop world
Multitask between devices like a boss. Connect your Galaxy to your monitor or TV to bring it to life on the big screen.
And now, with just a USB cable, unlock your phone's possibilities on PC and Mac through Samsung DeX.
Click to download Samsung DeX app for use on PC and Mac.
* Samsung DeX app only downloadable on PC and Mac.
* Only available on Galaxy Note10/Note10+, and requires PC app download.
** DeX for PC operates on Windows 7, 10 and versions of Mac OS higher than 10.13. (More compatibility details on the FAQ page. )
Use in your day-to-day
Think of the things you do on a daily basis — Samsung DeX lets you switch from one to the other seamlessly, so you can do multiple things at the same time.
Two screens at once
Take multitasking to the next level. In Samsung DeX mode, you can take a closer look at things like videos, artwork, and documents on a larger display while still using your phone as a phone. Watch movies on the monitor while checking texts, or take a call while reviewing documents without breaking your focus. With Samsung DeX, you have two screens to do twice as much.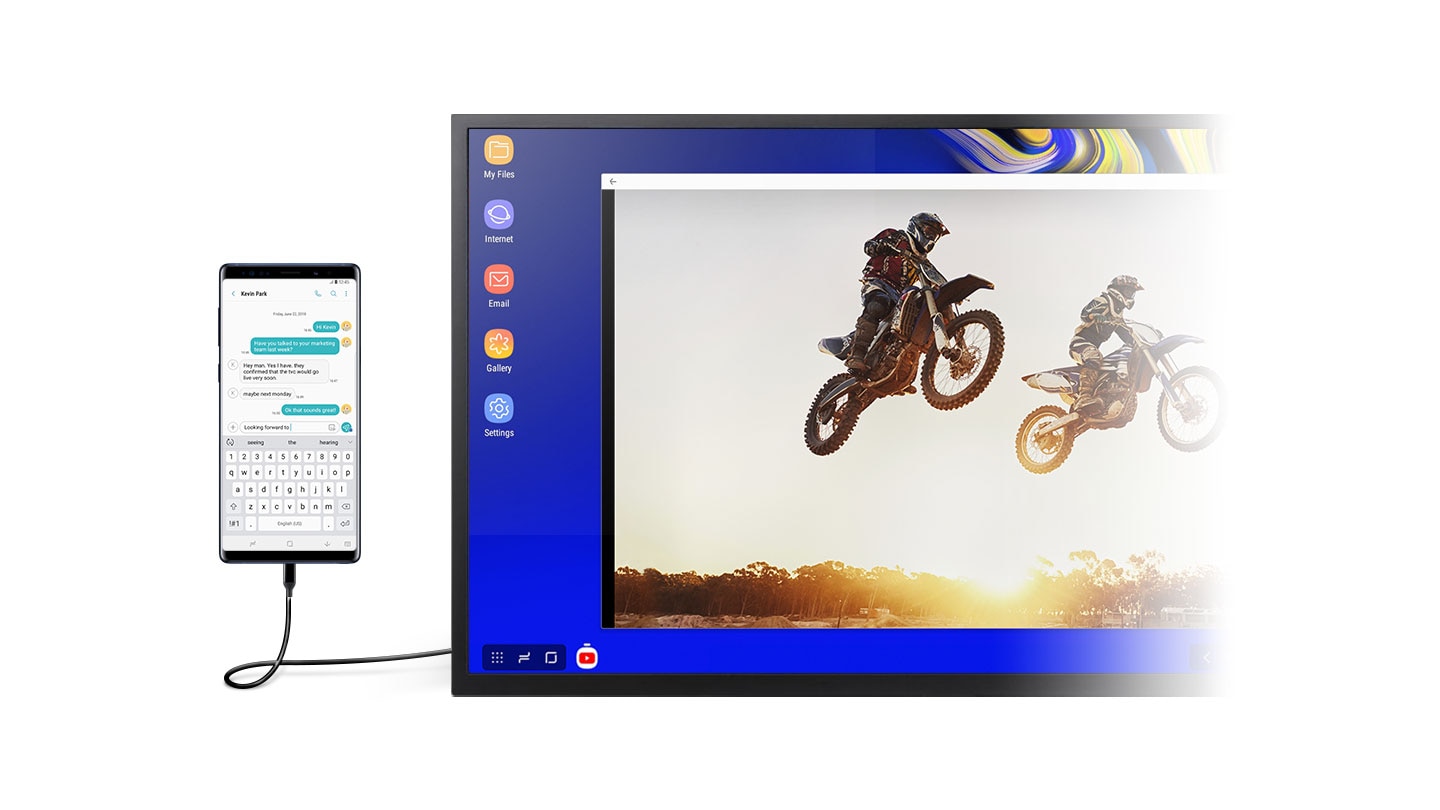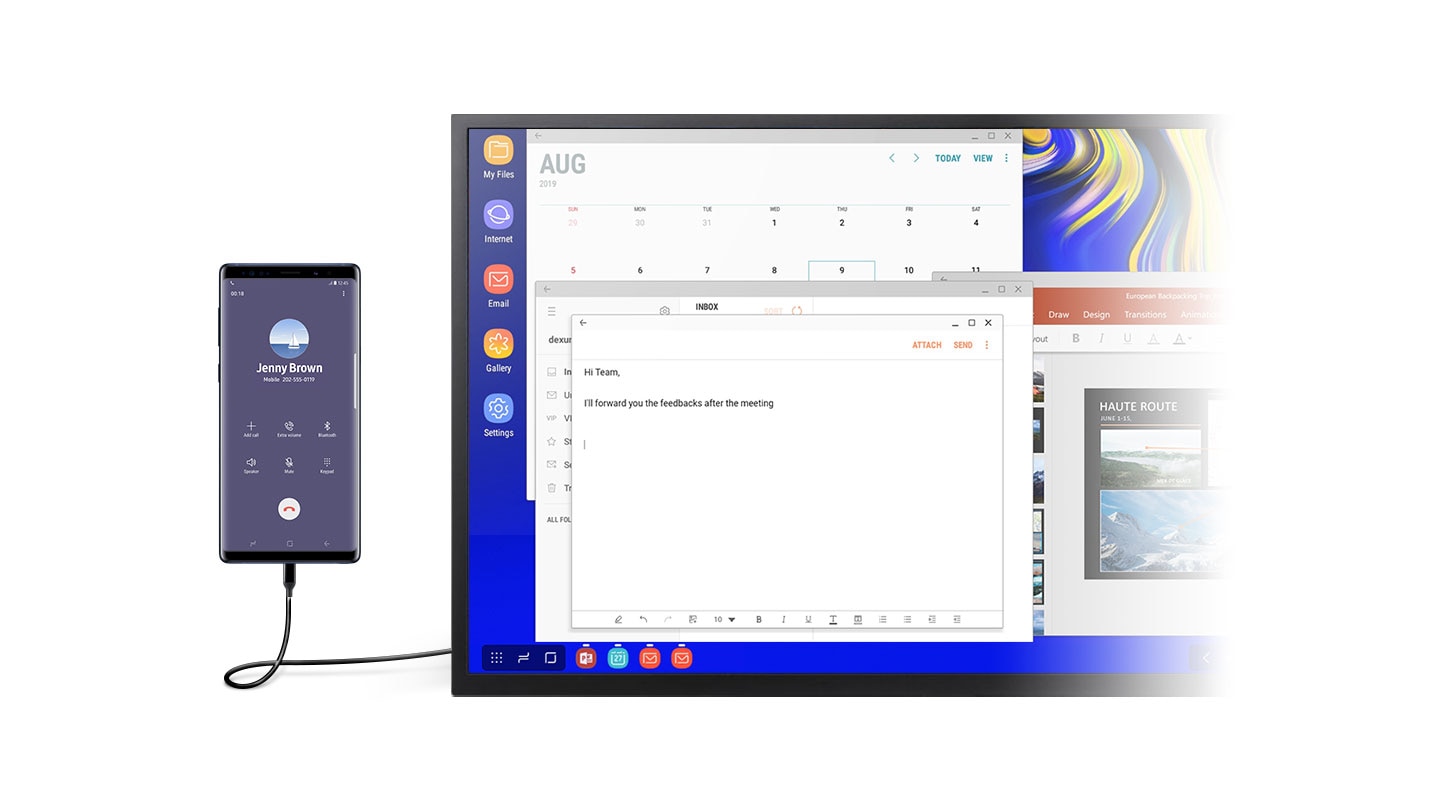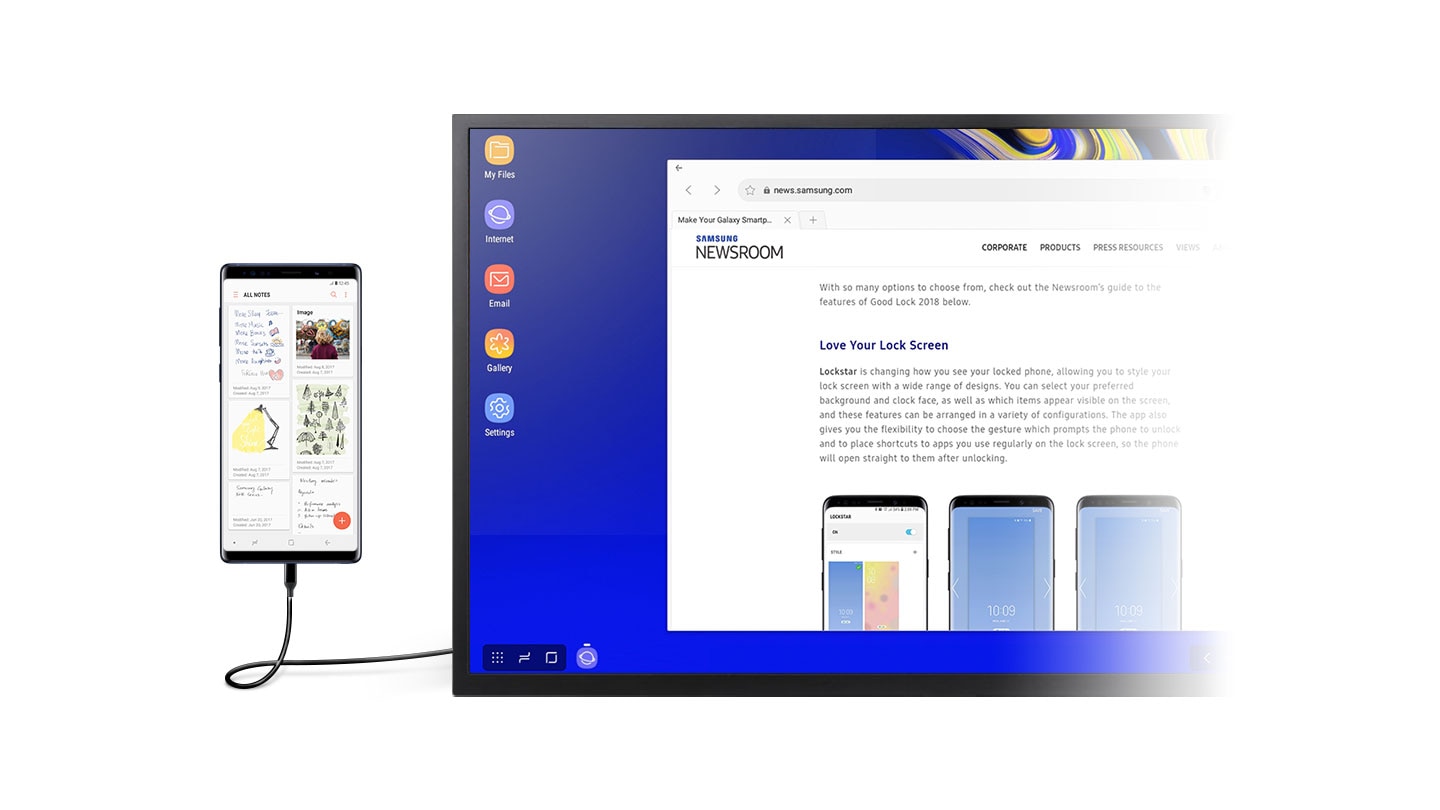 Looks like a tablet,
act like a PC
Easily work and play where you like with Samsung DeX on your tablet. Get started by just tapping on the Quick panel to switch to DeX mode, giving you features that let you use your tablet just like a PC. Open several windows at once, drag and drop a photo into an email, and right click for more functions. Productivity has never been so mobile.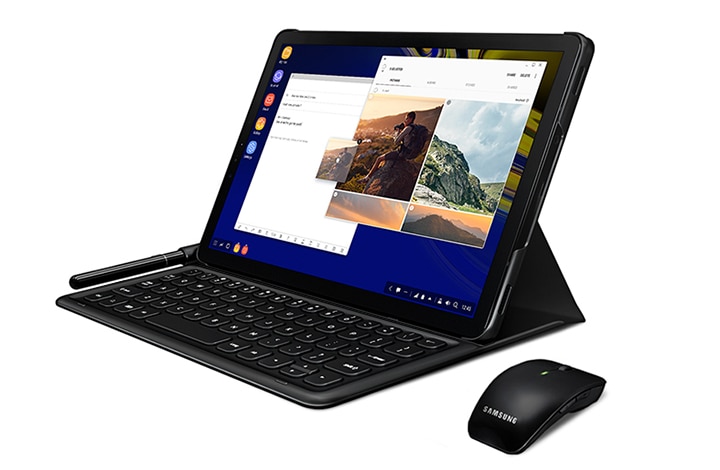 Bring Samsung DeX to your computer
Just a USB cable unlocks Samsung DeX on your computer.
Drag and drop files from device to device with no interruptions. Get more things done using a mouse and keyboard on your PC or Mac.
* Only available on Galaxy Note10/Note10+, and requires PC app download.
** DeX for PC operates on Windows 7, 10 and versions of Mac OS higher than 10.13. (More compatibility details on the FAQ page. )
*** DRM protected content may not be displayed correctly.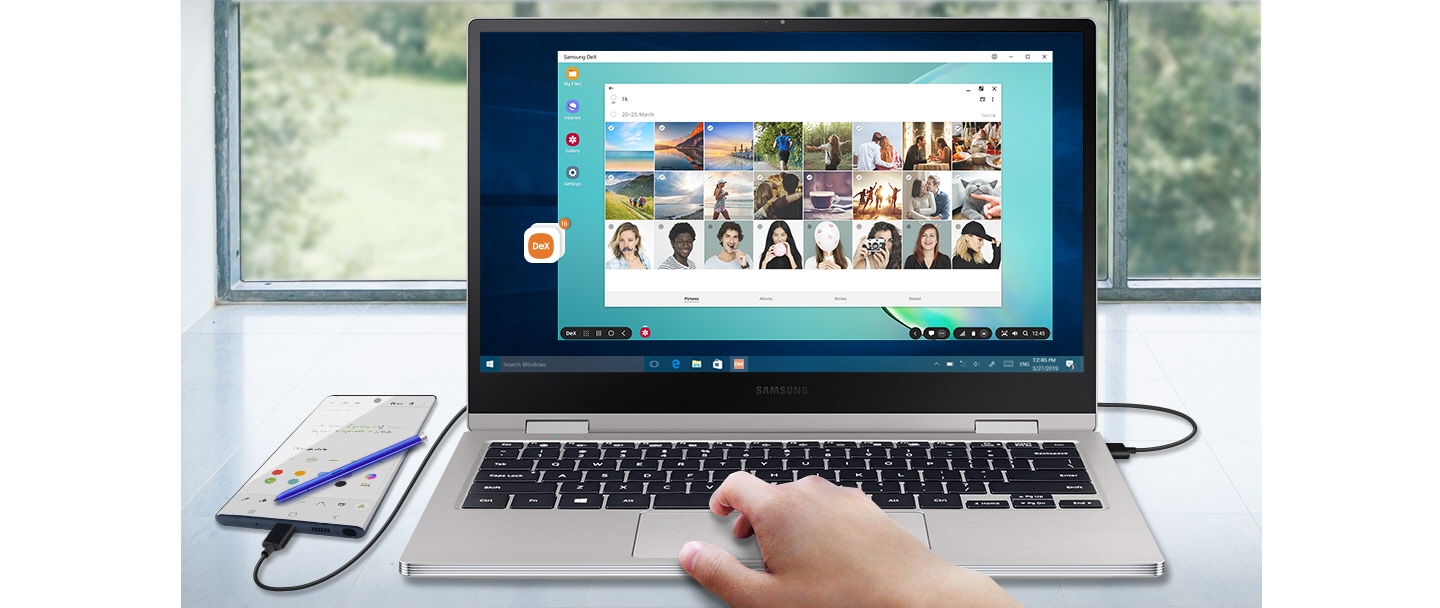 Take it to the big screen
Many apps you use every day are optimized to work naturally as you switch between screens.
Go from MS Office Suite to Adobe Sketch or Browser to YouTube. You can use them on your device, then enjoy them even more on a bigger display. With your favorite apps on Samsung DeX, you'll get things done in no time, and even play a game.
* Microsoft Excel, Microsoft PowerPoint, Adobe Photoshop Lightroom, and Adobe Photoshop Sketch require download to use.
** MS Office requires users to purchase licenses.
Get your games on
Upgrade your entertainment by playing and watching on a bigger screen. Pull up your favorite mobile games or stream the big game to see even more of the action.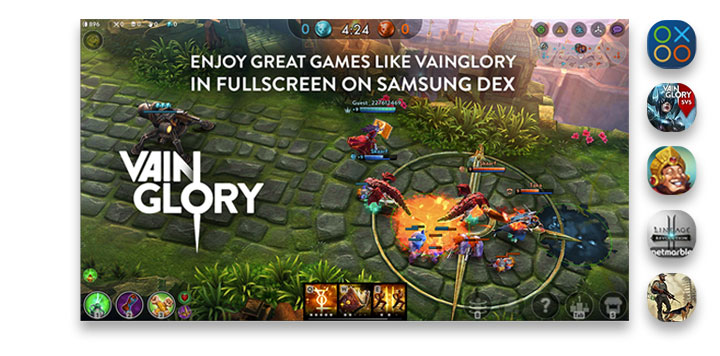 Work smarter and easier
Seamlessly go between the office and your home, picking up where you left off with the Microsoft Office Suite on Samsung DeX. And see your partners better with video conferencing on a large display.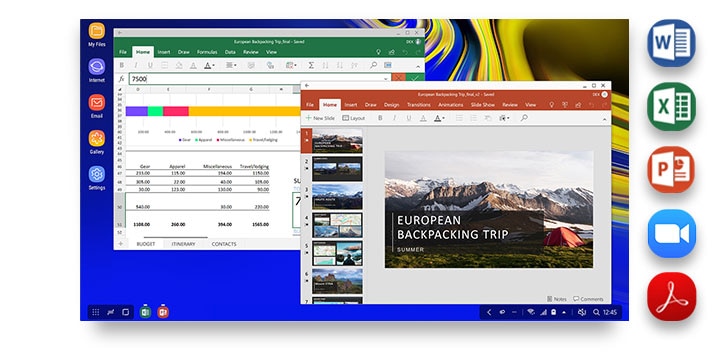 Create when inspiration strikes
It's simple to sketch and take photos with your phone. But full-scale drawing and design is better in a big screen environment. So once you get to your desk, check the details and make edits with Samsung DeX.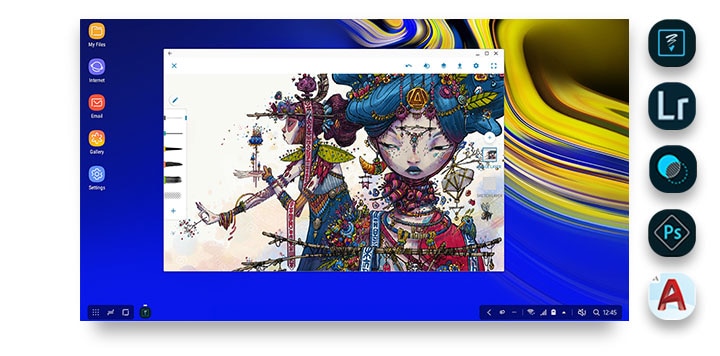 Browse the web, PC-style
Switch from watching TV to surfing the Internet with an easy move. Plug your phone into your TV to shop online, read the news, or watch YouTube as if you were on a computer.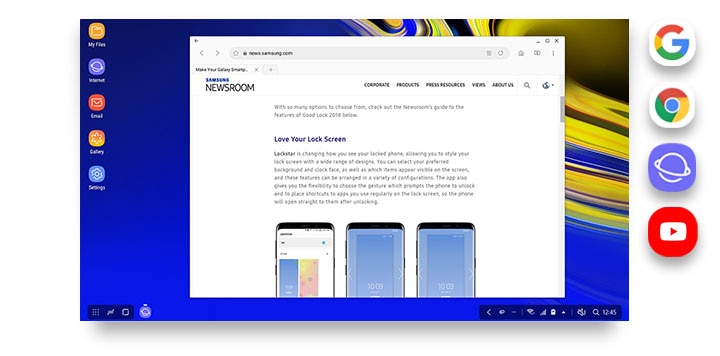 Try these apps in DeX mode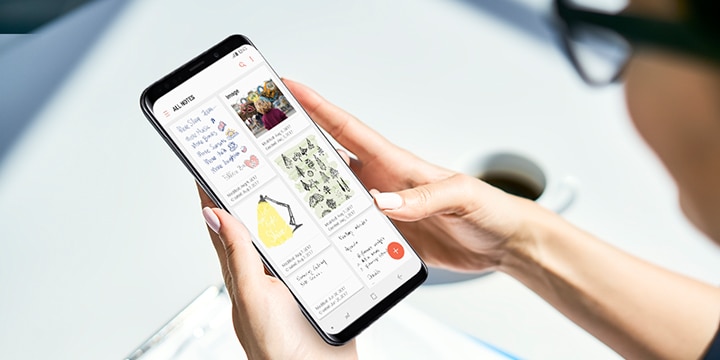 Local files
Avoid emailing and uploading files to other devices by using files already stored on your device.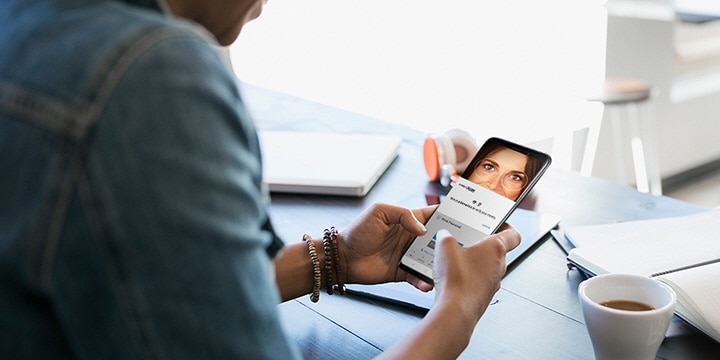 Samsung Pass
Quickly log in to your online accounts without having to type in your password.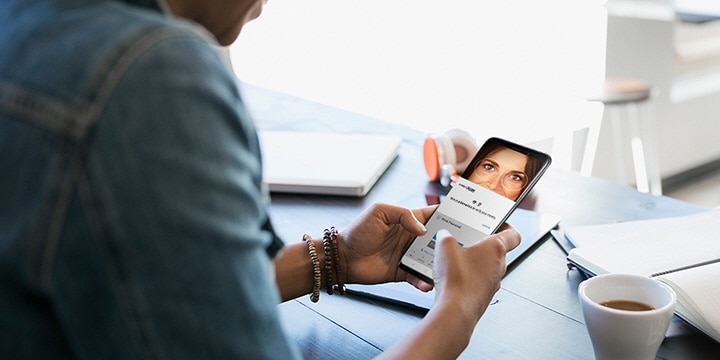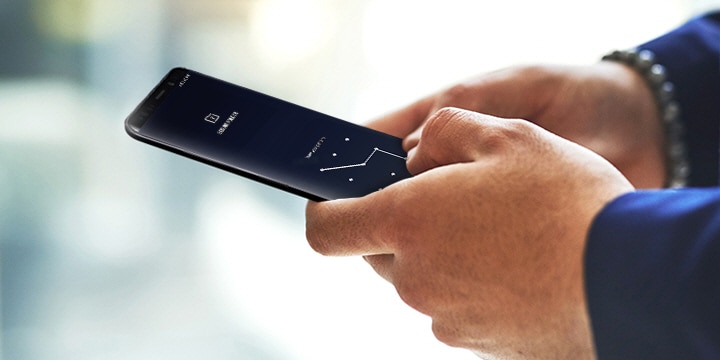 Secure folder
Keep your sensitive information even safer with a folder that requires an additional password.
Get started with Samsung accessories
Get on DeX in no time with Samsung official accessories.
From USB cables to the DeX Pad, find the key to unlock a new desktop experience with your Galaxy device. Seamlessly connect and go.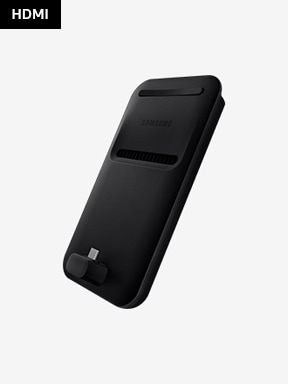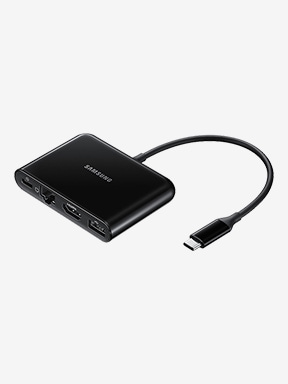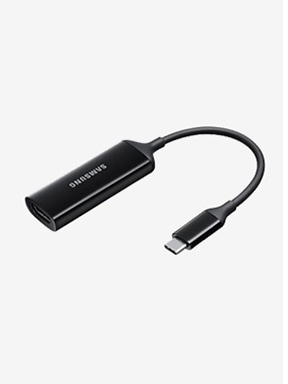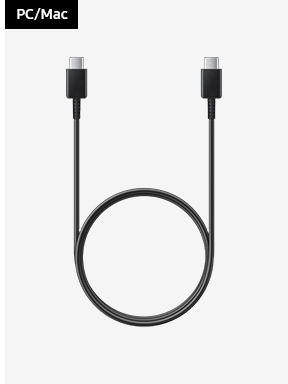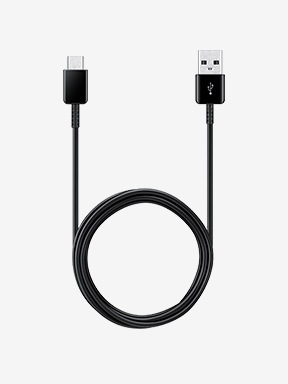 * Samsung DeX supported on select Galaxy, Note, and Tab devices. (More details on the FAQ page. )
** Running multiple apps or high-performance games on older models with Android Pie OS may cause the device to slow down.
*** Certain apps may not run or require a separate license (for purchase) on Samsung DeX.
**** Some functions of Samsung DeX with HDMI adapter or cable may differ from those with DeX Station and DeX Pad.
***** Accessories sold separately.
****** Screen images simulated.