Find My Mobile is now part of SmartThings Find.
Lost something? Find your Galaxy phone, tablet, watch, and other devices with SmartThings Find.
New features and enhancements make it easier than ever to find your devices.
What do I do if I lost my device?
Access the 'SmartThings Find' website and find or lock your device and back up data.


* To use the 'SmartThings Find' service,
1) Set up your Samsung account on your device.
2) Turn Location on in Settings of your device.
* Locate my device : Availability may vary depending on your device and/or OS.
* Back up data : If your device is not connected to a Wi-Fi network, it will connect to your mobile network and this may result in additional charges depending on your payment plan.
Locate my device
You can track the approximate location and route of your lost device.
If you have enabled the 'Send last location' in Find My Mobile settings, it will send your device's last known location to the server before it was switched off, helping you track its location.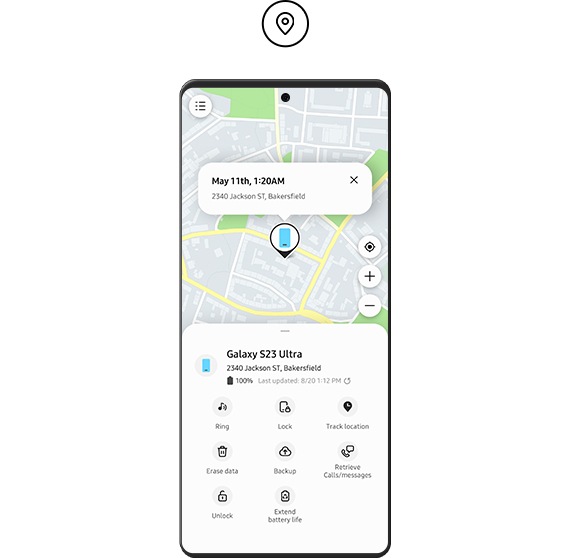 Lock my screen
You can lock the screen, the power button, and Samsung Pay on the lost device.
Ring my device
If your device is nearby, it will sound the ringtone for 1 minute at its maximum volume, helping you find the device.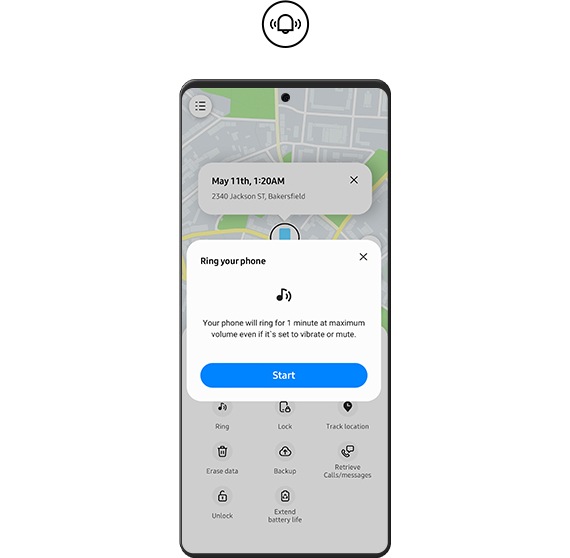 Back up data
You can back up data on your device to Samsung Cloud.
Unlock your screen even if
you've forgotten your password

Even if you have forgotten the screen lock code for your device
(e.g., PIN, password, pattern, fingerprints and irises), you don't need to worry anymore.
You can reset the screen lock remotely from the SmartThings Find website.


* You have to set up your Samsung account on the device. When you enable this feature, your biometric data, such as your fingerprints and irises, will be deleted from the device.
* From Android 9 and later OS versions, to unlock your device, you have to turn on 'Remote unlock' in the device setting menu in advance.
Offline devices
can still be found
Once Offline Finding is enabled, your Galaxy is detectable as long as it's turned on - even when mobile data is disconnected.
Other Galaxy devices will participate in the search for your Galaxy as 'Find Nodes', sending signals into the server that share your lost phone's location. So enable offline finding and become a helper now and you'll be in good hands in the case of a missing device later on.
Don't worry, your other Galaxy devices can help
Locate your Galaxy SmartTag, Watch and Buds on SmartThings Find website and control these devices remotely. If you turn on Offline Finding to register your mobile or tablet as a 'Find Node', you can easily find your Galaxy SmartTag, Watch and Buds in case they go missing.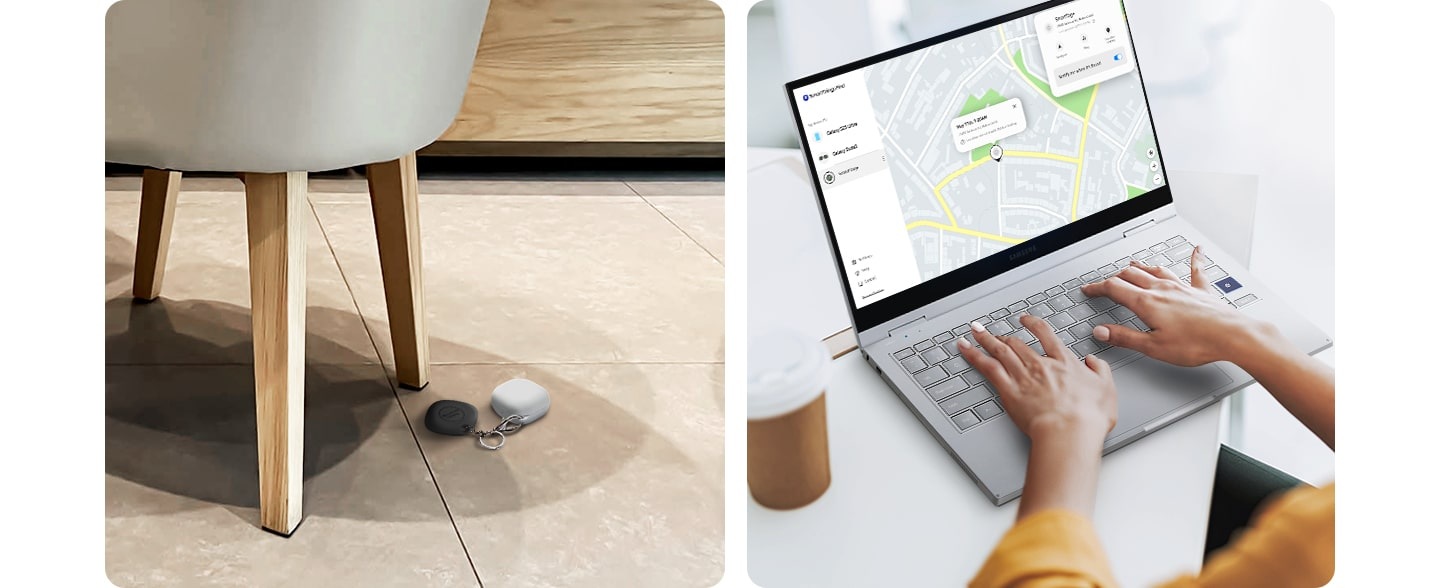 How to use
Find simple ways to use 'SmartThings Find'
VISIT THE SMARTTHINGS FIND WEBSITE
Device and screen images simulated for illustrative purposes.
Support services may vary by country/region/carrier.
The device must be turned on and logged in to your Samsung account.
Offline finding is currently supported on Galaxy smartphones and tablets with at least Android 8, Galaxy Watch3, Galaxy Watch4, Galaxy Watch5, and Galaxy Buds Live, Galaxy Buds Pro, Galaxy Buds2 and Galaxy Buds2 Pro, and all types of Galaxy SmartTag series. Additional devices will be added in the future.
The Offline Finding feature for your Galaxy Watch and Buds can be enabled within the Galaxy Wearable app. The connected phone or tablet's Offline finding settings will also be applied to your Galaxy Watch and Buds.
You can also locate lost devices using the SmartThings Find feature within the SmartThings app. To use SmartThings Find, 'Allow this phone to be found' in Find My Mobile settings must be turned on.
To register a device as a Find Node, you need to agree to allow the use of your location information and the Privacy Notice.
Find Node devices do not indicate the exact location of the lost device.