How do I clean the filters in my dishwasher?
Last Update date :
Jul 06. 2021
To keep the pump area clear, the filters should be cleaned. Follow the steps below and make sure to keep the filter and drain area clear of all food and debris.
Check the filter assembly inside of the drain pump
Samsung dishwashers have been designed to place the drain pump and filtering system within easy reach inside the tub for your convenience.
The drain pump drains the dirty water from the dishwater generated while the dishwater is running. Inside the drain pump, there is a filter assembly for filtering debris and foreign matter. If the filter assembly is clogged with debris or foreign matter, it can cause problems, such as abnormal noise, odors from food waste, etc. Therefore, please follow the instructions below and clean the filters regularly.
Cleaning the filter
Step 1. Open the door of the dishwasher and remove the lower rack and dishes.
Step 2. Hold the propeller for safety. Then, turn the filter assembly on the bottom counterclockwise to pull it out.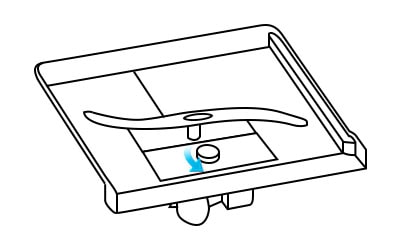 Step 3. Lift the filter assembly up and take it out.
Step 4. Detach the coarse filter and fine filter for cleaning.

Step 5. Cleaning the coarse filter and fine filter under running water (or use a soft brush to remove the debris).
Step 6. Check the sump area and remove any foreign matter there.
Step 7. Assemble the coarse filter and fine filter and put them in the right position.
Step 8. Reassemble the filter by turning it clockwise.
Note: The actual design of the filter may differ from the model that you have.
Caution
Do not put the fine filter in upside down.
You might want to use protective gloves when removing the filters or checking the sump area.
The actual design of the filter may differ from the model that you have.
The entire filter assembly should be cleaned regularly.
Never run the dishwasher without the filters in place.
When cleaning the filters, do not inadvertently damage them.
Please answer all questions.