How to reduce apparent temperature when using an air conditioner
Last Update date :
Aug 26. 2021
If you feel your room temperature is rising and the air is getting hotter even though the air conditioner is operating in low degrees, it means you may have a problem with 'Sensory temperature.' Find out what sensory temperature is, and what you can do to avoid it below.
Effects of air temperature, relative humidity, and wind speed
When the air heats up, it can absorb more moisture. On a day when the actual temperature in your room is 25°C, with a relative humidity of 60%, the sensory temperature our body experiences will be 30°C, which is significantly higher. The more humidity and temperature increase, the more the difference between the temperature on the thermometer and the heat you feel. It is because of the level of moisture in the air combined with high temperatures. 

The conclusion is, the problem with the heat you are feeling is not just caused by the temperature, but by excessive humidity as well.
We can cool down the temperature while reducing the relative humidity by using an air conditioner. When you set the desired temperature, you will be enjoying a much cooler environment soon. But your air conditioner may need some time to remove humidity from the air. Additionally, there are some things you need to check on your air conditioner to ensure it's working properly. See the major checklists below. 
Note: 
We recommend a self-inspection first, in the event of low air conditioner power-related matters.
If the problems still occur after checking the major requirements, please contact your nearest Samsung service center.
Checklists to reducing the Sensory temperature
Create some airflow and ventilate regularly. It will raise the circulation of air and prevent humidity from building up inside your space. In addition, the power supply must be checked and ensure the device is not in a low voltage environment.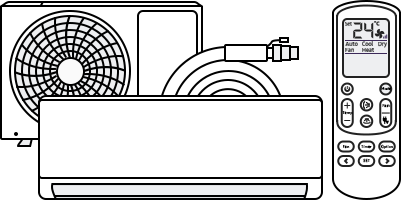 Note: Images on this content are for your reference and may vary depending on the model you have.
Please answer all questions.