What should I do if the microwave turntable does not work?
Last Update date :
Jan 09. 2021
If the microwave spinner does not rotate, the food can heat unevenly. Please read the guide below to fix this.
If you have installed it for the first time
Remove all the packing materials inside the microwave oven. Install the roller ring and turntable. Check that the turntable rotates freely.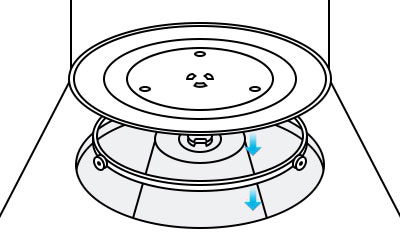 Note: Do not operate the microwave oven without the roller ring and turntable.
The turntable rattles while turning and is noisy
Cause: Food residue is stuck on the bottom of the microwave oven.
Solution: Clean and inspect the roller track.
Food particles or other materials that are on the rollers or on the bottom of the microwave can also result in an unbalanced and noisy turntable.
Step 1. Remove the turntable and roller wheel and clean them with warm, soapy water.
Step 2. Clean the bottom of the microwave and roller track.
Step 3. Dry all the parts thoroughly and reassemble.
Step 4. Verify that the center of the turntable has a coupler that connects to the motor. If this is not positioned correctly, the turntable will not spin, and it will usually make a lot of noise.
While turning, the turntable comes out of place or stops turning
Cause: There is no roller ring, or the roller ring is not properly in place.
Solution: Install the roller ring and then try again.
The turntable drags while turning
Cause: The roller ring is not properly in place, there is too much food, or the container is too large and touches the side walls of the microwave.
Solution: Adjust the amount of food and do not use containers that are too large.
Note: If the issue continues after verifying the above-mentioned solutions, please contact the Samsung service center.
Please answer all questions.